Tips on how to save time and money ordering your groceries online and getting them delivered. Get rid of the chore of grocery shopping, gain more time for yourself, and save money on your grocery bill with Delivery Unlimited!
PLUS you can win a $500 WISH eGift Card! That will definitely help your grocery budget! Read for details on how to enter. 
This post is sponsored by Woolworths
I began online grocery shopping about two years ago, and I don't think I will ever go back to shopping in store! It saves me so much time, and I find it saves me money which is better for my grocery budget. I have actually got the whole process down to quite a fine art so it's very quick and easy for me. Grocery shopping online has been a game-changer for me, helping to simplify my life that little bit more. Now with a Woolworths Delivery Unlimited subscription, I can have all of my groceries delivered free with any orders over $100. No matter how often I shop!
GET YOUR GROCERIES DELIVERED FOR FREE*
Woolworths are offering a FREE trial for 30 days when you sign up for Delivery Unlimited. This Delivery Unlimited service means you can get unlimited free deliveries on orders over $100, that are for a 3 hour delivery window for the Same Day you order!
 Min spend $100. T&Cs apply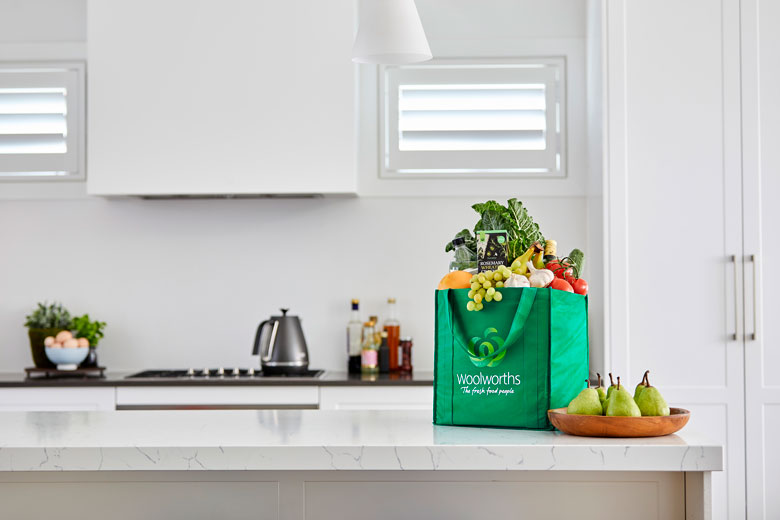 I used to be a little reluctant to do all my grocery shopping online. I liked to touch and see the food I was buying, especially my fruit and veggies. I makes notes on my order, specifying what I want, if I want certain fruits ripe or firm etc. I've found the fresh quality to be great and you can tell it's picked with care.  The personal shoppers will follow your notes, so you get exactly what you're after.
The best part is that I feel like I have bonus time each week because I no longer do my routine trip to the supermarket on the weekend! For quite a while I was ordering my groceries online and collecting them from the store, but after a long day at work, I generally just want to go straight home and so the convenience of having them delivered to my home is wonderful.
Woolworths have a delivery subscription service that makes shopping and home delivery so much more affordable with free unlimited delivery on orders over $100 for most of the delivery options. So if you're shopping weekly or more, you can make some significant savings on the delivery fees. With the different delivery window availability/options, you can arrange it to suit your life. I find I can nearly always get my groceries the same day or the next day.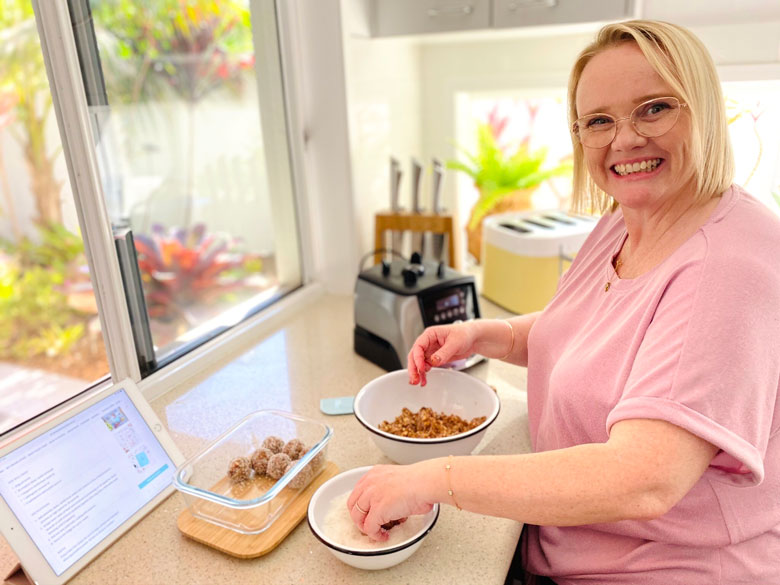 NOW is also the perfect time to give online grocery shopping for delivery a go! As Woolworths are offering a FREE trial for 30 days when you sign up for Delivery Unlimited. This Delivery Unlimited service means you can get unlimited free deliveries on orders over $100, that are for a 3 hour delivery window for the Same Day you order. With this service you also get reduced fees on the Delivery Now option and the scheduled 1 hour window Same Day Delivery option. Min spend $100. T&Cs apply
PLUS Woolworths are offering The Organised Housewife community the chance to win a $500 WISH eGift Card if you subscribe before 03/09/2021 AND comment on this blog post, see details below.
Try it for 30 days and if you love it as much as I do, Delivery Unlimited is a great way to help save you time and money on the delivery fees every month.
For those really busy weeks and days, there are some super convenient delivery options that you get reduced fees on as part of the Delivery Unlimited subscription.
I was thinking of having some friends over for dinner (this was before the current outbreak and lock-down orders!) but I hadn't bought anything to suit a dinner party in my weekly shop. I love the Delivery Now option, and the idea that I could jump online and order what I need to entertain to be delivered in under two hours for a small extra fee!
Seven TIPS ON HOW TO ORDER GROCERIES ONLINE FOR DELIVERY
I tell everyone that will listen that they should give online grocery shopping a go. Here are a few of my tips:
1. Download the Woolworths App to Your Phone
You can order your groceries online straight from the  app on your phone which makes it so easy and means you can do it anywhere anytime! The app even has a barcode scanner option to quickly add products that way.
2. Take your time to perfect your ordering system
It took me 3 goes to fine tune my online ordering process, so give yourself time to learn and understand how to order online. The very first time you set it up may take a little time but once you've done it, it is so easy!
3. View their catalogue online
When I first start my ordering process I start from the catalogue, which comes out on Mondays before the specials start on Wednesdays. I  add to the cart all the specials I want as I base my weekly meal plan on these specials to save money on my grocery budget. 
4. Add notes to items
For example, I like to receive a few green bananas so I know they last through the week, and if I know I am making a mince dinner 5 days from my order date, I add a note asking for the expiry date to be beyond that date of 5 days.
5. Create lists
This is the biggest time saver when it comes to doing your orders each week. It may take time to create lists to help make shopping easier, but the time is well worth it. I have set up lists for the items I have to buy periodically. And items that I only buy once a month. 
Below is a screen shot of my personal lists and how I have broken it down: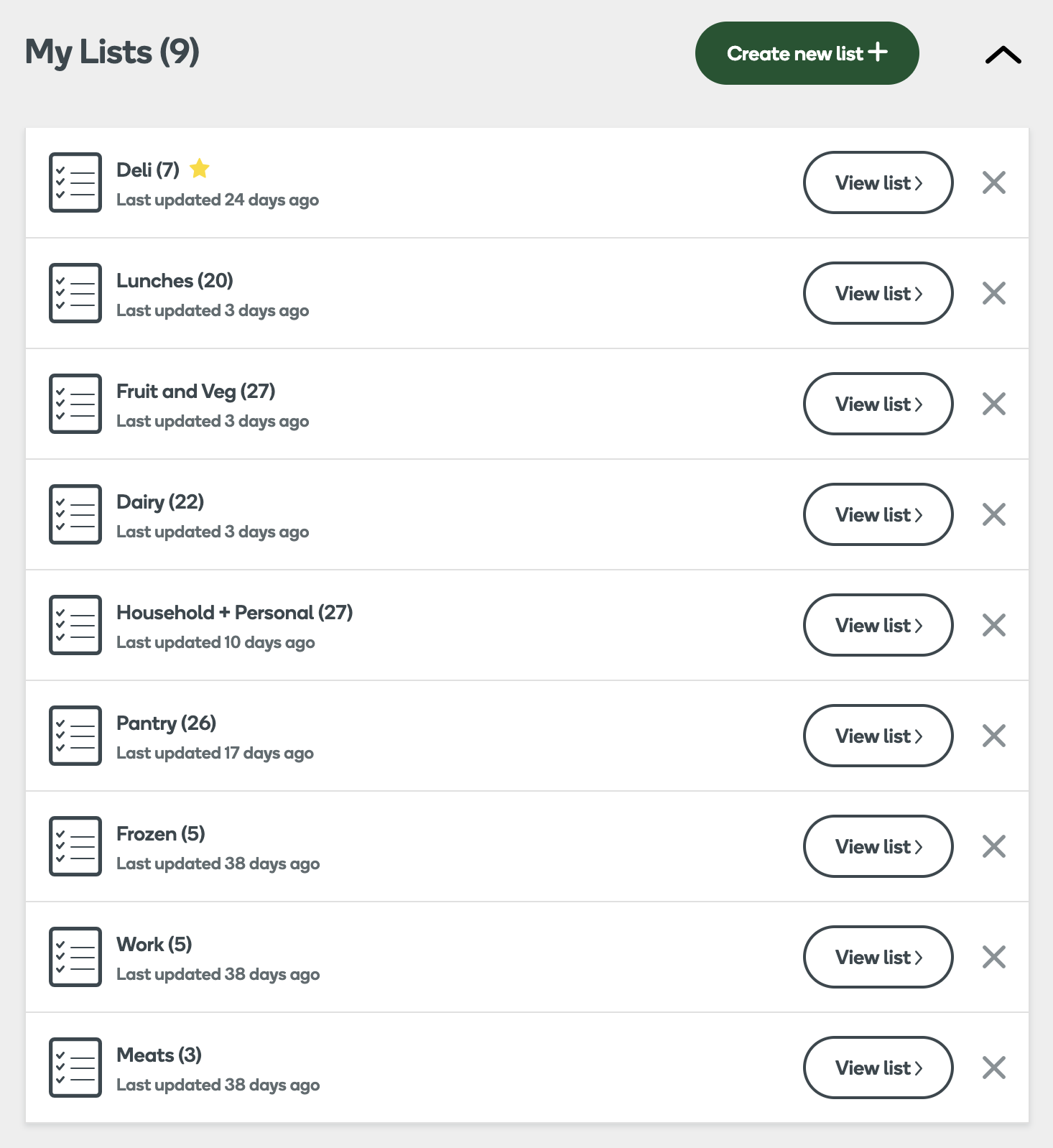 6. Use The Organised Housewife coupons for further discounts
Periodically you may find some great Woolworths coupons on The Organised Housewife website, check regularly here. 
7. Call the Customer Care Line 
If you need any help with your order or online account, Woolworths has a dedicated priority customer care line for Delivery Unlimited subscribers. The call line provides a fast service if you need any help, and such a great feature of the subscription.
Try it for 30 days, hopefully you find it helps save you time and money too!


WIN A $500 WISH EGIFT CARD
Woolworths are offering The Organised Housewife community the chance to win a $500 WISH eGift Card. To enter complete these 2 steps:
Subscribe to Woolworths Delivery Unlimited FREE Trial before 3rd September 2021.
Comment on this blog post, answering if you win the egift card who will you share it with and why? 
GIVEAWAY TERMS AND CONDITIONS – This giveaway runs in accordance with our disclosure policy, please read the terms and conditions below:

1. To enter you must take up a subscription with Delivery Unlimited before 03/09/2021 and leave a comment on this blog article. 2. Comments must be made on The Organised Housewife blog, comments on social media are invalid.  3. Entries close 11.59pm AEST Wednesday 2nd September 2021. 4. One entry per household and open to Australian residents only.  5. This giveaway is a game of skill. The judge's decision is final and no correspondence will be entered.  6. The WISH eGift Card is valued at $500. 1 winner will receive this digital gift card, not redeemable for cash. 7. Woolworths Group Limited ABN 88 000 014 675 is the issuer of the WISH Gift Card. WISH Gift Cards have no expiry date and are redeemable at participating stores only. For a list of participating stores and full Gift Card Terms and Conditions visit woolworths.com.au/giftcards 8. Winner will be contacted by email, please ensure you leave your email address.  9. If I have not received a reply from the winner within 7 days the prize will be forfeited and awarded to the entry judged to be the next best.  10.  The Organised Housewife will take no responsibility for any delay, loss or damage to prizes sent to winners. 11. This competition is in no way sponsored, endorsed, administered by, or associated with Instagram or Facebook.