It's 3 o'clock, you're tossing and turning and itching to get a wink of sleep. You keep thinking about how little sleep you've had and it doesn't help your cause… Trust me, I know the feeling. A few weeks ago I was up till 4am and couldn't manage to switch off and fall asleep. I mentioned something on Facebook, asking if anyone had any ideas on how to fall asleep when you just can't and I got so many answers and ideas from the community. So the next time you're struggling to catch some zzz's, refer to some of these tips on how to get to sleep when you can't.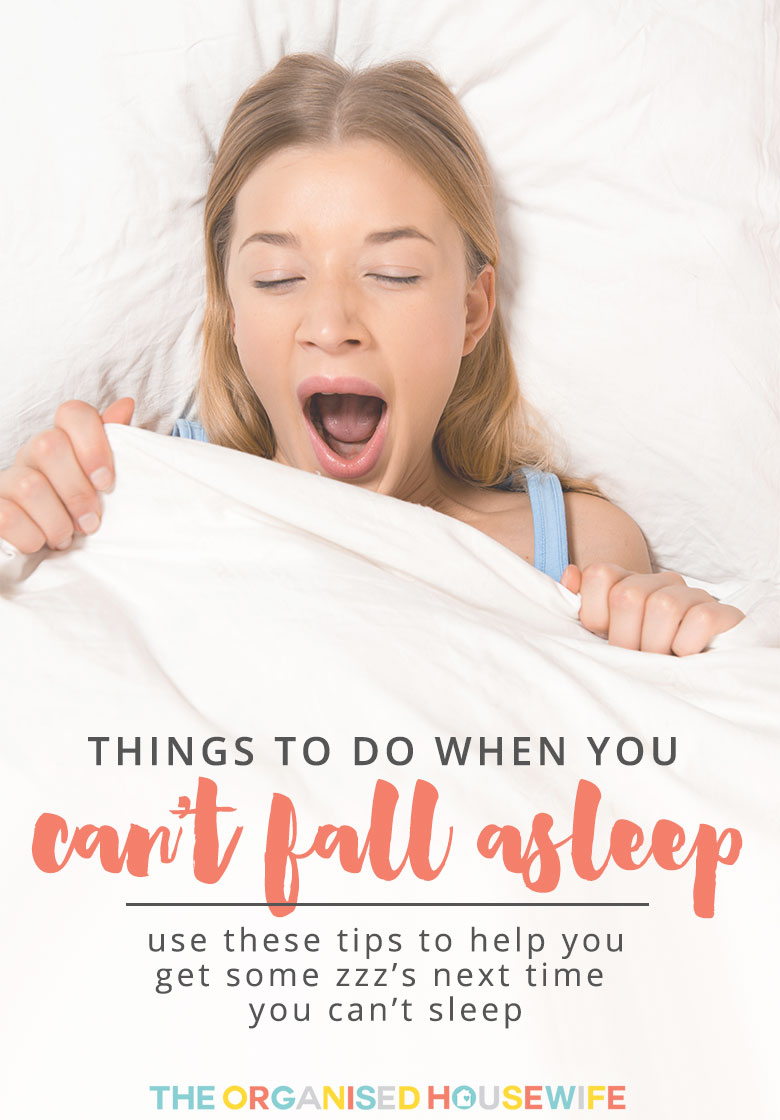 1. READ A BOOK
After a day of screens, calls, texts and rush, there is nothing quite as relaxing as grabbing a trusty paperback and reading in bed. As reading is a wind-down activity and something that involves little movement, it can help induce sleep and relax your mind.
Read more: Top 10 Book Picks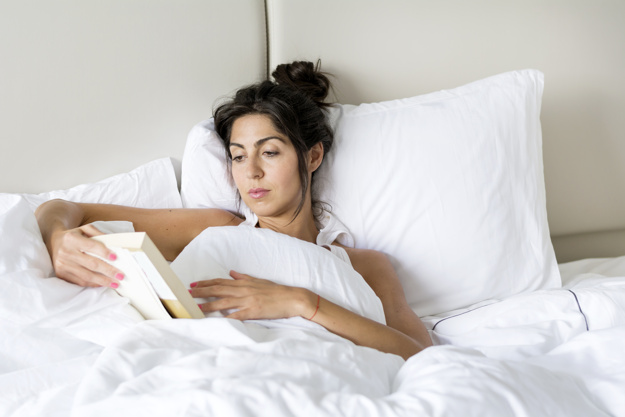 image credit, freepik 
2. USE A SLEEP APP
There are so many apps out there that you can use to help you sleep. If you're after the pitter-patter of rain on your window, crickets chirping or a waterfall trickling, one of these apps is sure to have it. Silence really can be deafening so the next time you are finding it hard to crash, pop a bit of peaceful background music or noises on. Here are a few app recommendations:
Sleep
Relax Melodies
Relax & Sleep by Glenn Harrold
Simply Being
Pzizz Sleep
Sleepmaker Rain
Nature Sounds Relax & Sleep
3. COUNTING
I've got to admit, the counting sheep method has never really worked for me. It's more effective to choose a number and count down from that. If you want more of a challenge, count down in 2's or 3's. Doing something monotonous can wear you out and will help you block out other thoughts in your mind.
4. DRINK MILK
There was a health myth that milk can assist sleep because it contains tryptophan. Tryptophan is an amino acid that is converted into serotonin in the brain, a hormone that is associated with tiredness and relaxation. However, it is believed that this property doesn't necessarily help much. The placebo effect of drinking milk or a hot beverage can trigger your body into thinking it's time for sleep. Many people claim that they have to have a glass of milk every night to help them fall into slumber.
5. ESSENTIAL OILS
Oils are so powerful and have the incredible ability to impact our body and mood significantly. Some oils such as Lavender and Bergamot are known for having relaxing and calming properties. They are both are rich in linalool and linalyl acetate, which are compounds that can reduce the heart rate and blood pressure through aromatherapy. They can be used to create a calm and peaceful environment through the use of a diffuser or applied topically to promote relaxation.
Here is my Sleep Blend I have been using recently, I feel I sleep instantly after I apply it.  I like my blend strong, reduce the drops for a milder blend:
10ml Roller Bottle – Great to have empty bottles on hand to make your own blends.  Available online here.
10 drops Lavender Peace – Helps reduce feelings of tension, calms emotions, and leave a peaceful feeling.
5 drops Ylang Ylang – Used to lessen tension and stress and to promote a positive outlook.
5 drops Bergamot – With both calming and uplifting abilities. Bergamot can dissipate anxious feelings while simultaneously cleansing and purifying the skin.
5 drops Juniper Berry – With the ability to cleanse and purify the air, the fresh aroma of Juniper Berry essential oil can produce a calming, grounding effect.
Fractionated Coconut Oil – An absorbent and light carrier oil that will help to increase essential oil distribution while leaving skin feeling smooth and soft.
Place oils in the roller bottle, fill with fractionated coconut oil.  Roll the blend on the feet, wrists and/or back of the neck.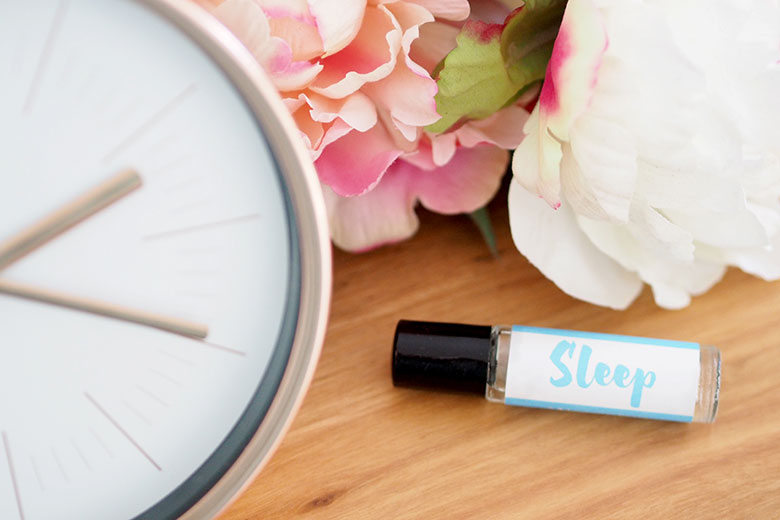 Lavender Peace is also a lovely oil to diffuse in the bedroom at night time.
Ultrasonic Vaporisers – Aroma Bloom – The Aroma-Bloom will instantly purify, cleanse and refresh the atmosphere and create more negative ions to improve general wellbeing. The essential oils are easily absorbed to assist your wellbeing. These also have a 5-in-1 functionality, I use the Aroma Bloom in my girls' bedrooms.
Size – 15cm wide x 24cm high
Water Capacity – 200ml
Operates up to 7-10 hours continuous mist mode.
Operates up to 18 hours intermittent mist mode.
Cover approximately 25-30sq meter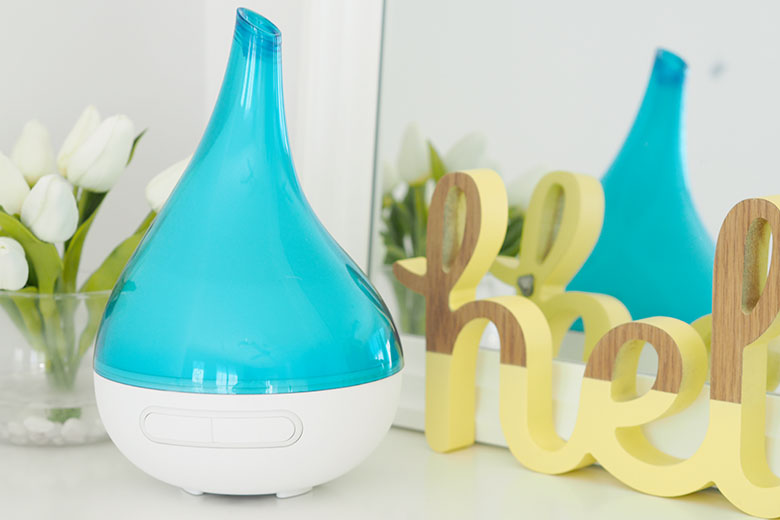 6. LISTEN TO RELAXING MUSIC
Data has proven that listening to relaxing music, such as classical tunes and music with 60-80 beats per minutes, can help lull you to sleep. It can help slow down your heart rate and relax your body. I suggest finding a classical playlist on Spotify, Pandora or YouTube that you can listen to just before you go to sleep.
7. DRINK TEA
Caffeine before bed is obviously a huge no, but tea is definitely an acceptable beverage. Chamomile is the most recommended tea if you are wanting to get a bit of shuteye. Apigenin is one of the active compounds in chamomile and it has been found to have calming effects on the body. Tea can help muscle tension and twitching, calm the stomach and ease anxiety.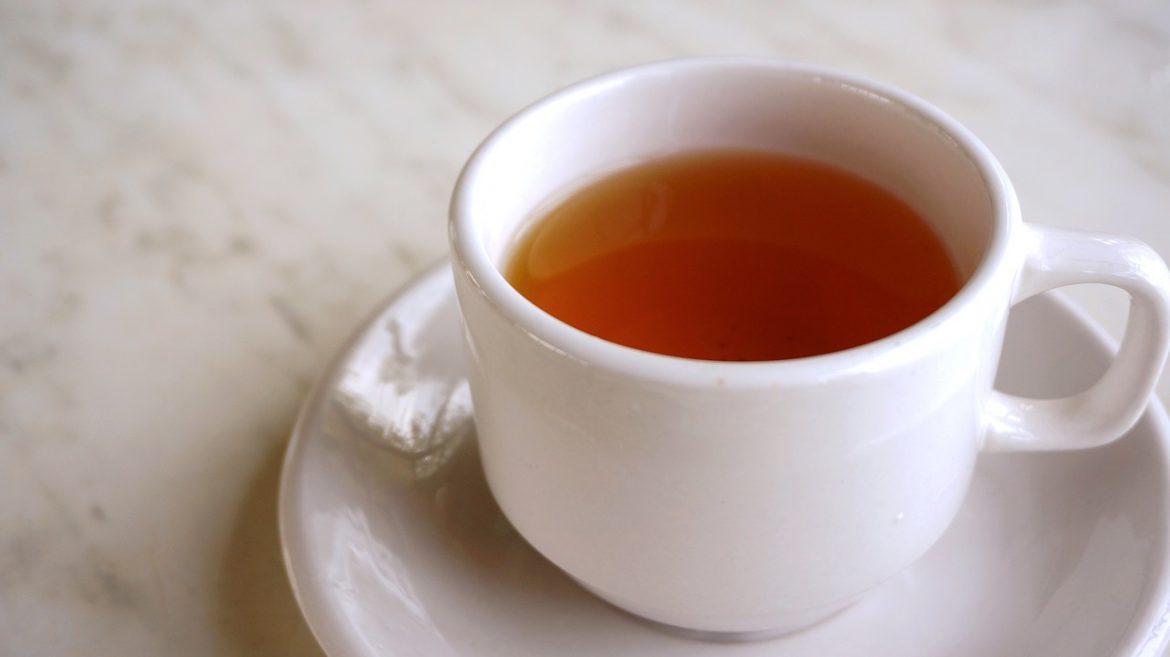 8. DO A PUZZLE
If you find you're tossing and turning and can't get to sleep, get out of bed and try an activity. Instead of watching TV or going online like most people do, try and do a crossword, puzzle or sudoku.
Going on your phone or watching TV halts melatonin production, which is a hormone that helps facilitate sleep. Try and avoid all electronic devices as soon as you've hopped into bed. I like to dim my light on my phone or turn night-mode on about half an hour before I go to bed.
9. BREATHING EXERCISES
The 4-7-8 technique is a breathing technique pioneered to deliver more oxygen than normal to the parasympathetic nervous system which becomes overstimulated when stressed. Simply, breathe in through nose quietly for a count of 4, hold your breath for a count of 7 and blow out through your mouth for a count of 8 making a "whoosh" sound. Repeat the process three more times. This technique was founded by a Harvard-trained holistic doctor and is a simple trick to help your body fall asleep. If this seems like a bit too much effort for you, simply concentrate on taking long and deep breaths.
10. REMOVE YOURSELF FROM THE BEDROOM
There is such a thing called stimulus control and it refers to everything in your life having a stimulus value, even your bed! Sleep-medicine specialist, Philip Gehrman, suggests that the the key is to avoid associating your bed with being awake. This means that your body should recognise lying in bed with sleep. If you are wide awake, leave your bed so that the bed is not associated with feeling awake and restlessness.
Some other suggestions from my readers:
Turn up side down head at the feet end. Always works for me. – Shelly
Guided sleep meditation. Loads available on Google Play Music or Youtube. – Marisa
Lavender and cedar wood oil rubbed on temples. – Jules
If I'm not asleep within an hour I go to the recliner in the lounge & lay back & do puzzles, read, chat to my daughter on messenger (iPad on nightshift). – Brennan

Have a cup of tea, watch tv for a while then go back to bed. That usually does the trick. – Simone

Get up out of bed. Remove yourself from the bedroom so your brain registers the bedroom for sleep and chill on the couch watch some time telly. Sleep experts suggest watching sensory videos on you tube. Supposedly it helps relax your mind. – Bec
I play the alphabet game. Sometimes I pray for people whose name begins with each letter. Sometimes I think of toys from my childhood for each letter. Or songs, or movies, or musicians, etc. I very rarely make it to Z!  – Marie
Do you have any tips to help you fall asleep?