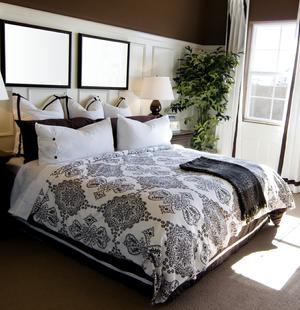 Naomi – My theory has alway been… Beds made and dishes done makes the whole house look so much cleaner!
I completely agree Naomi, without fail both these tasks are completed each day. I enjoy walking past the bedroom seeing the bed made, it makes everything look tidy.  I also love waking up to a clean kitchen, if by chance the kitchen is messy I start the day grumpy.
Jill – Hey Katrina are you still doing your newsletter. Cant seem to see that I have received one of recent, though I would just check. Jill
Hi Jill, yes, newsletter is now issued fortnight.  Newsletter sign up is available HERE if you are not already subscribed.
Jennifer – In response to make your bed every morning.  While yes you should make your bed everyday… You should let it air first… Maybe make and eat breakfast first , get dressed and then do it. Read an article once that every one's bed has mites and they feed off our dead skin cells we lose …while sleeping and while you cant completely get rid of them – by letting the bed air out before making it ( especially when it's sun shining in the room) it kills a lot of those mites
That's a great idea Jennifer.  I actually shower first then make my bed just before getting dressed, this has been my habit for quite sometime.  Dust mites are such horrible little creatures, I vacuum and air beds in sunlight regularly as we are a high allergy family.  More details about that HERE.
Emma – In response to have you got your skin checked recently on facebook?  Went a few weeks ago. They found a suspicious mole on the back of my arm. I am so happy I went and got checked. It was in its early stages, and got it removed.
Thank You for sharing Emma, thank goodness you got checked.  It is so important to get your skin checked, it only takes a phone call to book the appointment and a very short 10-15 minute consultation.  All under medicare.  It may just save your life.
Reader Acknowledgment
I would also like to do a shoutout to Simone, I gave her a challenge to tidy her bedroom as she had mentioned on a facebook comment that it was never tidy.  She accepted the challenge and within a day it was complete.  I love your efforts Simone and I hope you are enjoying waking up each morning to a much tidier room!
If you have any questions, tips or advice you would like to share, please email them through so I can publish next week.  Use the contact form above to easily send an email.