Tips on how to care for your indoor plants. Having some greenery in your home adds some life and freshness to your home decor. There are some simple steps to follow to keep your inside plants happy and healthy.
I love to have some plants around my house. They add a sense of homeyness, and I love seeing the pops of green around the place.  Some plants seem to do fabulously living inside, whilst others are definitely are a bit more finicky. Read on below for my tips on how to care for indoor plants.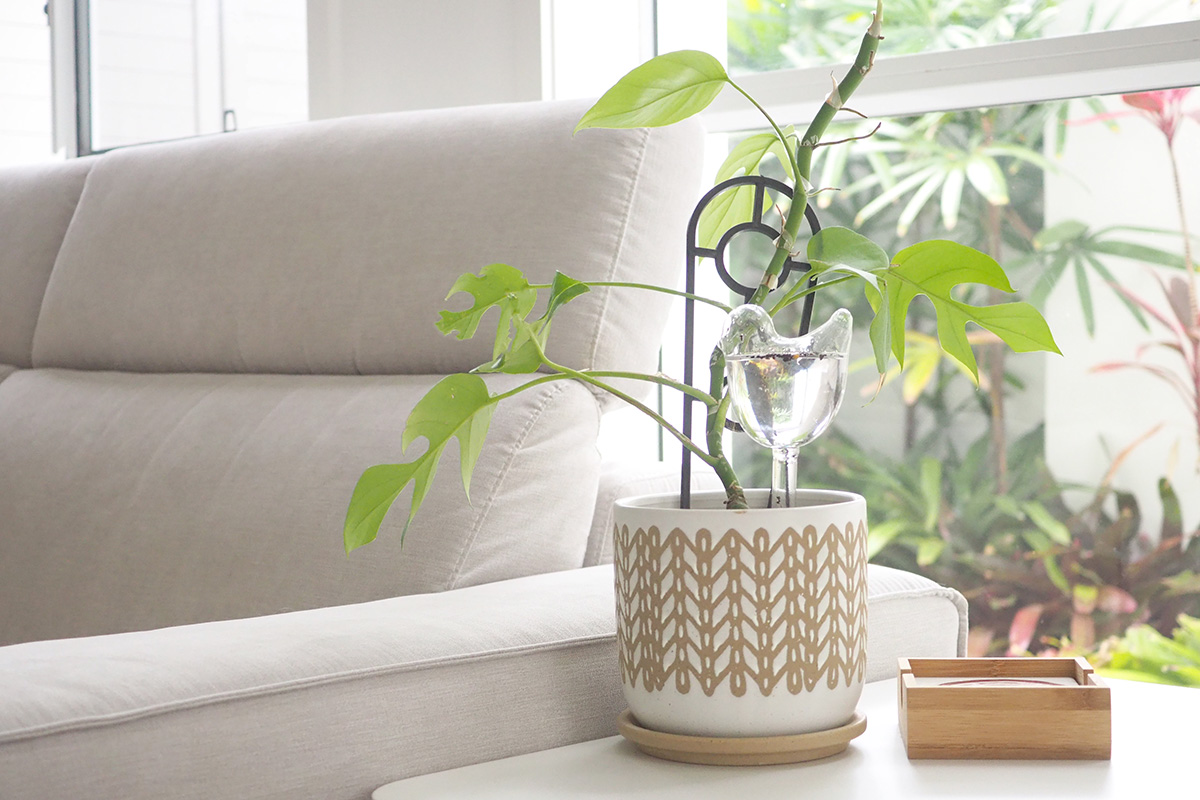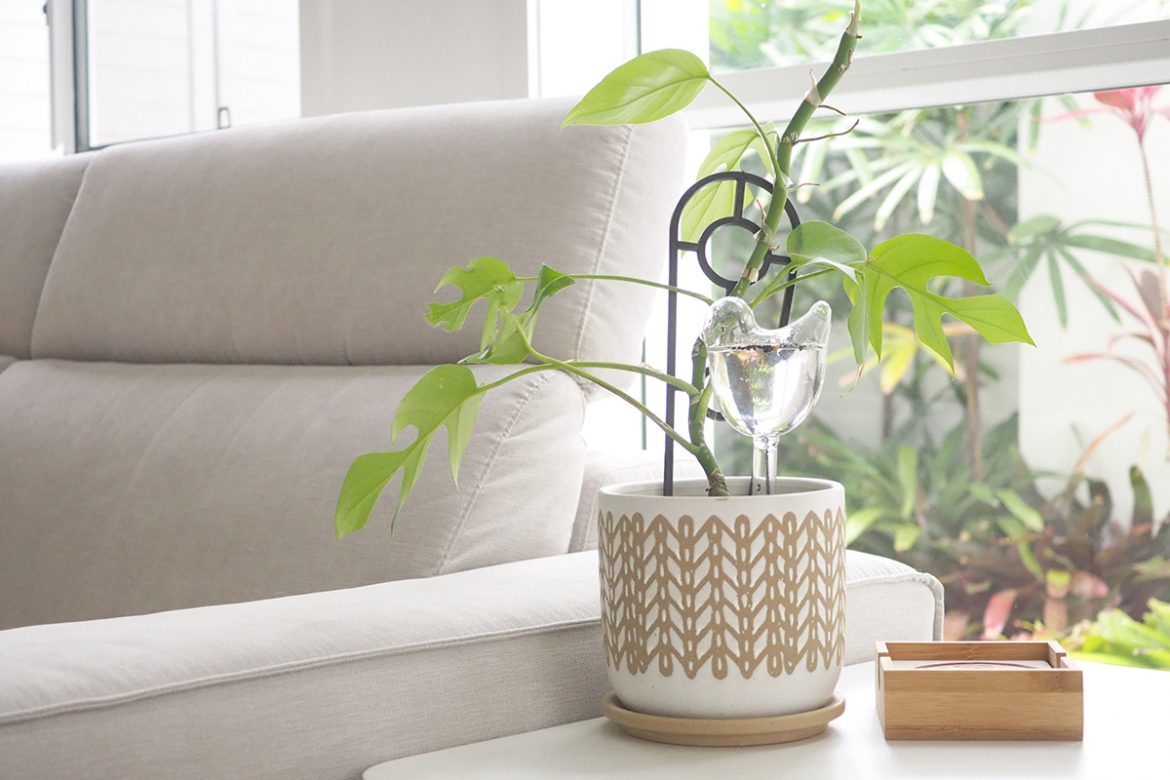 Different plants have differing needs so the most important thing to is to check the individual care label when you purchase the plant. I suggest to keep the care labels somewhere safe so you can refer back to them if needed.
Watering Indoor Plants
Indoor plants can often be loved to death by too much watering!! Check your care label to see if your individual plant prefers to dry out between waters or be kept moist.
As general rule of thumb for most indoor plants, water them when the soil in the pot is dry to touch when you push the top of your finger into the dirt. Then give enough water that it runs out of the pot into the saucer. Approximately every seven to ten days.
Alternatively for an easier watering method you could use plant water bubbles (like I have in my plant pot in the photo above) to keep your indoor plants watered. The water slowly releases from the bubble automatically as the plant needs. 
Light and Position
Indoor plants should be kept in a bright well-lit spot near a window. However I wouldn't keep them in direct sunlight right against a window. The heat might be intensified by the glass and could burn the plant's leaves. Some plants however are actually quite happy in a darker spot, check your plant's care label for the correct placement.
Indoor air can be quite drying for some plants. For plants that prefer damp and humid air, keeping them in a bathroom might be the ideal position.
Pots and Potting Mix
You want to use decorative pots that suit your home decor for indoor plants. Ideally ones that have drainage holes and an overflow saucer. If your chosen pot doesn't have any ability to drain water away, then you could keep your plant in the initial plastic pot and pop it inside your decorative pot.
Use a good quality indoor plant potting mix when you pot your plant. There are even specialty potting mixes for specific types of plants too, like orchids and ferns.
FEEDING AND OTHER CARE
Good quality potting mix will provide enough nutrients for your plants for about six months. After that feed your plants once to twice a year. This is particularly more important during the growing months of summer. You could use a slow release fertiliser or liquid plant food.
Indoor plants can easily build up dust on their leaves. Once a month or so wipe the leaves with a clean damp cloth to remove any dust. Alternatively when they are due to be watered pop them in the shower for a drink and to wash the dust away.
Spell plants that have been living inside for a long time with a little holiday outside in the garden. If you do pop an indoor plant out in the garden for a period of time, make sure to put it in a well shaded and sheltered position.