Other parents share their advice on how you can best support your child to overcome childhood bullying in the school ground and at home.
Childhood bullying can be intimidating, humiliating and soul destroying stuff, and unfortunately technology has meant it's cruel tentacles now spread much further than the school yard. Bullying has spilled into our family homes and our children's weekends, and as a parent it can be stressful knowing how to support our children and help them overcome bullying. I recently put this question to other parents in the community and wanted to share their advice with you.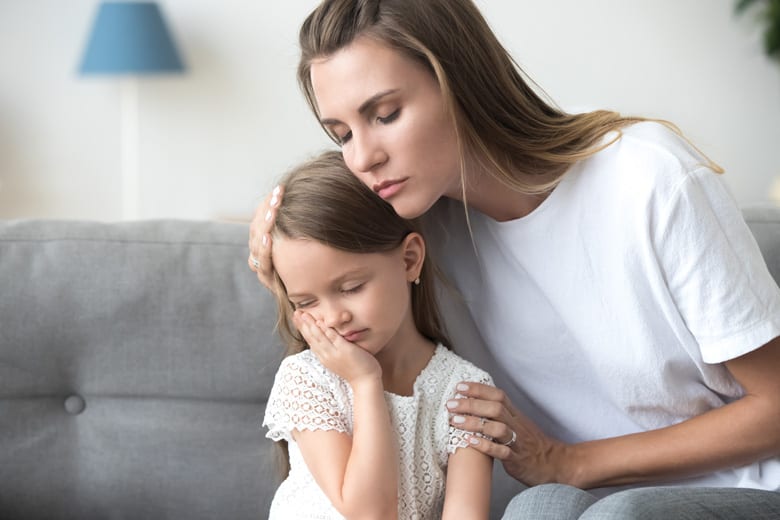 I was contacted by a mother who wanted to join an online anti-bullying support group so that she could help her child who was going through a tough time with school yard bullying. I was unsure how to tackle this problem myself so I put a call-out on Facebook, as always your advice flooded in.
If you're struggling to support your child with bullying, I sincerely hope that this advice helps.
Empower Your Child
Teach Them To Be The Bigger Man – I'd join a group aimed at empowering your own child. If it's physical, then that's ASSAULT and actually a crime. Google Brooks Gibbs. – Tenille L
Here is a 'How To Stop A Bully' video by Brooks Gibbs that is definitely worth a watch!
Join A Self Defence Class – Try you local Muay Thai, karate, self defence, boxing etc. Some places offer anti bullying classes and education. – Anneliese B
Encourage Kids To Talk Up & Walk Away – Don't react too emotionally when your child tells you about bullying as they might choose to bite their tongue in the future. If you stay calm they'll be more likely keep you in the loop with what's going on. Make sure you also let them know it's okay to ignore bullies and simply walk away. – Sarah K
Make A Positive Playlist – Encourage your kid to make an up-beat playlist they can get lost in as I know music is a huge mood changer in our home! – Shelley T
Think Happy Thoughts – Your thoughts become your reality, so I always try to surround my daughter with uplifting and inspirational messages that help make her feel positive and happy. – Kelly H
My daughter and I designed these Positive Stick Affirmation Labels a few years ago. They are available as an instant download in my shop, and are a good craft project to do with your child if they suffer anxiety or are feeling a bit down. If you're looking for an easier ready-to-go option, my Positive + Uplifting Affirmation Quote Cards are great and look lovely on a study desk or bedside table.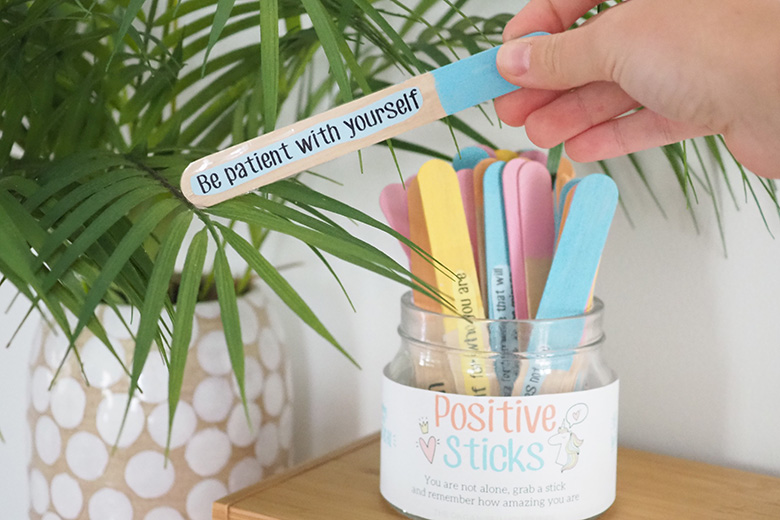 Protect Your Child
Get Professional Help – Counselling for your child would be a great start. It will help them to process, build some confidence, and resilience as well. Role playing with a professional can be used to work effective strategies. It's horrible, completely unacceptable, but it happens. Empowering the young person is one of your best options… and you'd be able to receive support from the counsellor as well. – Georgie W
Talk To The School – Make sure the school is aware of what is going on, and that your child has a contact in the school who they feel safe and comfortable going to if they feel bullied throughout the school day. – Jenny S
If this doesn't work though, you may want to take a leaf out of Nicki's book…
Change Schools – Is it at school? If so move. Don't leave your child in that environment. And no the bully's aren't winning it's about protecting your own child's mental health and well being. – Nicki J
…And Others Agreed – Yep, this worked for me when i was in high school, best thing ever to happen. No more bullying and confidence was built. – Danger M
Manage Technology – Keep an eye on your child's technology use at home. Lots of kids are now being bullied on their phones or gaming devices. If you want your child to have access to this technology, make sure it's monitored and don't hesitate to block children who are harassing your child. – Clare H
Knowledge Is Power – Resilient Kids Conference is great for support and community – Rachael L
Build A Community
Get Involved With An Ant-Bullying Charity – Ditch the Label – Kate W
Make Friends Elsewhere – I recommend putting your child into a sport or after school activity so they have a chance to make friends outside of school. This will mean they don't depend on friendships that are solely in the school playground, which will help make them feel less isolated. – Sally T
Take Up A Challenge – Try Intellectual Spiritual Organisation. My daughter was bullied and they encouraged me to make videos, which they posted on their YouTube page. Simonne Lamont and her daughter Trinity Sue are getting ready to climb Mt. Kilimanjaro to raise awareness for bullying. They are in South Africa but Simonne has helped me a lot. – Yvonne V
Join A Supportive Facebook Page – You Can Sit With Me – Kylie M
HOW DO YOU HELP YOUR CHILD MANAGE BULLYING?
---
Pin this image below to Pinterest!