Thanks to Ashley from I Choose Me for sharing some of her easy ways to style your hair. Like most busy Mums I get stuck in the rut of pulling my hair back into the obligatory ponytail or wearing it down when it is freshly washed. The only time I put a bit of effort in, is if I am going out somewhere special or I have been to the hairdressers!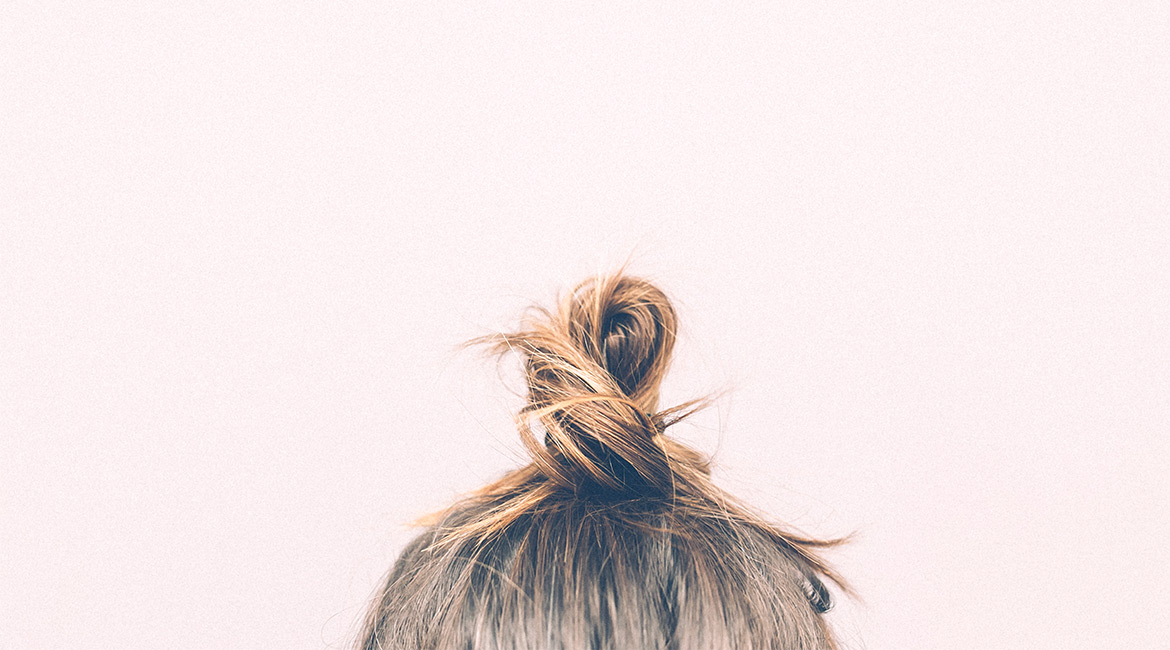 So I decided to come up with some really quick styles that were easy to achieve, but that gave a nice fresh look. I have done each of these looks just before I am running out the door for school drop off – so they are achievable in a short space of time.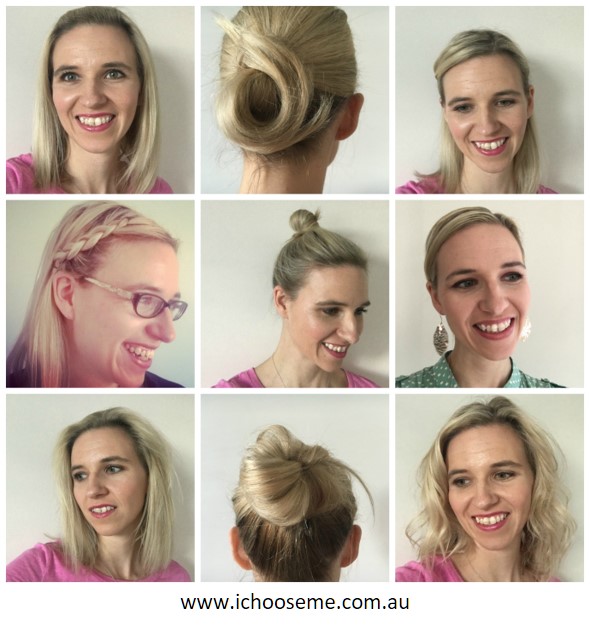 From left to right:
1. FRINGE BACK – This is great when you want to wear your hair down but want to have a slightly different look. Simply brush your hair, pull your fringe straight back and secure into place with bobby pins.
2. KNOT TIE BUN – I love this look as it looks so elegant and perfect for a night out but takes seconds to achieve. Brush your hair and pull into a pony tail at the height you would like. I like to wear this quite low. Then separate your pony tail into two, then cross the two sections over one another, underneath where you have tied your hair and wrap the ends over each other at the top of the pony tail and secure with bobby pins and hairspray. There is no wrong way to do this look however it turns out will be perfect.
3. HALF UP HALF DOWN – Brush your hair into its parting and then take a small section of hair from the top at the front of your face and pull it down towards your ear and hold in place with a bobby pin. Then take the lower section of hair still showing above your ear and pull it straight back on top of the hair you have just pinned and pin it into place. Repeat this on the other side of your hair to achieve a simple half up, half down look. Full tutorial here on my youtube channel.
4. SIDE BRAID – Brush your hair into its parting and then take three strands of hair about an inch from the front of your face and start off a plait. Once you have started, begin incorporating small sections of hair from around your face and then just behind where you began the plait. Keep going until you get to your ear. Stop the plait and secure with a bobby pin just behind your ear and then cross it with another pin so it stays in place. Then cover the pins with hair from behind so they don't show. Full tutorial here on my youtube channel.
5. TOP KNOT – This style generally requires slightly longer hair (about shoulder length or longer). Pull your hair into the highest pony tail you can right on the crown of your head (if you need put a hair tie in now) then twist your hair around itself into the shape of a bun and secure with another hair tie if your hair is thick or bobby pins.
6. SIDE PART LOW BUN – Brush your hair into a side parting. Without taking too much of the volume out of your hair, gently pull or brush it back into a low pony tail at the base of your neck. Then twist your hair round into a bun and hold in place with bobby pins.
7. TEXTURED HAIR  – Freshly wash your hair and dry as normal. Then add a good amount of a texture spray (but make sure you don't spray too close to your hair), tip your head upside down and really work the spray into your hair. Tip your head up and run your fingers through your hair. Try not to brush it too much otherwise you will lose all the volume and texture you have created.
8. MESSY BUN – Brush and pull your hair into a pony tail at the height you would like it. As you are pulling your hair through the final loop catch the ends of your hair and let it hang. Then like you would open a slinky toy (I know this sounds strange but bear with me!) fasten one side of the hair to the top of your pony tail and do the same to the underneath or as many times as you need to secure but don't make it neat. You want a few strands loose to give that unfinished and messy look.
9. SOFT WAVES – I love wearing my hair in curls but until recently found I didn't have the time to do them. Make sure you spray your hair with some kind of heat protectant and I find a salt spray on my hair works wonders as my hair is very fine. Then take sections of your hair (sometimes I am fussy and other times I just grab away) and use your hair tongs or ghd straightener to create a soft wave. Don't hold onto the heat for too long otherwise you will end up with a tight curl. Release the curl and twist around your finger to hold the shape and allow to cool. Once all waves are complete run your fingers through your hair until you get the wave you are after and spray with hairspray. I have a GHD curve which I love, but I also use my straighteners (full tutorial here on my youtube channel) and it takes me about 10 minutes to achieve.
I hope this list has given you a little bit of inspiration. It is so easy to forget about using our hair as an accessory but it really is one of the easiest ways to change up your look on a daily basis.
What is your favourite easy hairstyle?