Easy hairstyle tutorials for school girls that are perfect for time poor parents, or mums wanting to learn how to do tidy ponytails, interesting braids or adorable piggy tails!
If you have daughters, you will understand the work that can be involved in styling their hair for school each day. I have two daughters and in the beginning it was a fun novelty, however as time rolled on I quickly realised I didn't' have hours to spend creating elaborate hairstyles each morning. This is why I wanted to share a few of my favourite easy-to-do hairstyle tutorials that are perfect for school aged girls – and time poor parents too!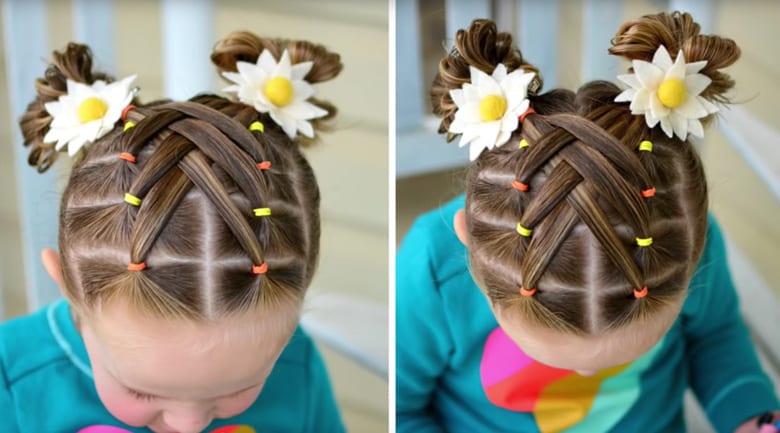 image credit Easy Toddler Hairstyles 
These easy (but still very gorgeous!) hair tutorials are great for keeping your daughter's hair tidy and back out of her face whilst at school, which is also a good way to prevent her catching nits from other students.
BUT FIRST: CREATE A BOX OF HAIRSTYLING SUPPLIES
Before you get into all these pretty and inspiring hair-dos though, it's worth taking the time to create a box of all your hairstyling tools and supplies – it will make your school mornings run even smoother! This can include brushes, combs, clips, hairspray, a homemade hair detangler, as well as all your pretty bows and accessories. Creating a hairstyling caddy also means that everything can be easily carried from one room to another, which is especially great if you have multiple daughters or like to do their hair in front of the telly.
  READ MORE: How to make your own DIY Homemade Hair Detangler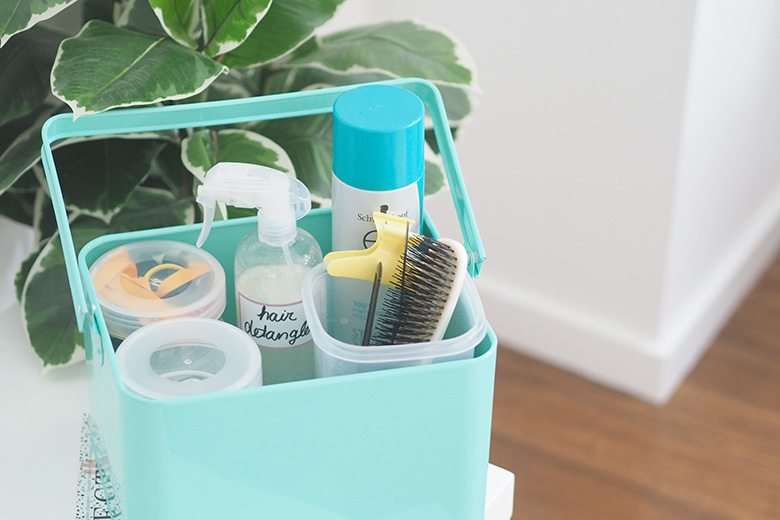 French Braid
Learning to braid is really easy, and is a skill that you get quicker and quicker at doing! You can even do a tight braid at night before the kids go to sleep, and it's often still good to go the next morning (depending on your child's hair and how much they wriggle in their sleep). This will help save you heaps of time in the morning too!
Dutch Braid
Once you've learnt the basics of braiding, you can start to have some fun. I love a big chunky Dutch braid, and this hair tutorial will show you that it's not any harder than a normal French braid.
Easy Diamond Braid
This easy diamond braid hair tutorial looks really simple, and would be great for girls who want to wear their hair out but still need it pinned back out of their face for school.
Ballet Bun
This simple no-fuss Ballet Bun hair tutorial needn't be just for little dancers! This hairstyle is also perfect for primary school girls who want their hair up and off their neck and face for the school day.
3 Easy Ponytail Styles
For those days that you're running really late – or perhaps when dad is left with hair styling duties – a good old fashioned ponytail never fails! This hair tutorial shows how to re-create 3 ponytail styles, and they're so easy anybody could do it.
Piggy Tails
Piggy tails look great on thick hair, but what about on fine toddler or little girl hair? This hair tutorial has an easy hack for making piggy tail buns look fuller.
Woven Piggy-Tails
These cascading weaved elastic piggy tails with daisy clips are incredibly gorgeous, and this hair tutorial makes you realise what a quick and easy hair style this actually is!
WHICH HAIRSTYLE WILL YOU TRY?
---
Pin this image below to Pinterest!