A fishtail braid looks complicated, but it really is quite easy. Typically the fishtail is placed in the centre at the bottom of the head, however, you can place on the side for trendy weekend look.  This hairstyle is easier to do with slightly dirtier hair.
Items needed: Brush, 1 hair tie, spray bottle and hairspray.
Time requirement: 7-10 minutes
Skill level:  Medium
Image credit: unknown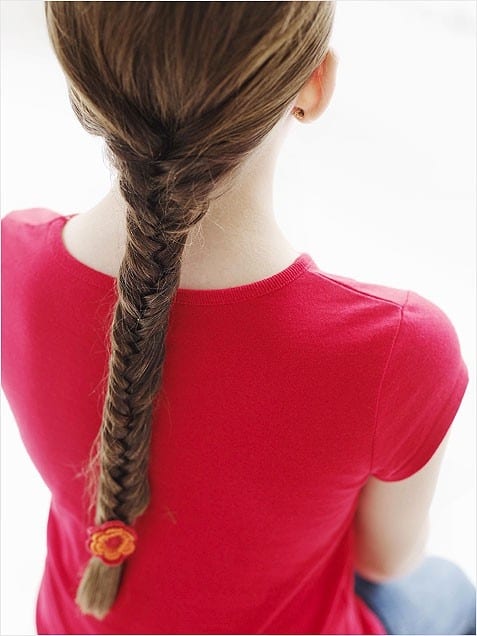 How to do a fishtail plait:
Divide the hair into two sections.
Take a small piece of hair from the outside of left section, bring it to the inside of the right section.
Then take a small piece of hair from the outside of the right section and bring it to the inside of the left section.
Continue taking small pieces from each side into the inside of the opposite section to develop the inverted braided pattern.
Finish by tying the hair with a hair tie.

30 BRAIDS IN 30 DAYS EBOOK
30 Braids in 30 Days contains all the tips, tricks and tutorials to help you braid your own hair at home. Inside you'll find over 75 pages of hair-spiration.
Whether you're a novice or good at braids, you'll love this ebook. There are hairstyles to suit all skill levels.  With the 30 Braids in 30 Days ebook you'll have hairstyle ideas and tips to get rid of bad hair days for good.
INSTANT DOWNLOAD – AVAILABLE HERE