Do most kids love to dump their bags on the floor and head straight for the telly and just leave mum to unpack the bags? Create a routine and good habits after school, so that your kids can help you more.  A routine is so important if they are starting school. Teach them great habits from the start, so that they grow with good habits.  Remember, if you do it for them, they will expect you to continue doing it and they are perfectly capable of unpacking their own bag.  My kids have followed this routine that's listed below since they each started prep, and learnt that their bag was their own responsibility from the very beginning. Here are 20+ practical school bag storage ideas, because if they have a place to put their school bag, they're most likely to put them away every afternoon.
Our afternoon routine
Remove shoes and place on shoe rack in garage.
Take off socks while still in the garage as they are usually filled with sand and bark which I don't want through the house.
Take lunchboxes and drink bottles out of school bags and place them on the kitchen bench ready for cleaning that evening.
All certificates received go directly on the fridge.
Paperwork sent home from school (rare as we have a paperless school and receive everything on email), will be clipped to the fridge.  Anything clipped to the fridge needs priority attention.
Homework books go onto the dining table ready for them to start after they have had a bite to eat. Home readers are put into their boxes.
Place bags on bag hooks.
Then some afternoon tea and chat about what school was like.
Next, time to start homework. Read my tips on how to get children to do their homework.
Once finished, homework is placed in their boxes.
Followed by 10 min on the computer homework tasks.
Now it's either time to go to our after-school sports session, or relax by watching some TV or outside playing, whichever they please.  We don't allow computer games or Xbox during the week.
Idea's on how to store school bags
Prior to what we have now, I used 3M hooks on the wall which were perfectly capable of holding heavy school bags, however, I wanted to fancy up the wall so I purchased MDF Initials of each child, plus created one for myself. I painted and covered in scrapbooking paper, inserted a hook to hold the school bags and viola, we have a fancy bag storage system.  We store their bags near the garage door because it's a great wall that's hidden from the rest of the house and is perfect to also store their library bags at.
Other storage places
In their wardrobe.
A hook on bedroom wall.
On bedroom door knob.
In a basket by the garage door.
Where ever you choose, but make sure the bag is always returned to the designated home.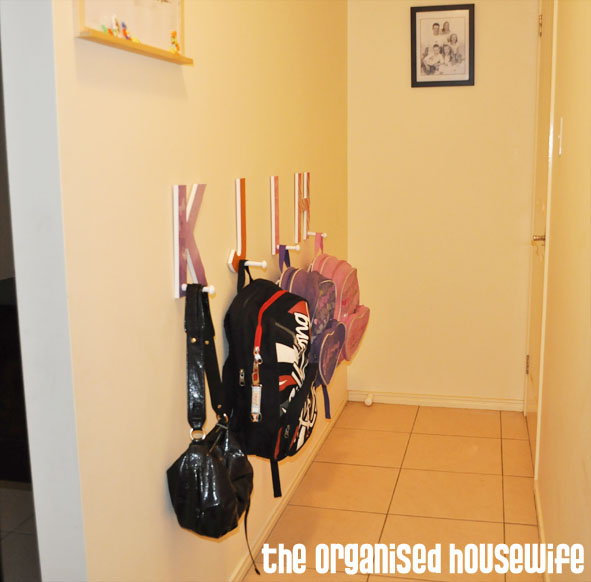 Where do you store your school bags?