This is a guest post by Christie Burnett of Childhood 101.
Having a simple, regular morning routine and clearly defined, easy-to-access homes for school related belongings are the two most important contributors to successful, low stress school mornings in our home.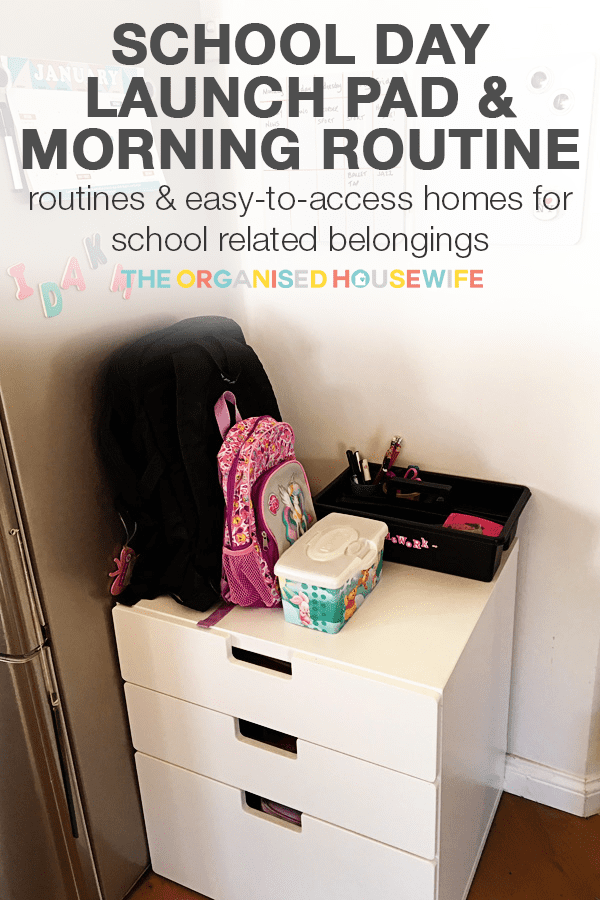 Find more of Kat's Back to School tips here.
Kids Morning Routine
When it comes to the morning routine, ours has been the same since my eldest started kindergarten, that's four years now. It helped us to survive the blur of the newborn baby haze when our second child was born, and it will keep on keeping on as we send that little one off to four year old kindergarten this year! Gosh, that time has gone quickly!
We use photo routine cards displayed on the bathroom door (which is right outside the girls' bedrooms) to keep the morning flowing. The photos make it simple for directing pre-readers to what they need to do next, and by referring to it regularly and consistently in the early days, it doesn't take long before everyone knows what comes next in the routine. It probably helps that there is no play in the mornings until everything is done, and if there's one thing my girls hate, it's not having a little down time before we head off to school! Kat also has some great routine charts for kids.
Kids School Launch Pad
As for our school belongings, it's not necessarily the prettiest or the most Pin worthy but our school launch pad works well for us.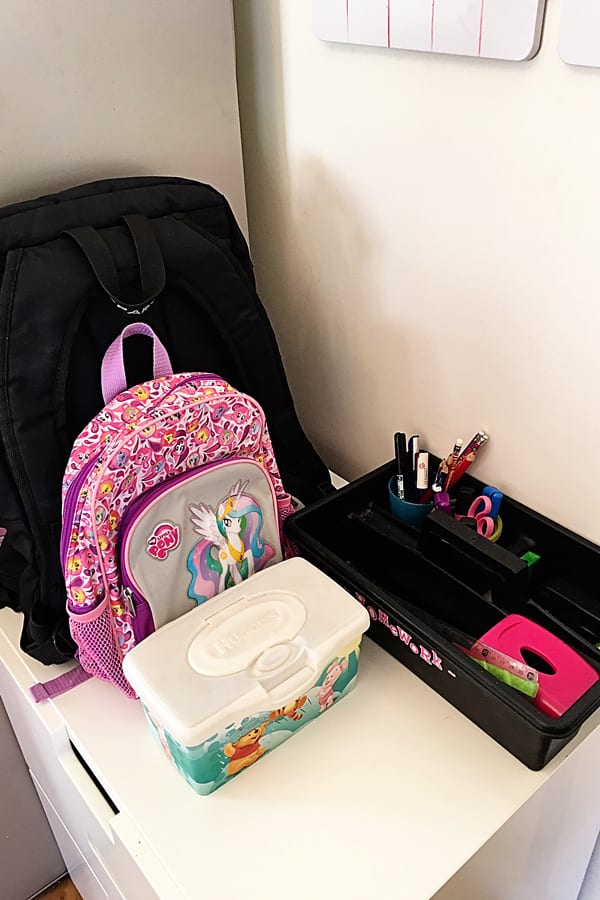 This little nook is to the side of our open plan kitchen/dining area. The space exists because at one end our kitchen has open space for a double fridge/freezer, while we only have a single. It is also just a few steps from the internal door to our garage, the regular entry and exit point our home.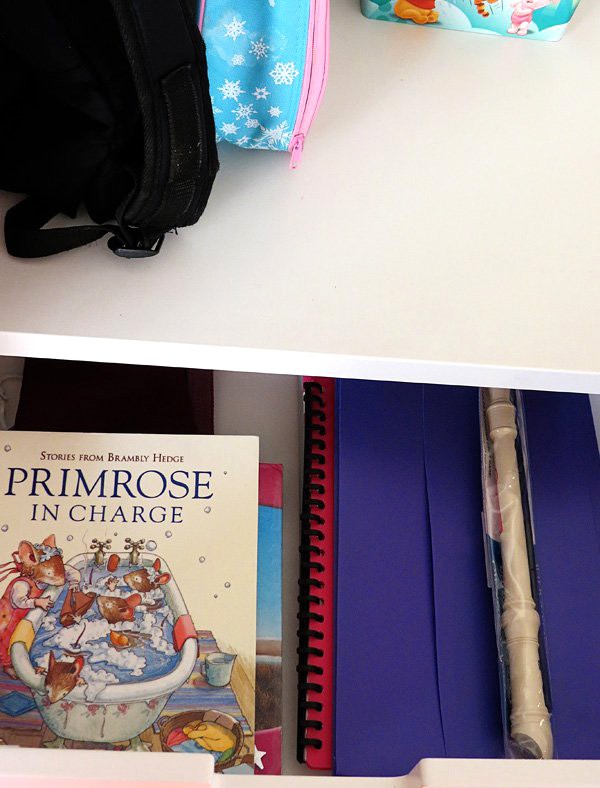 I purchased a set of Stuva drawers from Ikea as they were a perfect fit for the space. The drawers are great for storing stuff that needs to go to and from school – homework folders, library books that have been read, library bags, music folders, etc, and sun hats, beanies and umbrellas. The double height bottom drawer houses two dance bags for the girls' after school dance classes. The top of the drawer unit houses the school bags, a homework caddy and our school day hair tub.
The homework caddy is a plastic, multipurpose storage tray (with a handle) that I purchased at a hardware store. It contains all of the things our daughter most commonly needs to complete her homework. I love that we can easily move the caddy to the our big island bench, the dining table or even outside onto our outdoor table to complete homework. You can read more about our homework caddy here.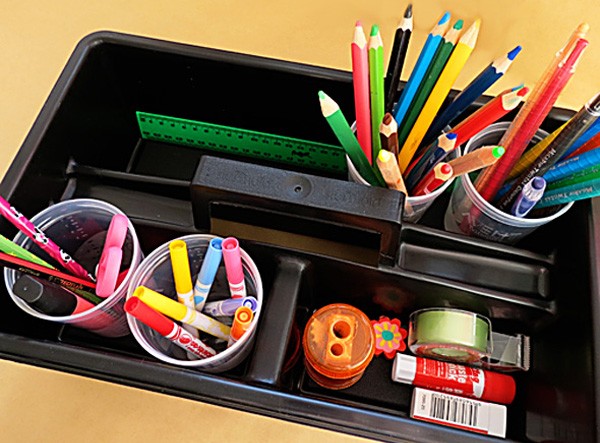 School day hair 'stuff' – brush, hair ties, water spray – is kept in a baby wipes container. A lunchbox would work just as well. You can read more about our school hair day box here (including our recommendation for the best hairbrush ever!)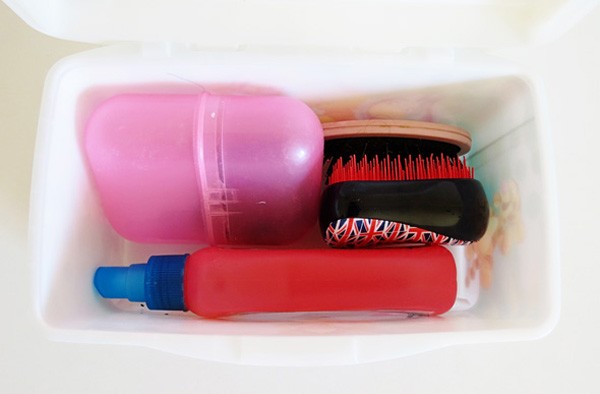 Above the drawers are two small magnetic whiteboards that I recently purchased from Kmart. One is for displaying a Monday thru Friday timetable that makes it super easy for our eldest (and before long, our youngest!) to check what regular school and after school activities she has on each day, so that she can dress and pack her bag accordingly. For activities for more than one child, I suggest using a different coloured marker for each child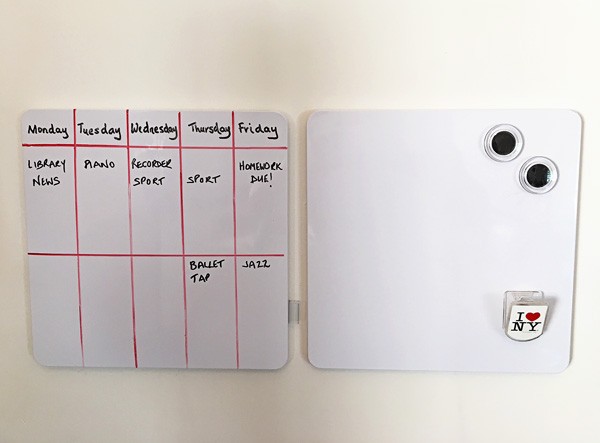 The second whiteboard is for reminders, and includes a magnetic clip for any school notices that I need to keep handy. Our family calendar sits alongside it all, on the side of the fridge, where I can easily add dates when notices come home from school.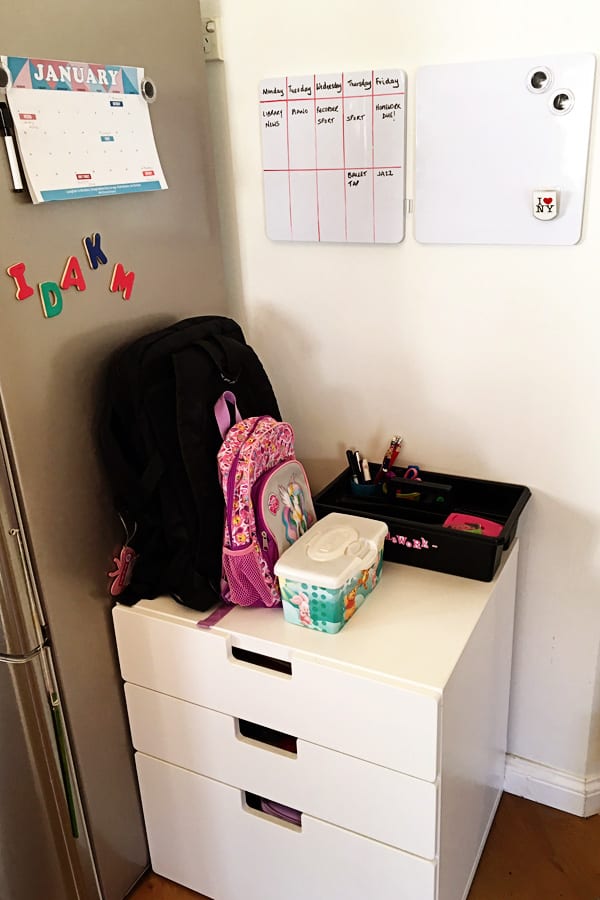 It's simple but it works for us!
Do you have a school day launch pad in your home?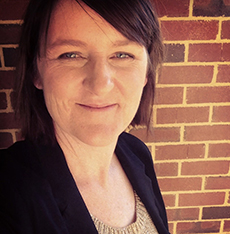 About Christie
Christie Burnett is the mum of two, early childhood teacher, author and blogger behind the playful online space known as Childhood 101. She is passionate about children's play, creativity and learning, and tries hard to prioritise time for family in the busyness of every day life. At Childhood 101 parents will find playful activity and project ideas for kids, family friendly recipes, ideas for family fun and real life parenting reflections.
Find our guest: Blog | Facebook  |  Pinterest