Practical and effective school bag storage solutions and organisation ideas to keep everything school related easily locatable, organised and tidy.
Soon the kids will be coming home each day with a bag full of homework, lunchboxes and school hats. It's likely that when the next morning comes around all of their belongings will be scattered throughout the house, which can be a recipe for disaster 5 minutes before it's time to hop in the car. Here are some effective school bag storage and organisation ideas to help keep everything school related easily locatable in one spot.
In our new house the kids keep their bags at the bottom of their wardrobe, they are all in high school now (boo!!! growing up too quickly) and bring books and laptops home, plus they need to pack sports uniform every 2nd day, so it makes sense for them to keep their school bag in their bedrooms for easy access. Which now eliminates the need for us to have an organised bag storage area. This is a picture of our school bag nook in our old house. Find my original post 25 School Bag Storage Ideas, for more inspiration.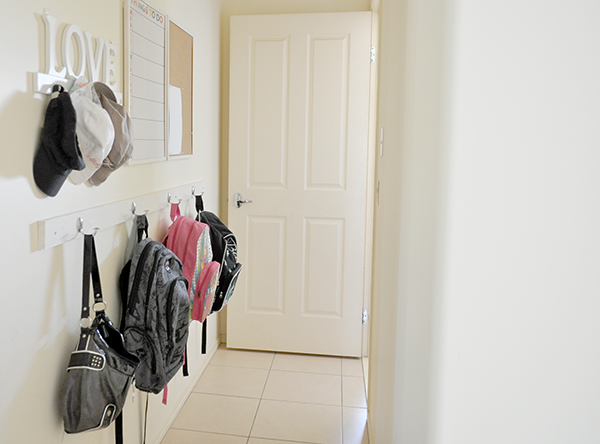 I do love a great organised space, so I asked the community on facebook to share some of their organised school bag storage solutions with me. I love all of these ideas. Thank you to each of the ladies for taking the time to share their photo. If you have a great space and don't mind sharing, pop over to the facebook post and share your nook!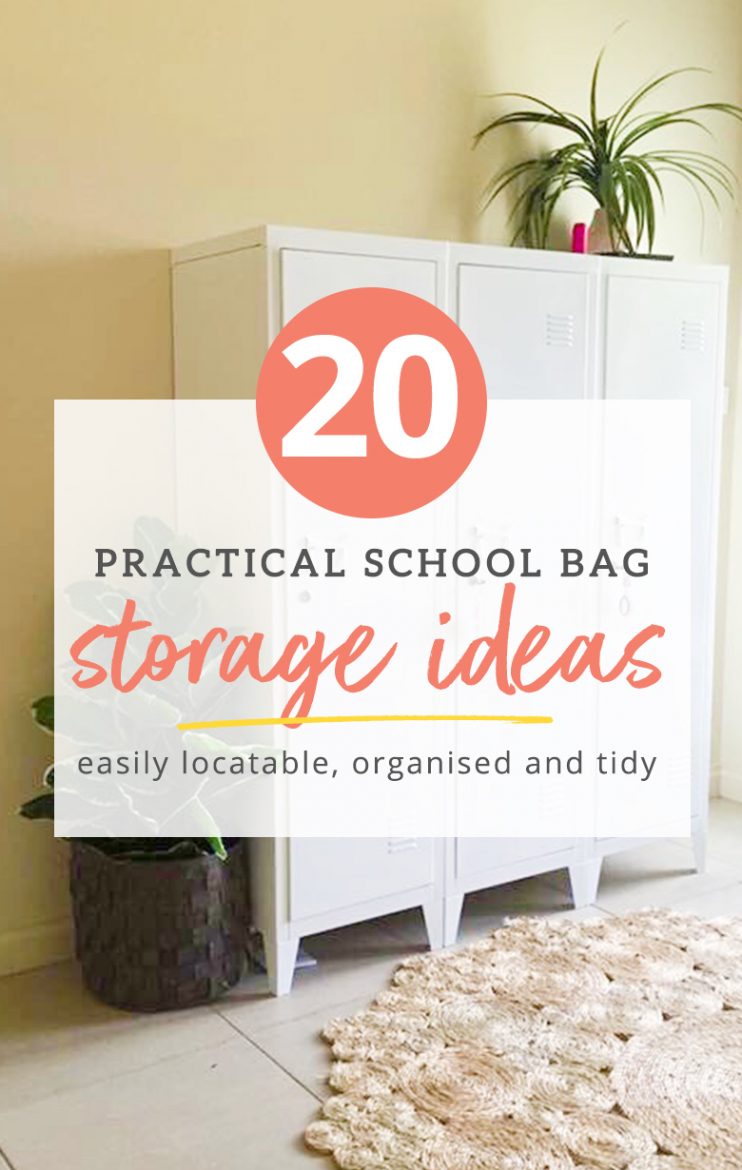 My mum gave us this tv cabinet which is perfect to store my 3 kids school bags whilst not in use. The top is where they empty and load their bags, and they have a drawer each underneath to keep things that need to go to school. – Joanne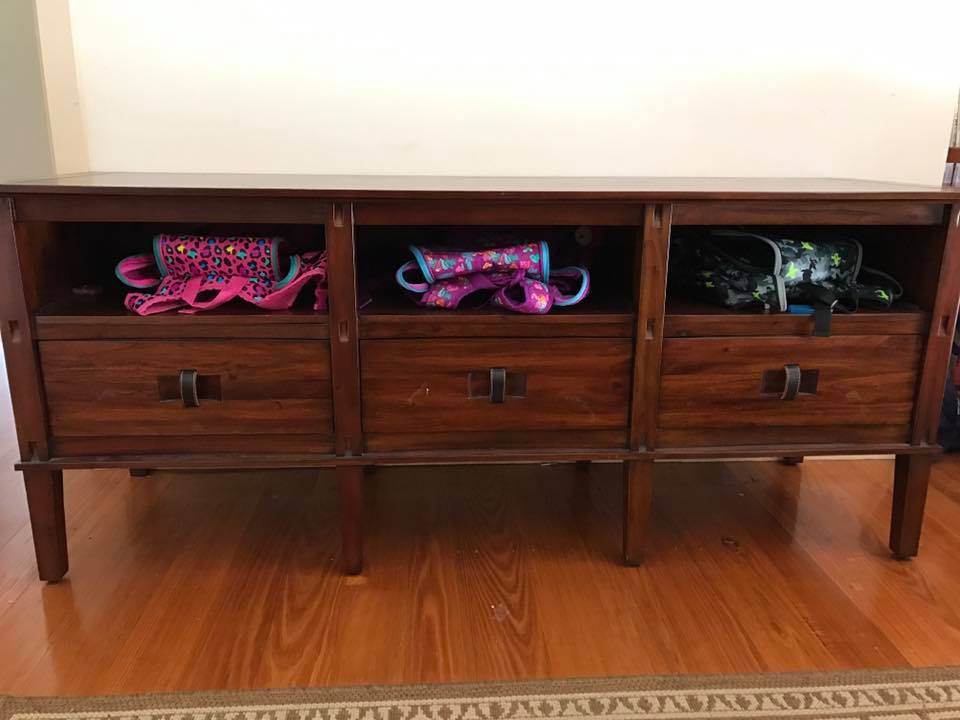 Three girls and we love our three lockers in our entrancewayThey are the Kmart lockers! And that is one of the biggest reasons I love them. They have three shelves inside so plenty of room for everything from bags to shoes, book bags, art smocks, sports gear, hats, ballet stuff, swimming stuff – pretty much everything bar their school clothes go in these and with doors that close (well actually they lock which I love) everything is out of sight from anyone visiting and keeps me happy. We get lots of comments on them… – Naomi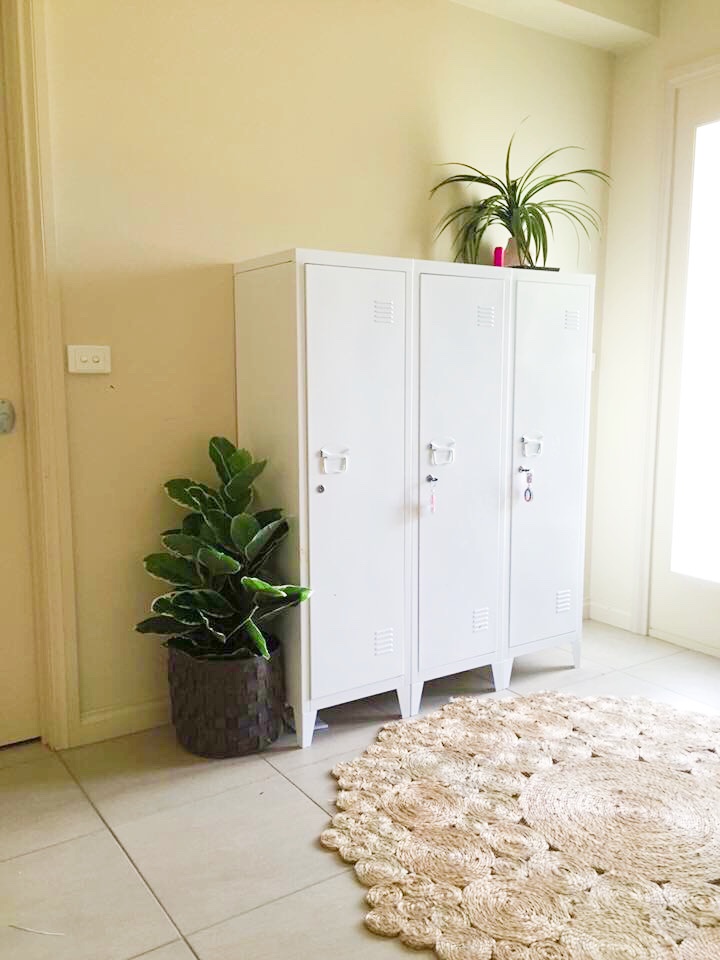 Plus Naomi keeps a tray on top, found at Kmart too for hubby's keys and other nic nacs that like to get dropped as they walk through the door.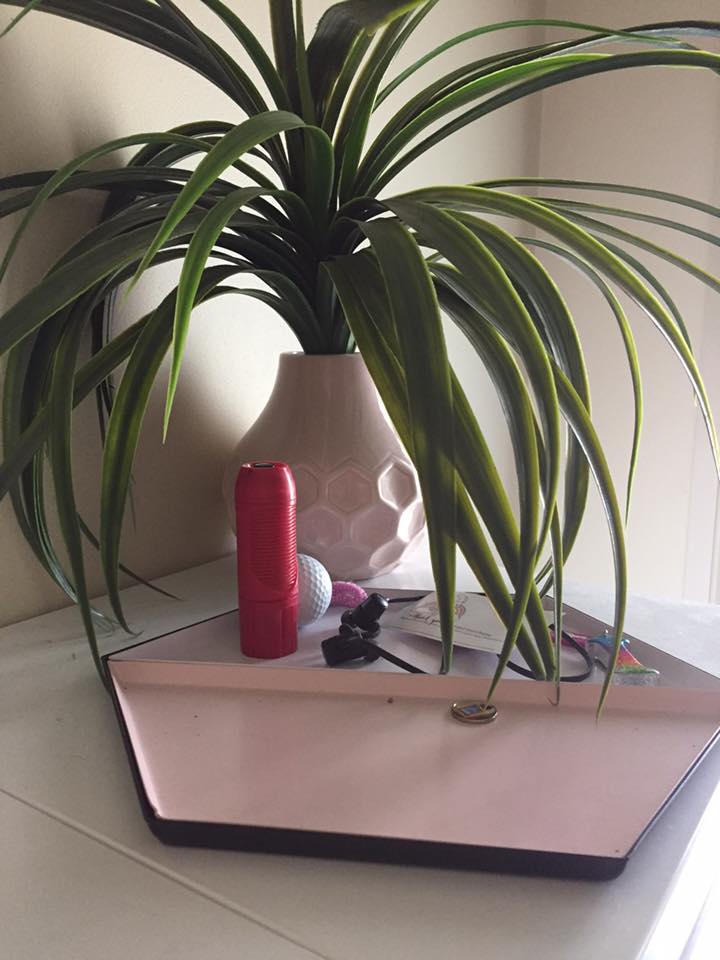 Thank you to Michelle for sharing what it looks like inside these lockers.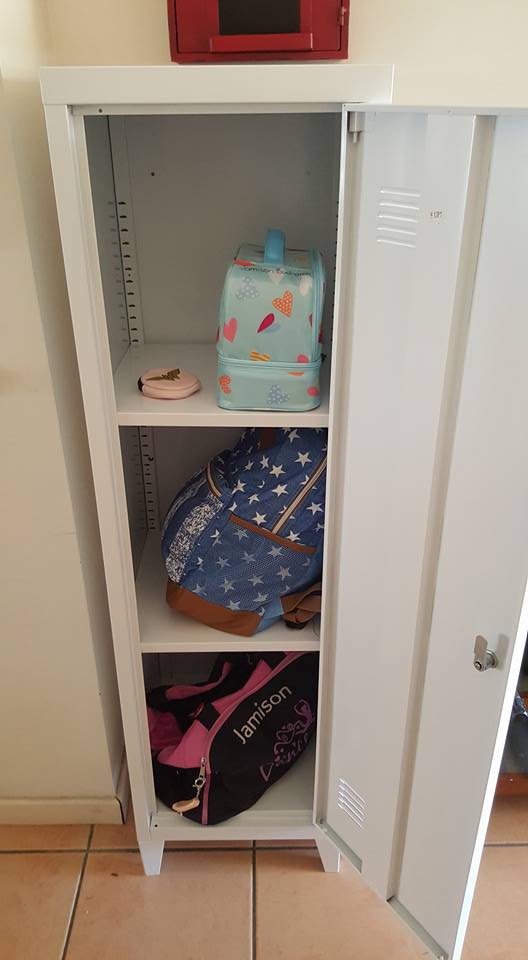 Our entry is small and narrow. This is ours with some baskets to come for their clothes for the day and paperwork etc. Our shoes live further down in an IKEA shoe storage thing. Organiser available here. – Emily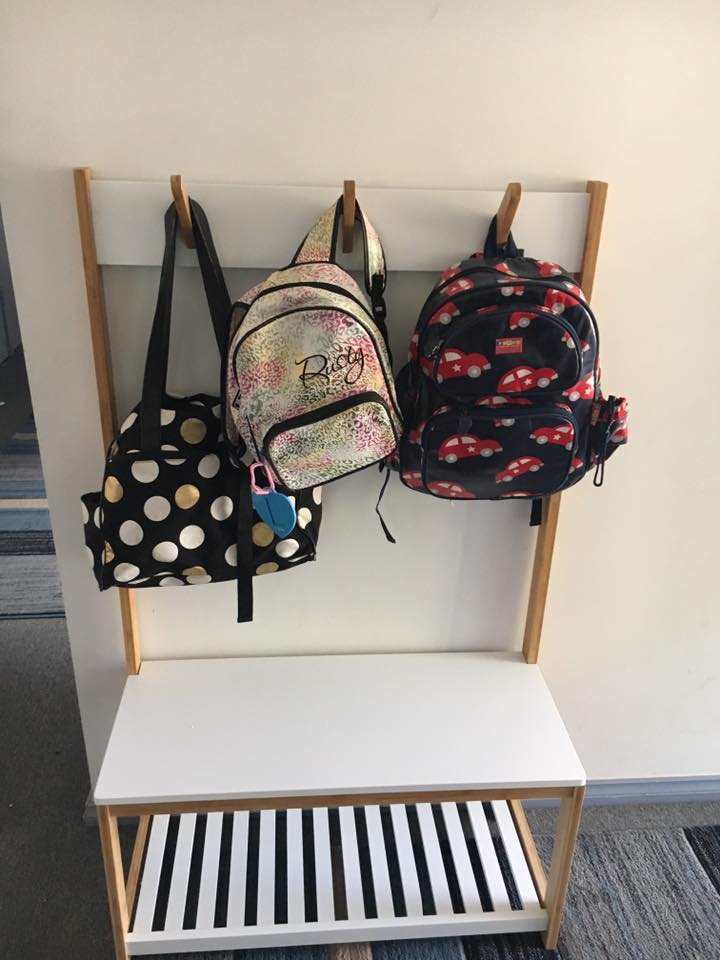 3 kids and me. Hubby doesn't get a spot. Shoes go in the drawers, bags on the shelves. – Emma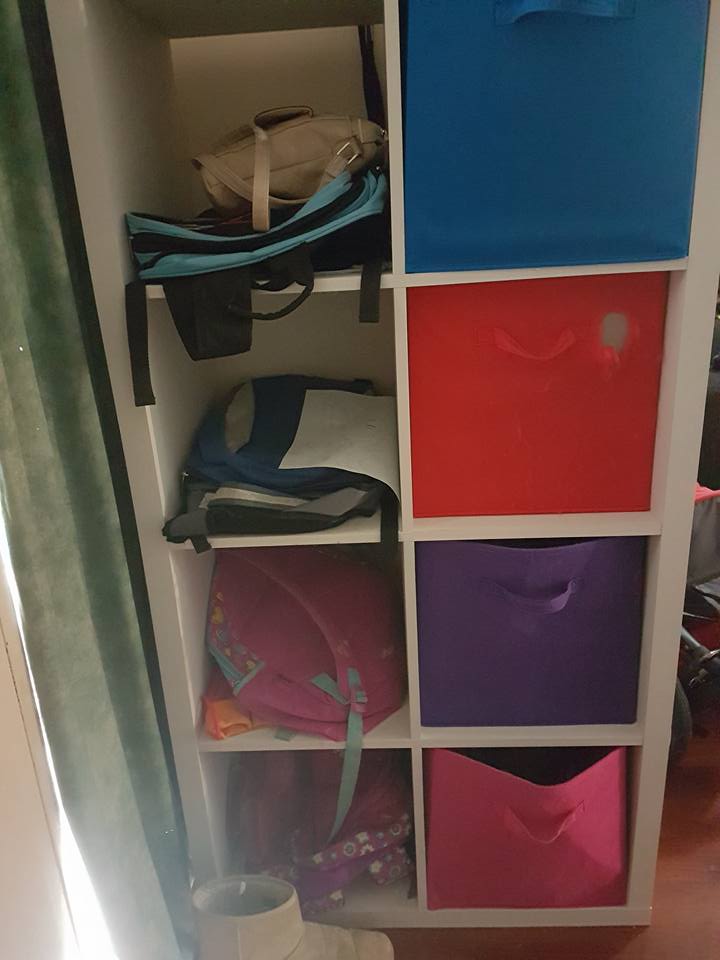 Bag in baskets on the shelf, shoes in basket on the floor, timetables for school and after school activities in the frames on top. The table is from KMart. The rug, frames, flower pots and baskets are all Kmart bargains too. It was meant to be temporary but I liked it so much- I kept it. – Tara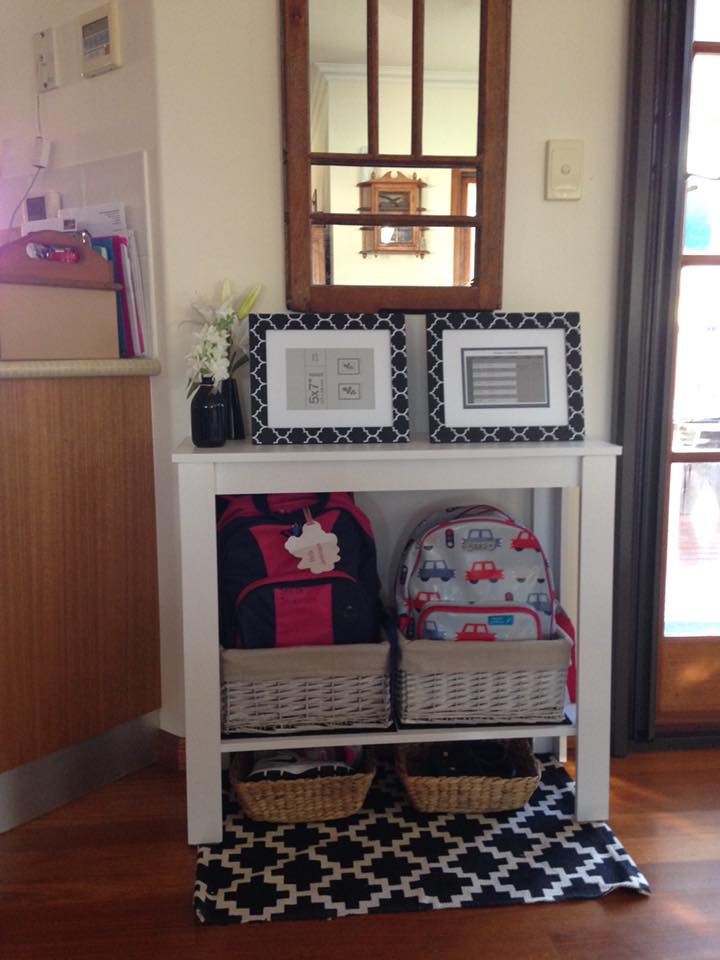 Have 5 kids, here's a great idea suggested by Yvonne. Just multiply x 5….lockers, tall cupboard, you can always hang 5 hooks on the wall, buy a 5 cubed long unit and lay it on its side, put canvas boxes in each, make a long foam mattress for on top so they can sit down. original image credit, unknown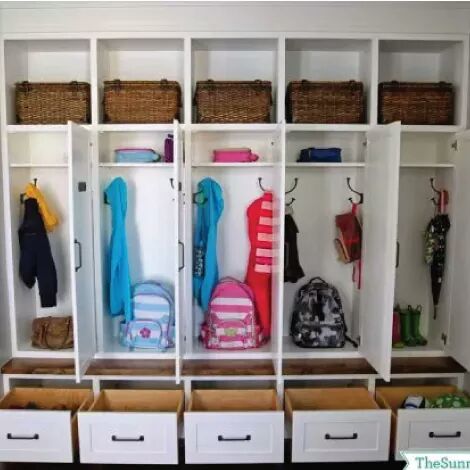 Something like this but against a wall with hooks above and either a photo of the child or name above each one. We use this for a reading nook. Just put in baskets or boxes. original image credit, unknown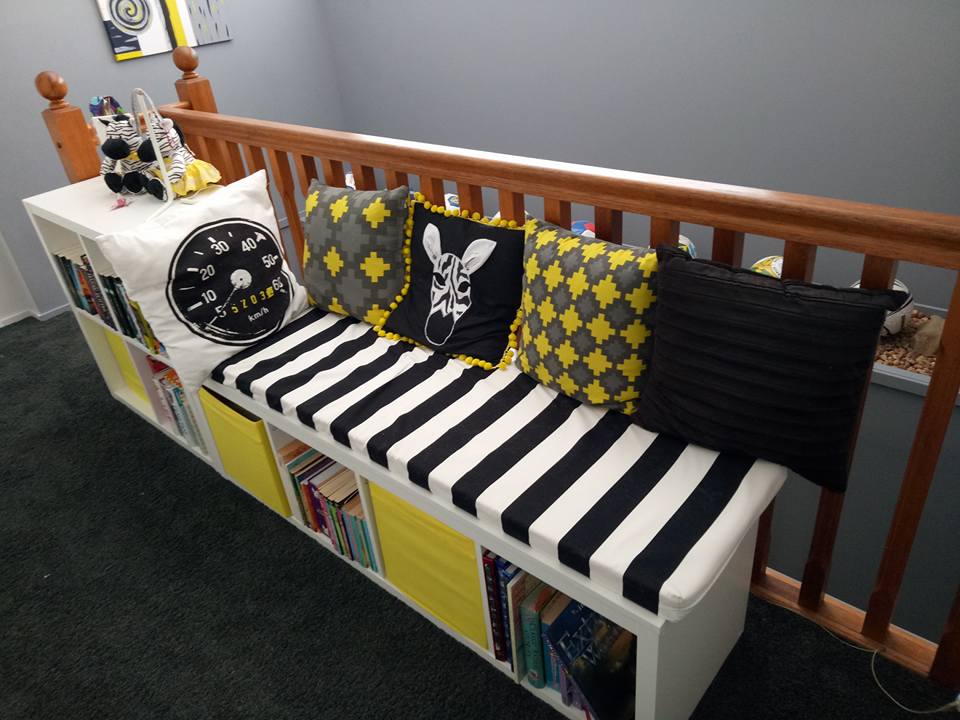 We have the IKEA box shelves. Kids bags are almost too big for it now! – Lyndsey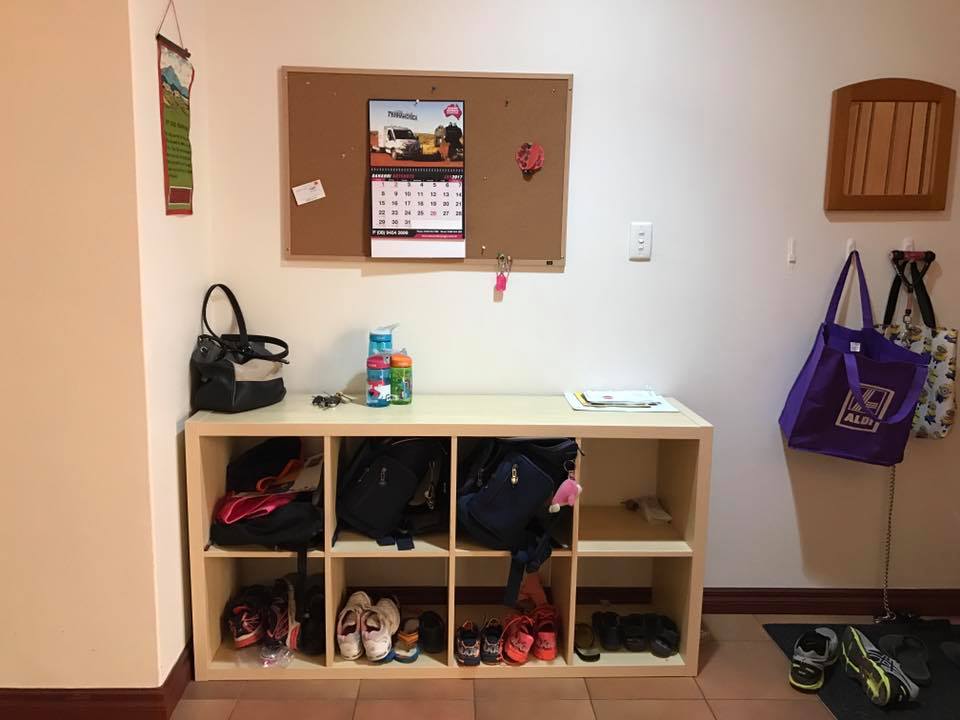 This is my solution for my 4 kids – Melissa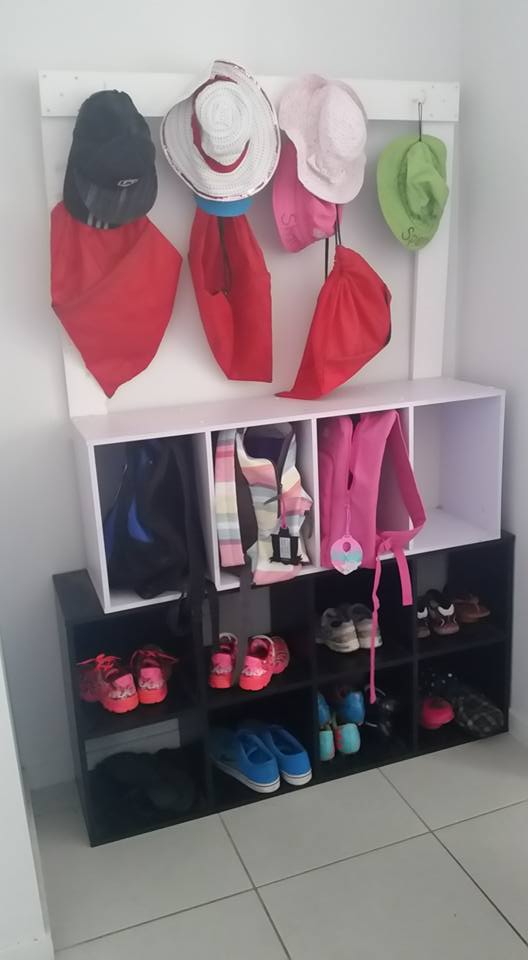 Lunch boxes bags and shoes! This doubles as a fire place to hang Xmas stockings at Xmas! – Karen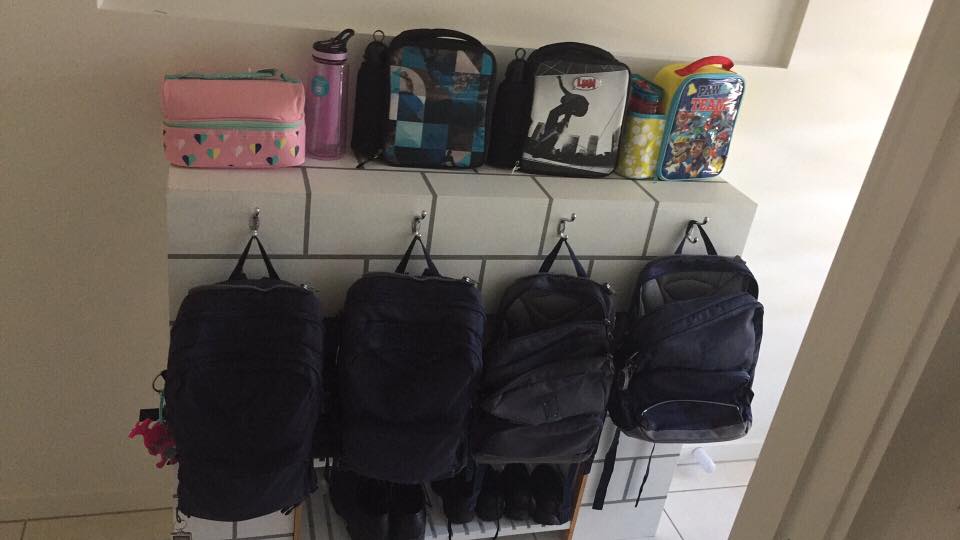 Cabinet is from Ikea, we left out the middle shelf to allow room for bags. Boxes on top are for hats, bottom boxes for shoes. Have stuck a removable hook on the wall inside each of the middle spaces so a coat can hang behind the bags. – Alison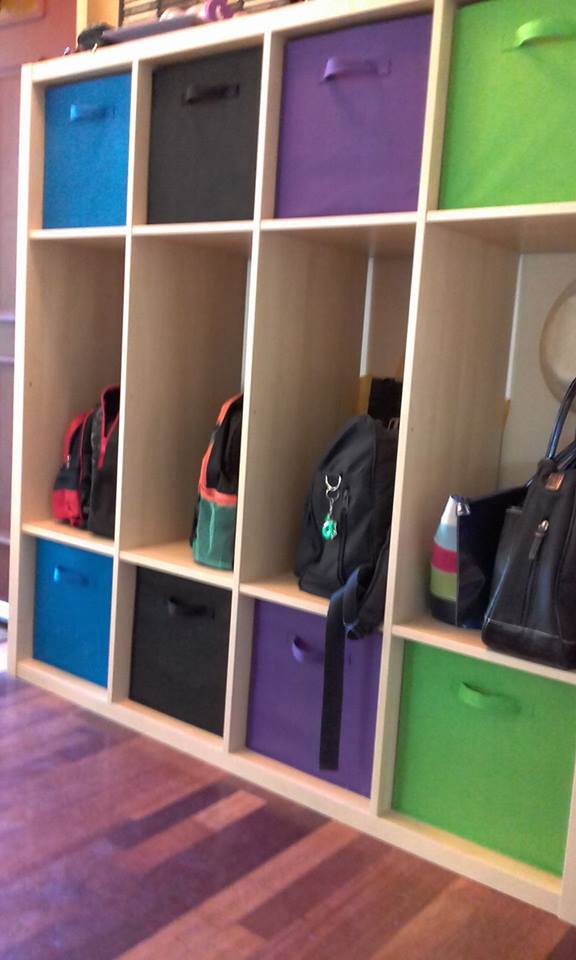 IKEA shelving unit. Bags on top shelves. Shoes in baskets. – Jenny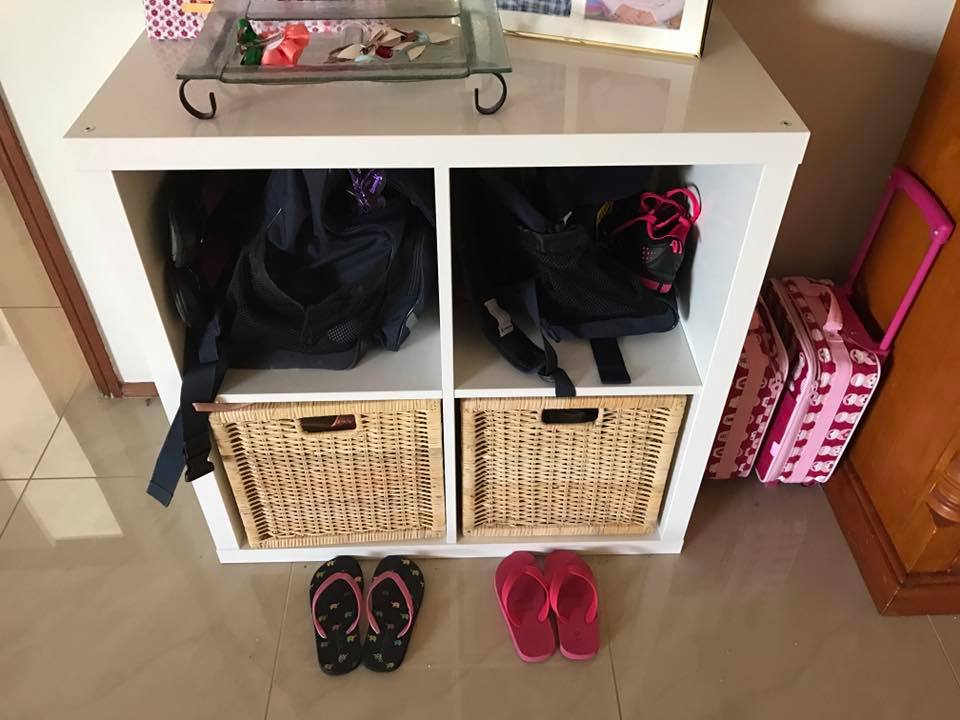 Our 'zone'. Bags and hats on hooks, everything else in shelves and draws below. No bags atm because it's holidays, but works a treat! – Eloise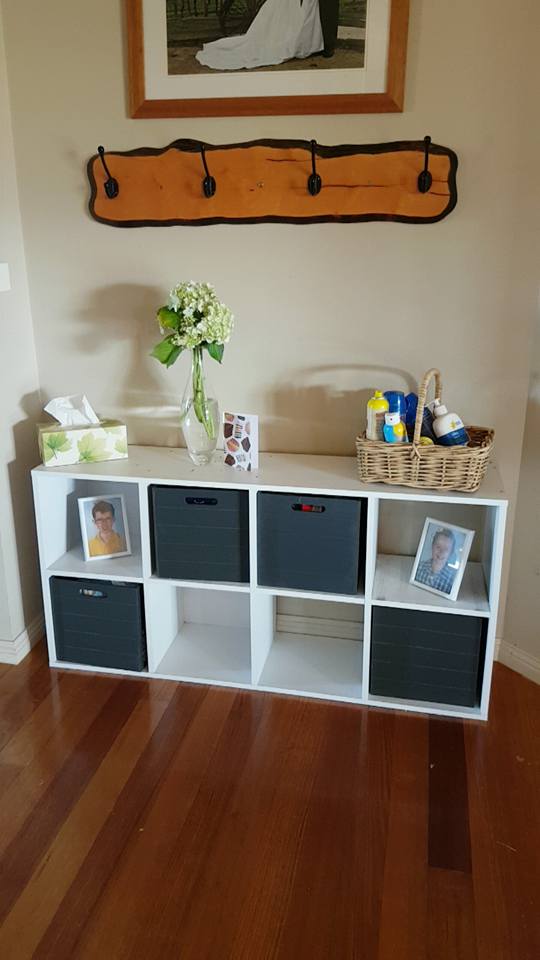 Vanessa Morley We use this tree from IKEA for school/library bags. Shoes go in a box in wardrobe as not enough wall space in house for a 'school station'. – Vanessa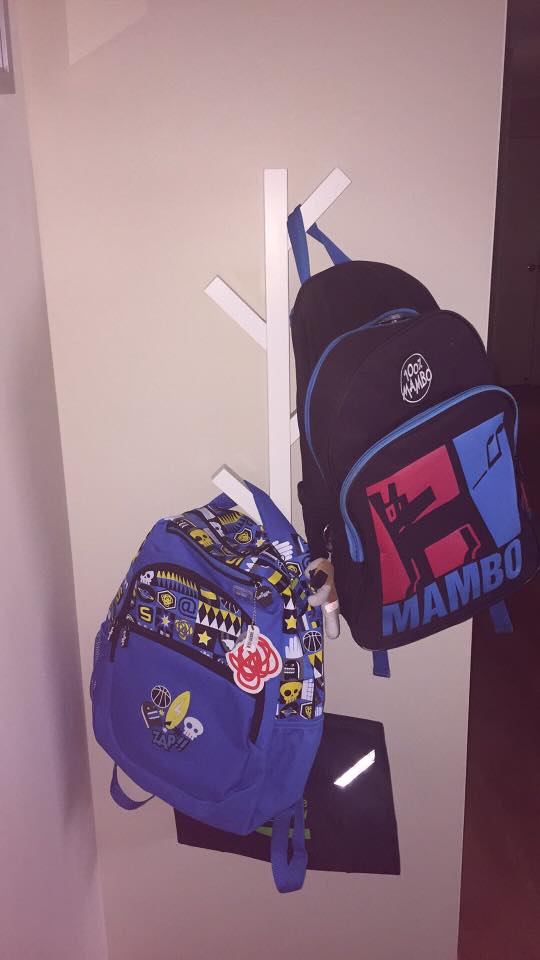 Shoes in boxes – Steff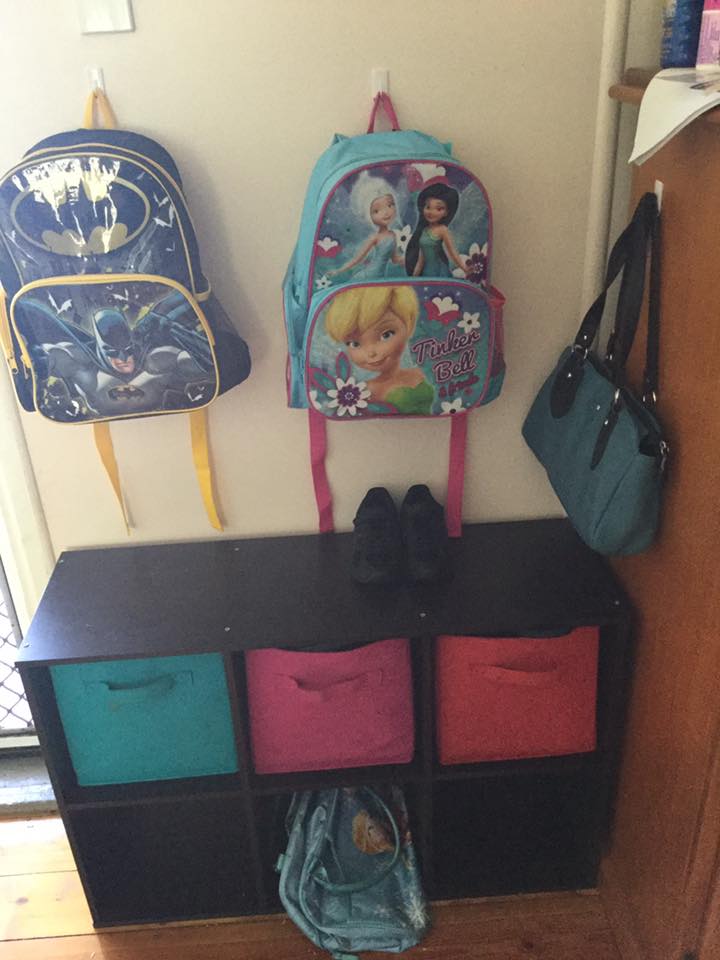 Simple but working for the last year. All their school stuff must stay in their bag i.e. homework is completed then put straight back! – Deborah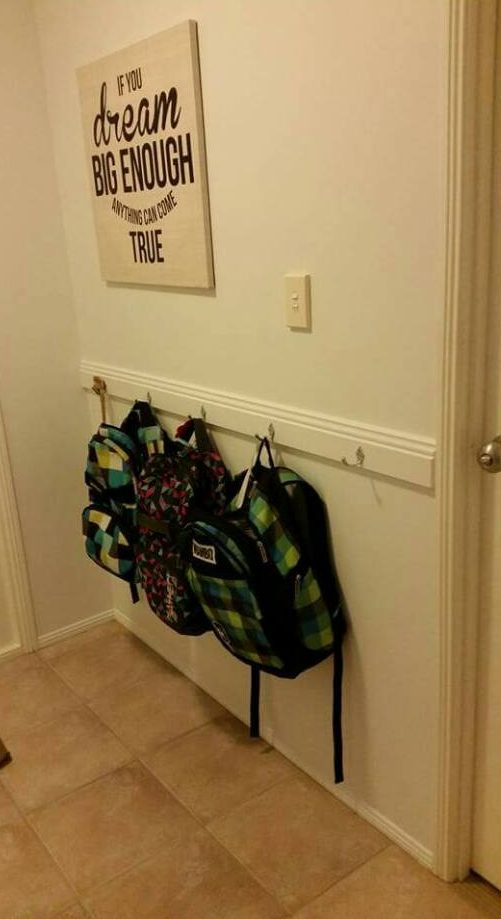 Job charts below bags, next day clothes in boxes. Shoes fit between cube and floor or in the box under clothes. This is in our hallway where the kids rooms all are. – Shelley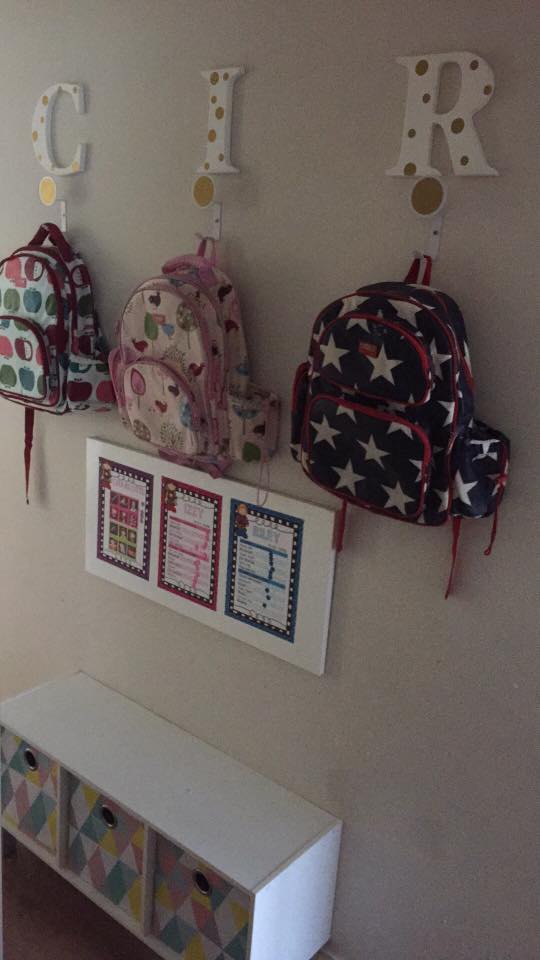 Tara has used a unit from Bunnings $65, when installing it she left out a few shelves to allow enough space to place school bags.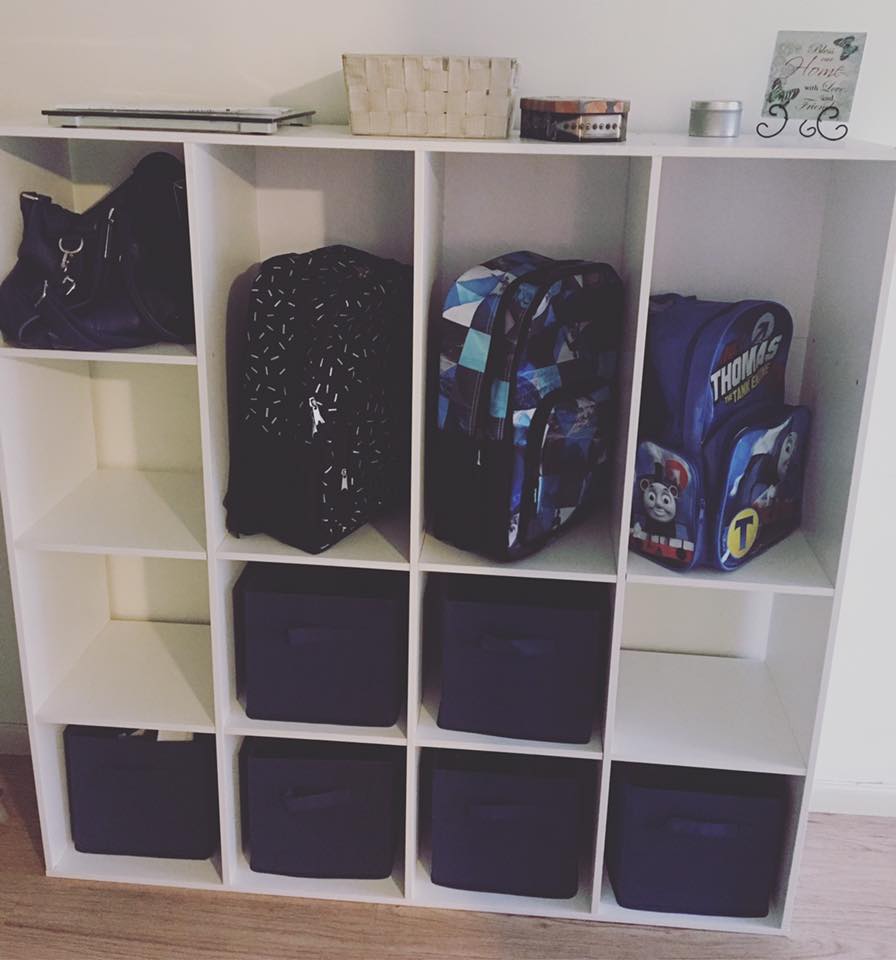 We're another IKEA cube fan – shoes and hats are hidden in tubs, and hubby and I use the drawers for keys, sunscreen etc. The family noticeboard sits right next door too – Breagh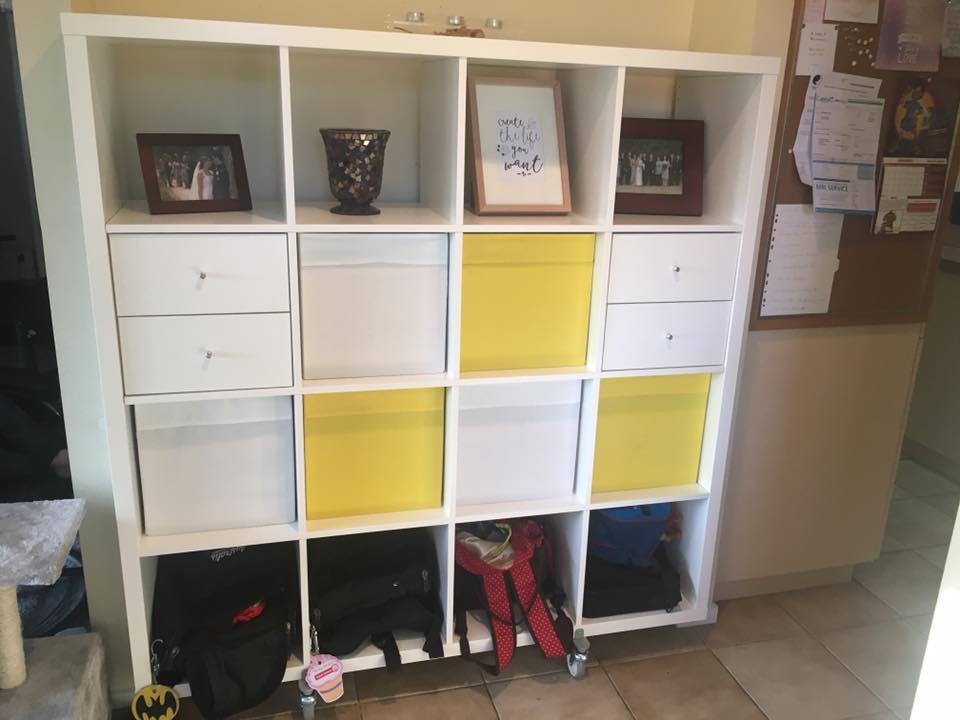 How do you store your kids school bags?