This post is sponsored by Ascent Footwear
Ever since my kids have been in prep I have had them properly fitted for school shoes.  I want them to have shoes that are comfortable to wear all day, durable to last all year, the right size and help to support their feet. Buying the kids good quality school shoes is crucial for healthy foot growth and development, especially considering they are worn over 30 hours per week.  Incorrectly fitted shoes on growing feet can lead to many health problems, such as lower back conditions, postural issues and more.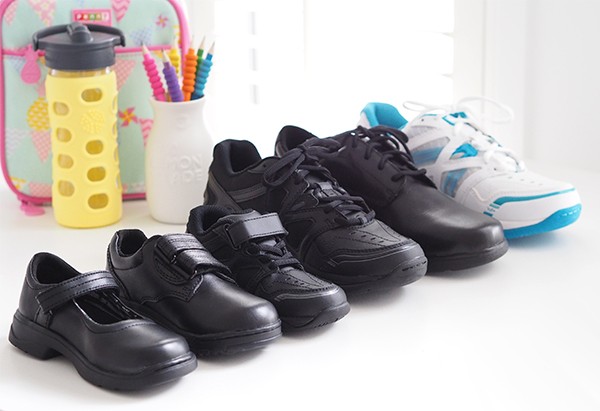 Quality school shoes may be expensive, however, consider that one pair of good quality shoes may be the same or less expensive than buying multiple pairs of cheaper shoes throughout the year.  I have purchased my kids Ascent Footwear each year since they began school, over the years they've worn the cute little Adela (Mary Jane style), Sustain in velcro and lace and now the twins are in high school they wear the formal Apex or Scholar style.
Ascent understand that 'kids don't walk they run' that is why they build all their school shoes with sport shoe technology such as cushioning & support, including the formal styles. Engineered to provide the right comfort and support to help kids get through an active school day.  Ascent school shoes are the only brand to be endorsed by the Australasian Podiatry Council.
According to the Australasian Podiatry Council the ideal school shoe should:
Never bend in the middle – this means no stability if it can

Be able to bend at the toe – this means the shoe is designed to bend with the foot and not fight against isn't natural movement

Not be able to twist or 'ring out' – this also means no stability if it does

Not be able to push in the heel cup – this means a soft heel counter if this happens with no support
Ascent Footwear
Much like many of the Ascent styles, the Sustain, pictured below comes in either a lace or velcro. The Sustain Jnr, is a brand new junior school cross trainer featuring a wrapped outsole on both the lateral and medial sides for extra durability. Sustain Jnr also features an elastic lace and a hook and loop fastener, allowing easy entry for the little ones!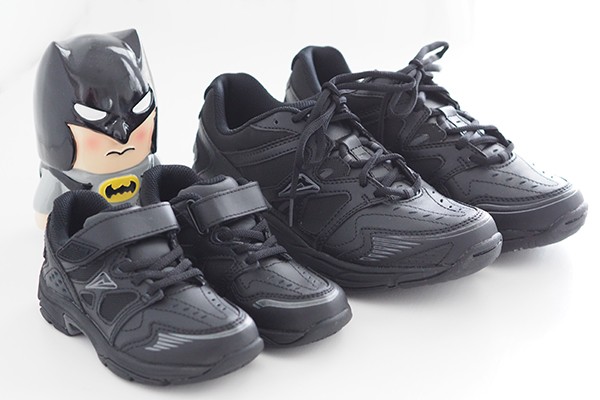 The Adela 'Mary Jane' girls school shoe has an outsole/midsole which provides lasting cushioning for growing girls. Internal structure in the midfoot provides ample stability. Fully adjustable hook and loop fastener strap over the instep.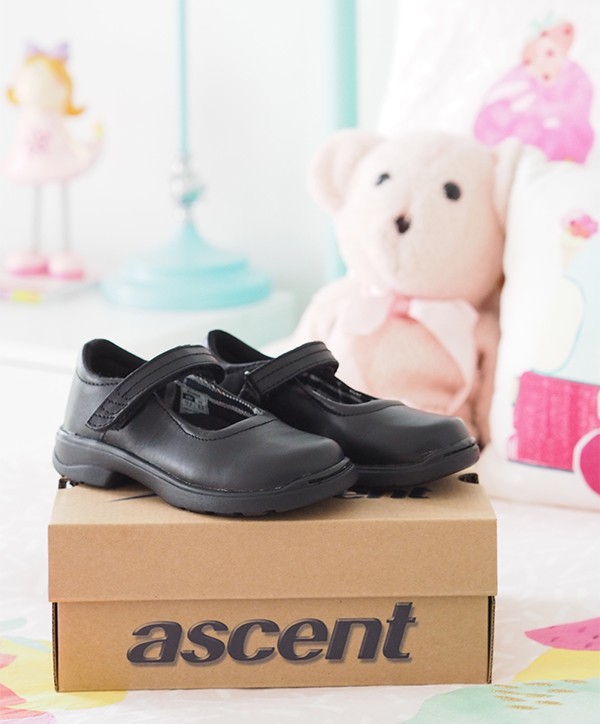 The Scholar (pictured below with the Sustain Graphite) is a true 'sports shoe in disguise', a formal school shoe packed with stability features from the heel through to the midfoot, however remaining responsive, cushioned and durable for active students.  Available in 4 widths in Senior & Youth both in Male & Female, there are 103 sizes available in this style.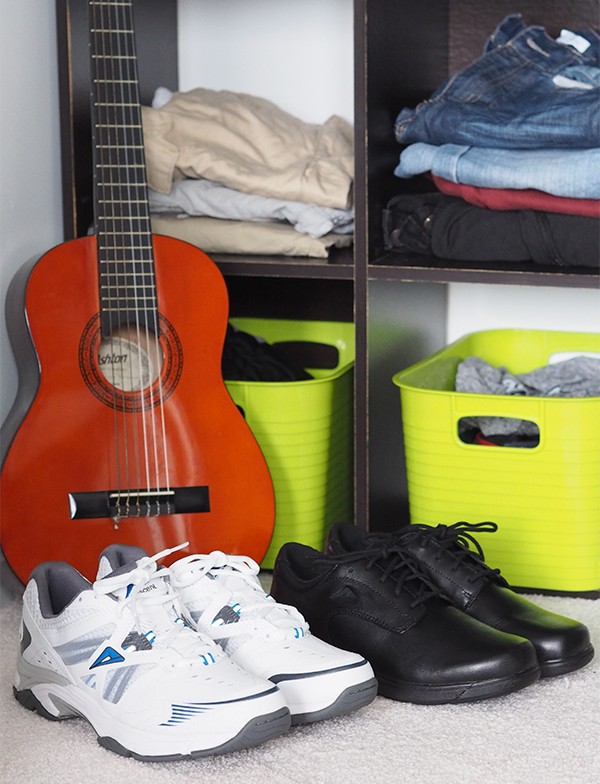 Don't forget that kids will use their shoes outside of school too, for all their extracurricular activities or like my Miss below, riding her sisters bike, with that in mind getting a cross trainer for general sports is a great idea.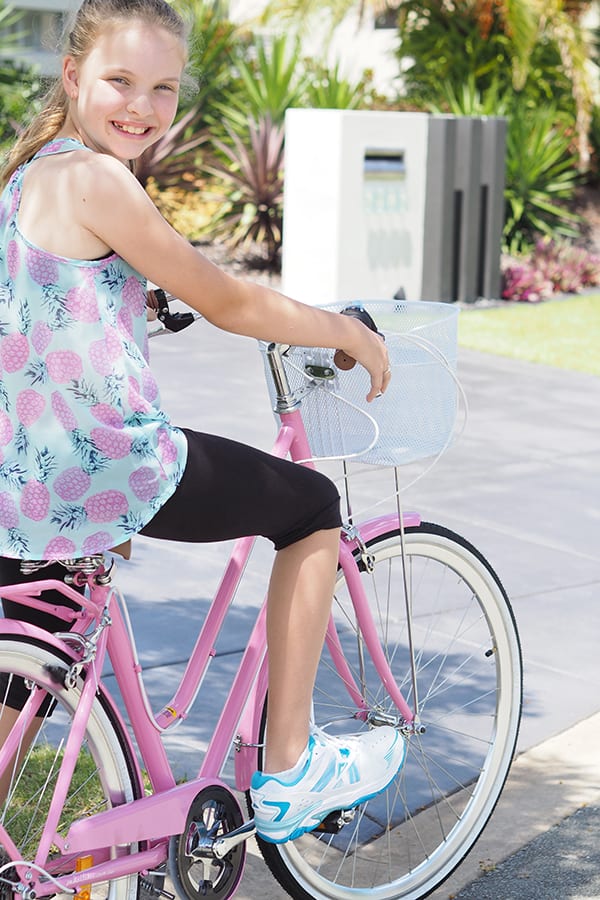 Visit the Ascent website here, or click on the links I've shared above to each shoe page.


This giveaway has now ended, congratulations to Laura for winning this fabulous prize.
WIN a new bike and a pair of ascent school shoes
One lucky read will win an Apollo 24inch 21sp Mountain bike in red and your choice of one pair of Ascent school shoes! 
To enter, tell me in the comments of this blog post:
What area of the kids returning to school do you most struggle with and why?
ie: purchasing supplies, creative lunchbox ideas, getting kids into routine.
Entries close 25th January 2016. View full terms and conditions for this giveaway here.
Apollo's youth series has been designed with custom frame geometry to suit the growing bodies and energy levels of your kids. Suspension forks and Factor saddles ensure kids have the safest, most comfortable ride possible. Valued at $389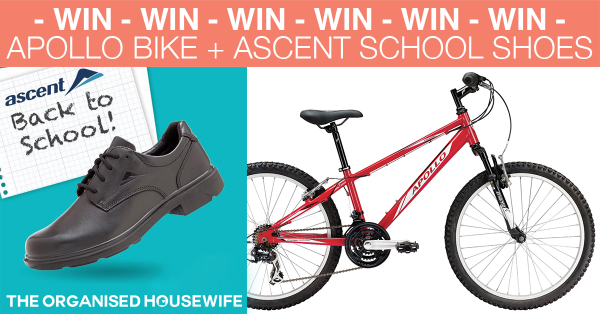 This post was run in accordance with my disclosure policy