Do you rush around in chaos the mornings getting the kids ready for school?  Your morning routine can set your mood for the day so we need to ensure it goes as smoothly as possible.
School mornings in our house have changed for the better recently, my three kids are now in hight school, they have become more independent with making lunches and getting breakfast. The foundation started when they started kindy and has built from there.  I have worked out a strategy with the kids to make the morning not so rushed and hectic. It's all in the planning and preparation over the weekend and the night before, which then creates a stress-free school morning routine. I have included my tips, charts and routine tricks to help you create stress-free school mornings.
ON THE WEEKEND
WRITE UP A LUNCHBOX PLAN – Making a plan of what to put in the kids' lunchboxes through the week not only helps to ensure that I have the fridge and pantry stocked with lunchbox food items but also helps the kids know what to pack in their lunchboxes. My lunchbox planner is available to download
Lunch Box Planner: My lunchbox planner is available to download here.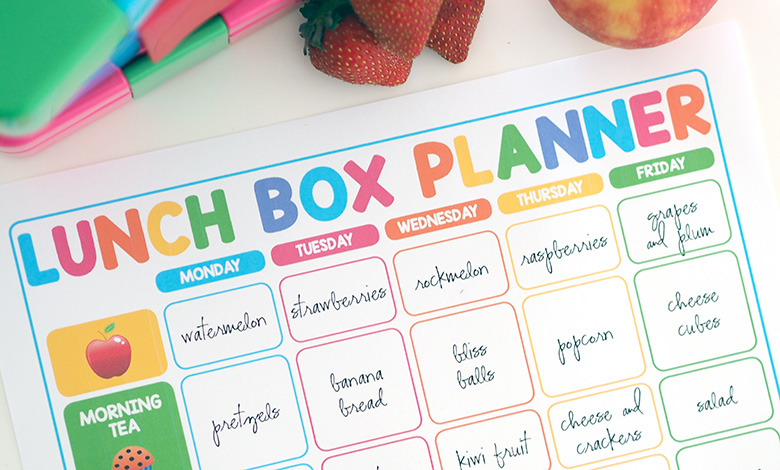 WASH AND IRON UNIFORMS – Over the weekend I clean all uniforms and have the kids' formal uniforms ironed and in their wardrobe ready for the week ahead.  I don't have time during the week so I have created some shortcuts in my laundry.
Read more: Tips to get through the laundry pile chaos faster.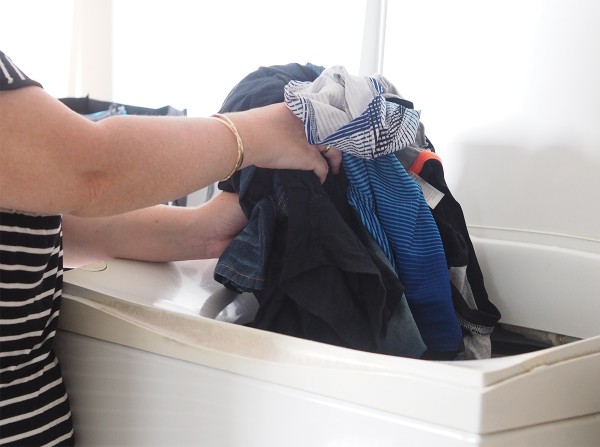 Read more: How I get organised on Sunday for the week ahead here.
THE NIGHT BEFORE
It is a good idea to prepare a few things the night before to reduce the amount you need to do in the morning.
MAKE LUNCHES – making lunches the night before has become a huge timesaver.  I have always made the kids lunches, purely because I really enjoy it.  However, Miss 13 asked if she can help me by making the lunches.  To be honest, I didn't want to let go as I like making lunches for them, but she really wanted to help out. It has been a tremendous help, I am enjoying watching her independence and that she too gets a thrill from making lunches for herself and her siblings. Fill their drink bottles and put in the fridge or half fill them and put them in the freezer for hot days.
LAY UNIFORMS OUT – Make sure all the kids' uniforms are washed and clean. Lay them out over a chair or hang them up in their wardrobe so you don't have to rush looking for them in the morning.
MAKE KIDS SHOWER/BATH –  Not only are they clean for their bedsheets, having the kids bathe in the night eliminates wasting precious morning time.
THE SCHOOL MORNING
When the kids were younger, I would wake them 60-90 minutes before we had to leave.  I would then hop in the shower and get ready myself. Now the kids are older they wake up by their alarm clock.
BREAKFAST – I always buy healthy breakfast options for my children as it is considered the most important meal of the day. I like to make sure they are being provided with the essential nutrients and energy to start the day which is vital for growing bodies. When my children were younger, I would set the bowls, spoons and cereal out on the bench the night before to get them ready for school faster.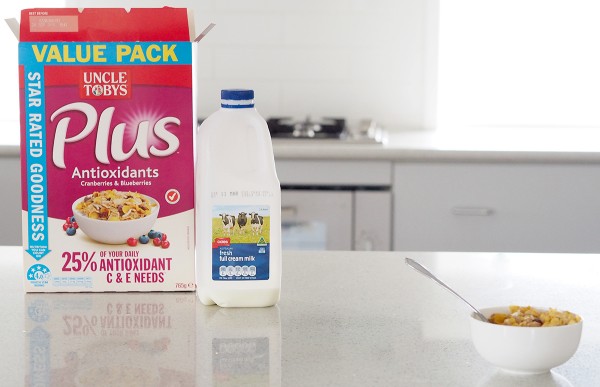 STEP BY STEP TASKS – This is when my children must follow their morning routine chart and make their way down the list. I have designed my own morning routine charts that are available as an instant download in my shop here. Having a visual routine available for the children helps them recognise what they need to do each morning and helps them create habits. One big thing that I found important when I created these charts for my kids back when they started kindy was to have the brush teeth task before get dressed, as I found they used to blob toothpaste on their clothes, therefore having to change. This chart helped them to see to brush teeth before getting change, less washing for me!!
The good thing about these charts is that you can personalise them to suit you and your family's needs.
Routine Charts: range of colours for morning, afternoon and evening available here.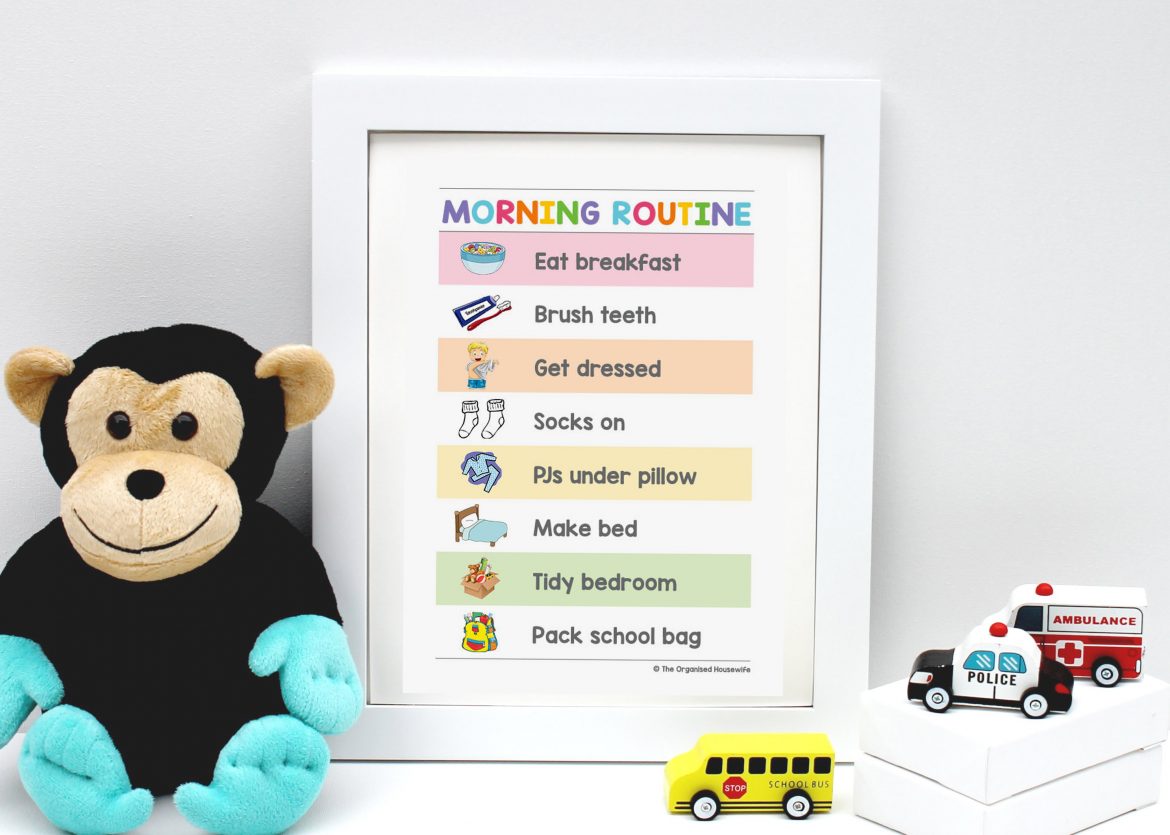 BRUSH TEETH – It's a necessity for my children to keep their teeth clean and have fresh breath. I found I was nagging the kids reminding them to brush their teeth.  I created this chart years ago to reward them when they remembered themselves…. to help me stop nagging.
Brush teeth chart: Personalise this chart by adding in your child's name, available here.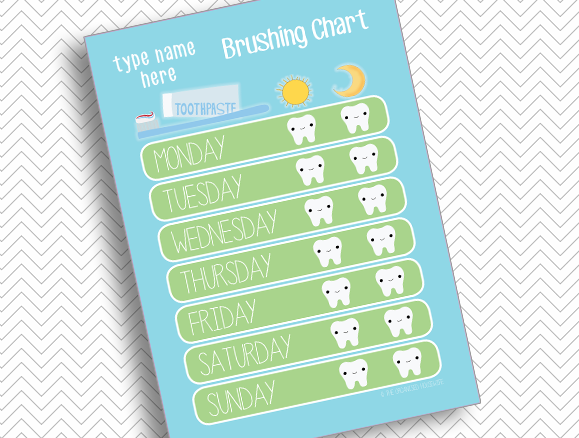 GET DRESSED – Shower to freshen up if they need to then get dressed into school uniforms, including socks and brushed hair.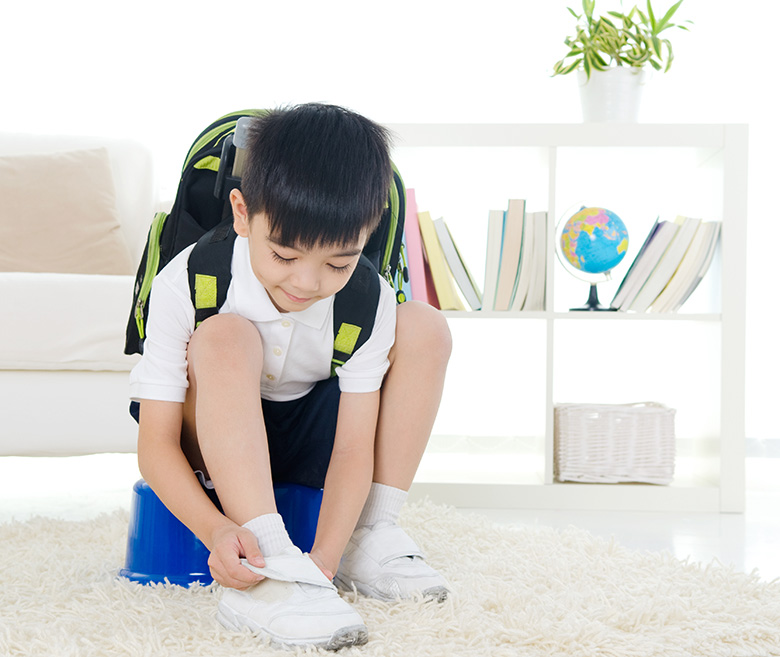 LEAVE BEDROOM TIDY – Opening up blinds/curtains and windows to let in the fresh air, making the bed and leaving the floor clutter-free.
FINAL PACK OF SCHOOL BAG – The kids grab their lunchboxes from the fridge and place it into the cooler bags, along with anything that hasn't been put in there yet (i.e. crackers, muesli bars). At this stage they need to check they have remembered to pack their homework books, computers, etc. I use a school bag chart to help prompt the kids so they don't forget anything important. I used to have this laminated and placed next to the school bag storage rack.
Have you packed charts: Available in a range of different colours and option to personalise here.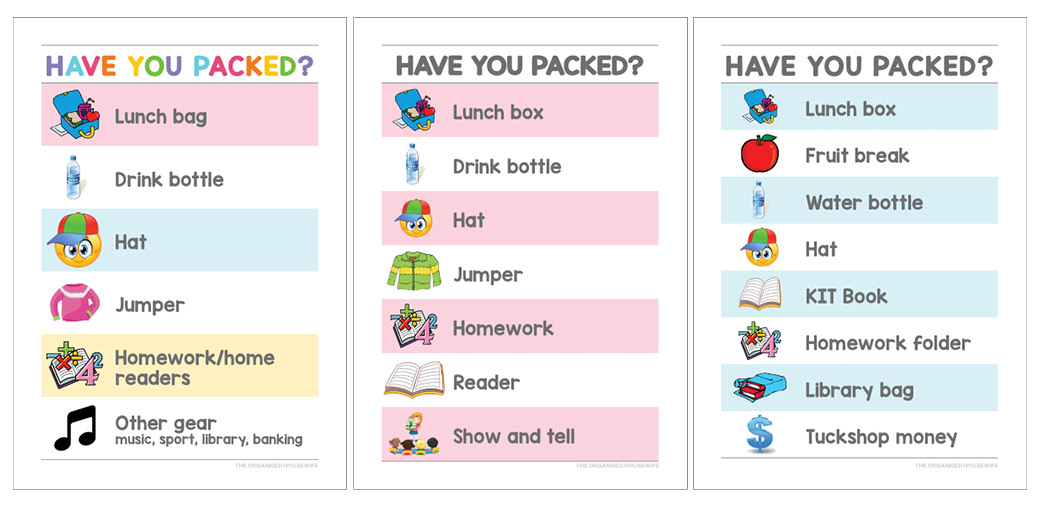 OUT THE DOOR – If they are ready before we need to leave, the kids usually sit down with me and watch the Today Show… we love Karl, he is an absolute hoot!
What helps you get out the door on time for school?