Most kids in Australia are starting their new school year next week, for some this time may have gone quickly for others so slow. I adore my kids and love having them home, but I can see they are ready to go back to school, they are counting down! In this last week of school holidays we make a few changes in the home. The most important of them all is re-establishing the kid's school sleep times, they need a good nights sleep for school it benefits their performance and engagement during their school day.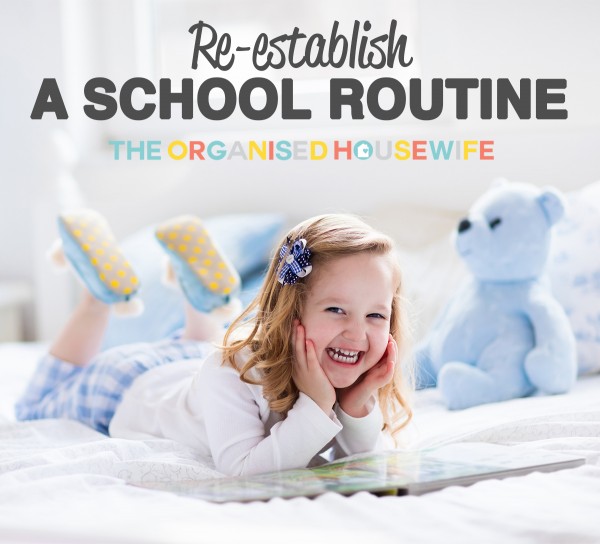 Re-establish the kids sleep times
Over the holidays I allow my kids longer sleep-ins and extend their bedtime over the school holidays. However, at the beginning of a new school year a week before school starts I start to transition them back to school routines.
Each day I get them to go to bed a half hour earlier until we reach their school night bedtime of 8.00pm
Waking them up a little earlier each day gradually making their way to their school day time 6.30am
Create a morning routine
Work out what time you need the kids to wake up each morning to allow them enough time to leave for school. Work backwards knowing what time you need to leave and how long it takes them to do the following, plus other tasks you require:
have breakfast
brush teeth
get dressed
tidy bedroom
pack school bag
put on shoes
I created morning routine charts for my kids when they started kindy (10 years ago now) as I found I was continually repeating myself (which I found frustrating). Have you brushed your teeth? Are your socks on?  etc. To eliminate me yelling from the kitchen to the kids getting ready I created a routine chart for the kids to glance at to know what they needed to do each morning to get ready for school.  You can read what our typical morning routine looked like 5 years ago, it has changed now the kids are older and more independent, but I still have these charts on the wall for them to refer to. Routine charts are available in my shop for only $4.95 and I can create personalised charts for you.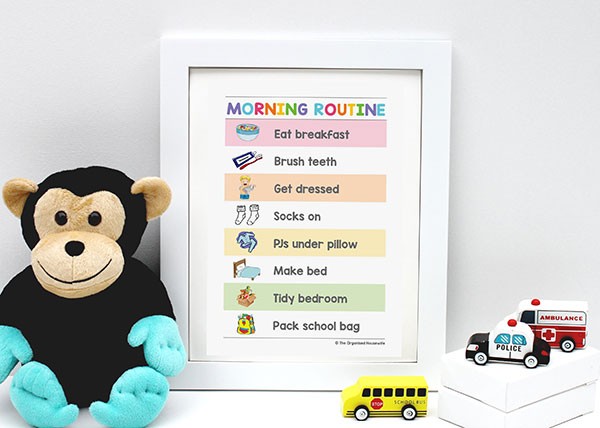 Get the kids to help me with labelling their clothes
Labelling school supplies helps with excitement that school is returning soon, my girls love putting their new stationery into their pencil cases ready for the new year, my son is perfectly happy for me to do it all LOL. If you have child that is feeling anxious this is a good opportunity to talk to them about what to expect in the new year and learn what their worries are and help them through their troubles.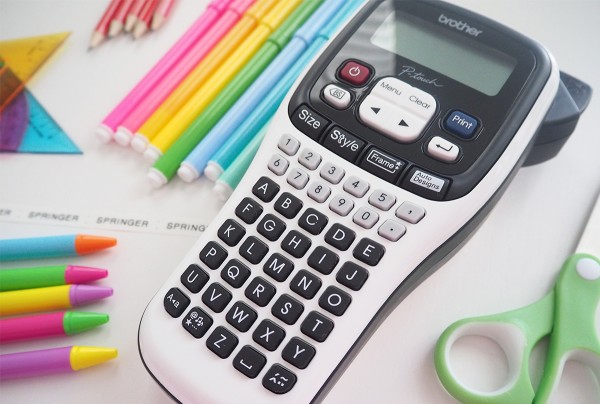 Set up a school organisation area in the home
Creating an organised space in your home will help to keep it tidy and make it easy for the kids to find items during the school morning rush hour.  Some organised areas explained below.
This was one of my tasks to complete this week, as we've moved house recently we don't have designated areas as described below. However, I have decided I am going to leave it for a few weeks as the twins are in high school now, they bring their school books home for study and homework and take their bags into their bedrooms sitting by their desk to study.  Which may eliminate the need for a school bag nook and homework area. I'm going to watch what they do and come up with a solution, it may mean some better organisation in their bedrooms for stationery and in their cupboards for bags.
SCHOOL BAGS – When my kids started school I saw the trend of them getting home and throwing their school bag under the kitchen bench, forgetting to unpack their lunchbox.  I created a school bag nook in our hallway to the garage to help keep their bags tidy and off the floor. As soon as they got home they hung up their bag, got out their homework and put their lunch boxes in the kitchen sink to be cleaned.  Our afternoon routine chart helped to create this system and thankfully they now remember to always take their lunch boxes out of their bags.
Loads of school bag organising ideas here.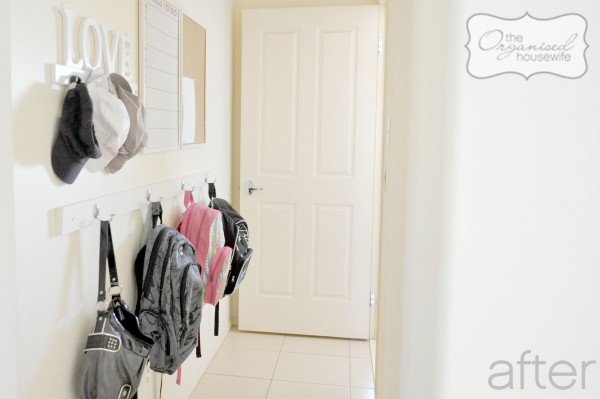 HOMEWORK AREA – In our old house I had a homework nook, which stored pens, pencils, texta's, workbooks etc.  The kids would sit at the dining table (so I could assist all three kids) and complete their homework.  It was great to have all the items they needed in the homework nook for easy access. However, now they are older they like to study in the quiet of their bedrooms, despite me saying a few years ago I wish I never purchased the kids desks for their rooms.  In their high school years (twins are in grade 8 this year) I see the benefit.  However, I do like my youngest sitting at the kitchen bench, or dining table as I am then close by for her to ask for help when she is having trouble.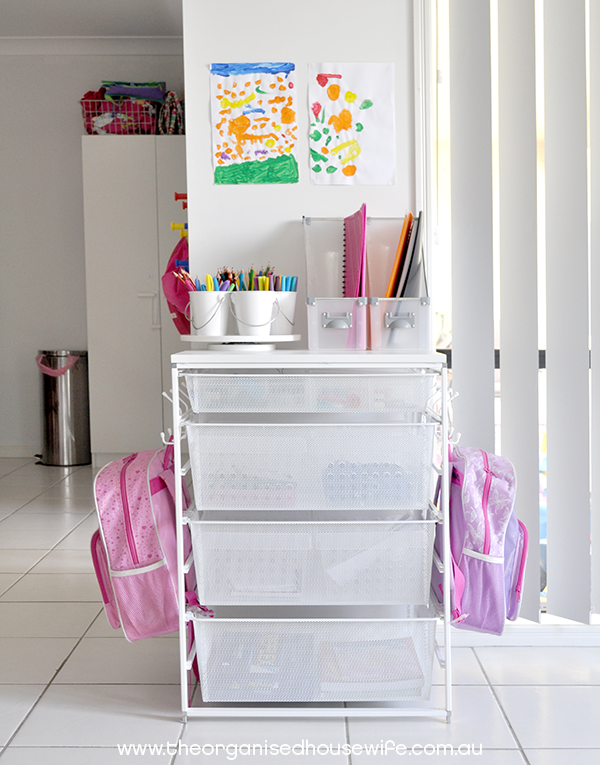 SCHOOL UNIFORMS – I've never had a school uniform area, I wash uniforms on the weekend, iron on a Sunday evening and hang in the kids cupboards and repeat on a Wednesday (as they only have 3 uniforms for the week). But I have a friend who knows she is going to struggle with keeping her daughter organised for school while juggling work full-time, so I helped her create this budget friendly school organisation station, so she can place a week of her daughters uniforms in the drawers labelled Monday-Friday.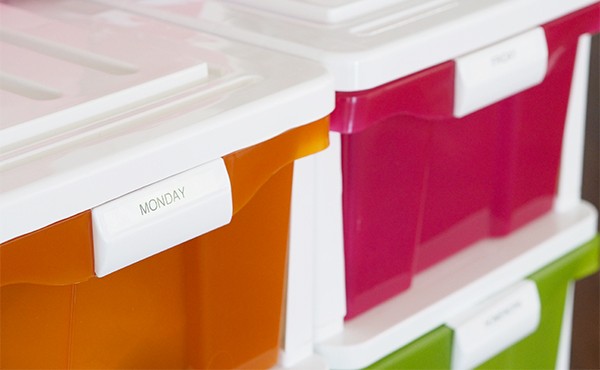 Check Back to School Checklist
Tick off everything I have completed on my back to school checklist, to make sure that I haven't forgotten anything.  I'm so forgetful, having a checklist is a great help. I've put all things on the checklist including getting the kid's hair cut.
Start regular reading patterns
During the school holidays I am more relaxed with the kids and their reading. Thankfully one out of my three kids loves to read so I have no trouble with him, however my girls aren't at that stage yet.  I've created this reading chart to encourage them to read a little more.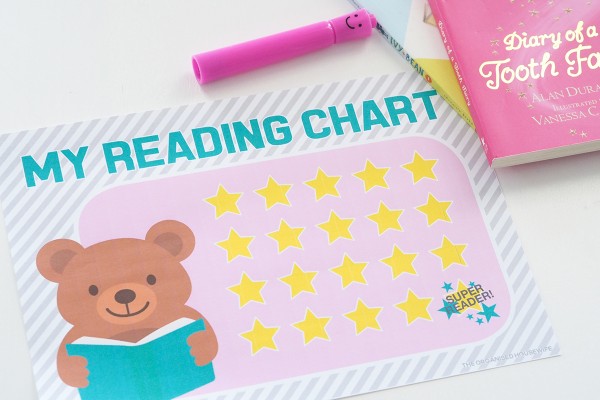 Stock the freezer with school lunchbox snacks
I spend a few hours before school starts back baking biscuits and muffins.  I then freeze them so they are ready to add to the kid's school lunches when I pack them.  The baking is always defrosted before morning tea time.  I have a go-to list of over 50+ freezer friendly lunch box ideas that will help you, my favourites are:
Savory –  cheese and bacon mini quiches 
Muffins – chocolate banana muffins
Biscuits – Cornflake Cookies
Balls – Apricot Balls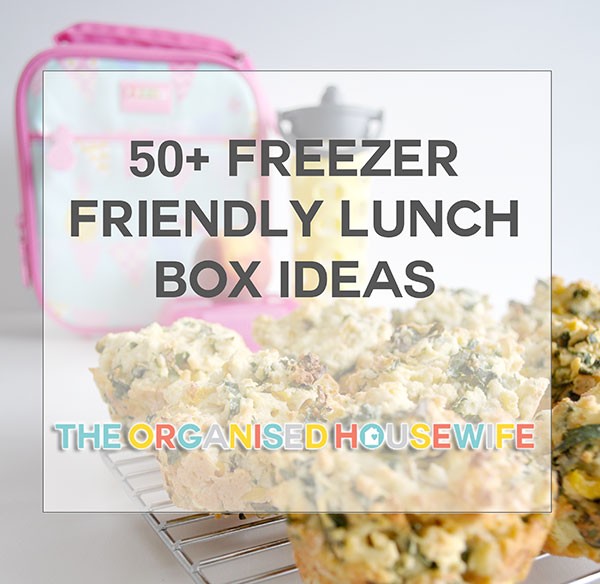 Plan a day of fun
Before school goes back I like to take the kids out and have a last day of fun, either go to the beach, picnic in the park, walk up in the mountains or even a board game day at home.
How do you re-establish a school routine?