This post is sponsored by Howards Storage World

My kids are counting down the number of days till they get back to school, they are so excited.  Me?  Not so much, I'm enjoying my sleep ins and not having to make school lunches.
School lunches, yes it boggles some minds, coming up with something nutritional for the kids, creating variety for them and ensuring they have enough to eat.  Well, that's a whole other blog post (which will come), but today let's ensure you have everything you need to pack the lunches in.
Lunch bag
Lunchbox, sandwich containers or sandwich wraps
Small containers for yoghurt, pretzels, fruit, dried fruit etc
Drink Bottle
Icepack
Lunch bag
When purchasing a lunch bag ensure there is enough room to fit the sandwich container, a piece of fruit (especially a banana), yoghurt and snack cup.
Remember that your child will need to fit at least their lunch bag, school jumper, drink bottle, hat and school books into their bag, so ensure the lunch bag is not too bulky and doesn't take up all the room in their bag.
I don't think it's necessary to have the drink bottle holder on the side of the lunch bag as the kids leave their lunch bags in their school bags and the water bottle goes in the classroom with them.
Make sure the lunch bag will be easy to keep clean, crumbs will be easy to shake out and spills can be easily wiped over.  Lunch bags made from a strong durable fabric can be washed regularly in the washing machine.
Consider if you would prefer an insulated bag or lunch bag that you add an ice brick too.
Howards Storage World have a great range of back to school items in store, a wide variety of lunch bags, food containers, fridge organisers, and desk accessories for when they do homework.  I have heard many good things about The Fridge-to-go in the past, I picked one up recently to review and share with you, then hubby can use it for work.
It's made of a strong fabric which won't easily tear when shoved and kicked around on the concrete.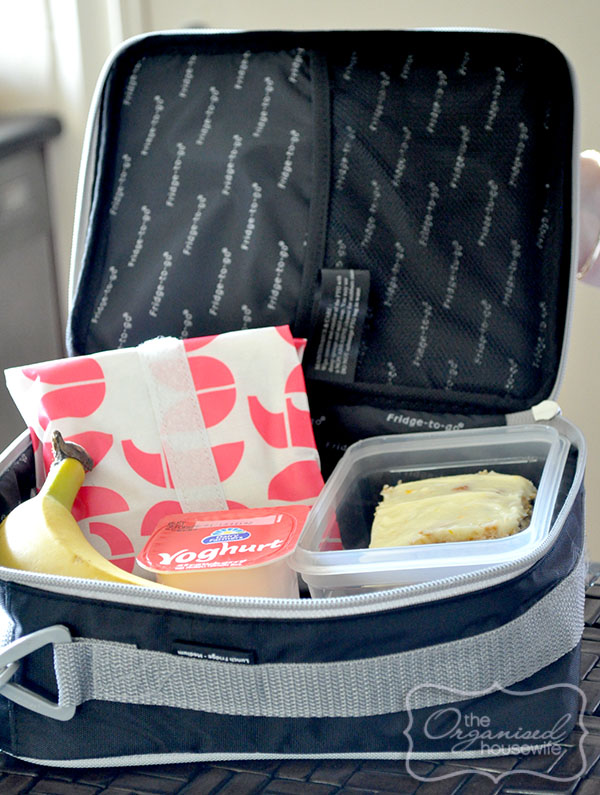 The slimline cooling panel sits in a zippered pocket at the bottom of the lunch bag.  When frozen it will keep the contents of the bag chilled for up to 8 hours.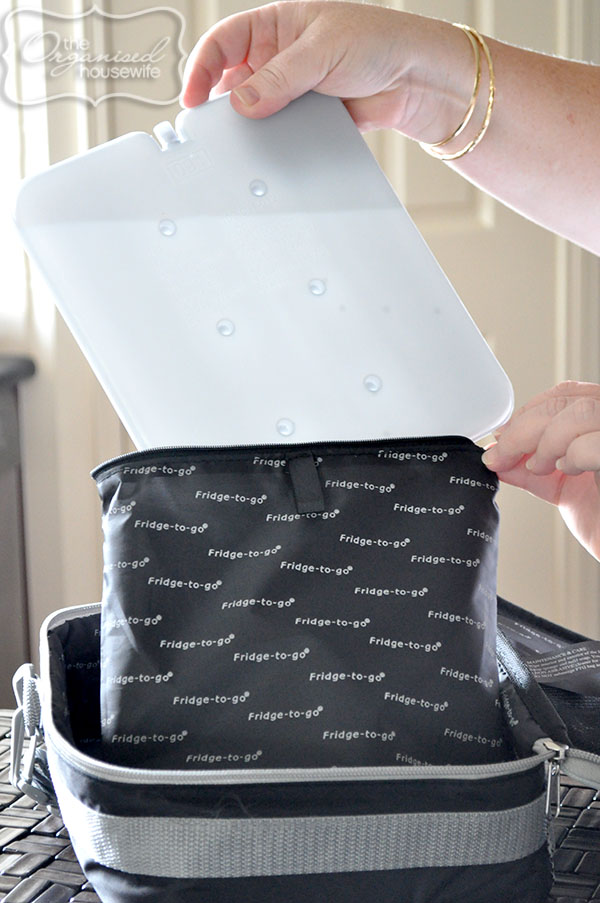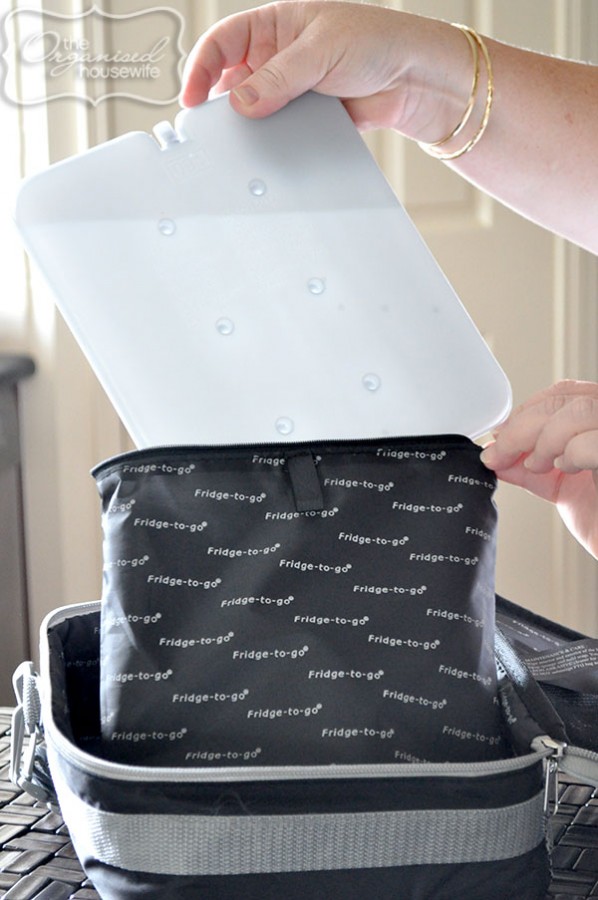 With a zippered section at the front and a pouch at the back there is plenty of room for kids to put in spoons for yoghurt cups, money for tuckshop and as my hubby will use this for work, he can fit his phone and wallet securely in the zippered area.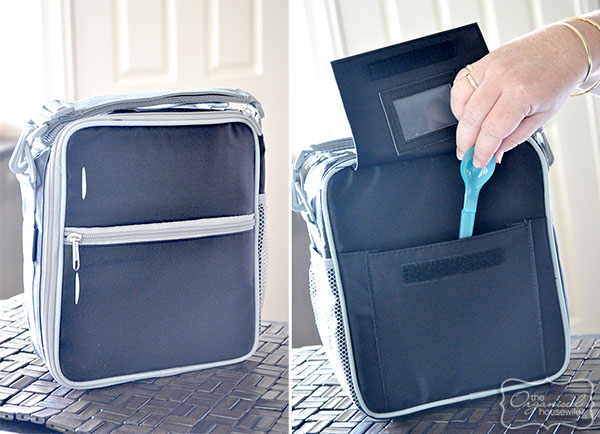 I have shared with you previously the lunch bags my kids use, they are still in great condition so my kids will continue using them this year.
Lunchbox, sandwich containers or sandwich wraps
Please don't waste your money and save adding to the landfill by using reusable plastic containers or wraps instead of plastic wrap.  Using plastic containers will also ensure that the sandwich will not get squashed in the bag.
Many schools like to participate in a rubbish free lunch box, therefore no plastic wrap, chip packets, paper cases around muffins.  Consider using a lunchbox with sections, sandwich containers or sandwich wraps which can be washed and reused each day.
There are a variety of bright fun coloured wraps available.

Small containers
Chop up fruit such as melon, orange, strawberries, grapes and add to the lunch box in snack sized containers
Instead of buying snack boxes of sultanas, purchase a big packet, keep them stored in an airtight container in the pantry and sprinkle a handful into a small container.  This will save you so much money!
Add some home baking to the lunch box in small containers so they don't get squished
Have a variety of sizes on hand, small enough for a few sultans, a few spoonfuls of yoghurt or large enough for a handful of popcorn or some cookies.
When I saw these Cool Gear Freeze & Lock containers I thought they would be great for the slices I make the kids and the fruit I cut up,  as their lunch bags aren't insulated.  Freezer gel is embedded into the lid which you keep in the freezer, when you want to use the container snap the lid onto the container and this will help the contents to stay cold throughout the day.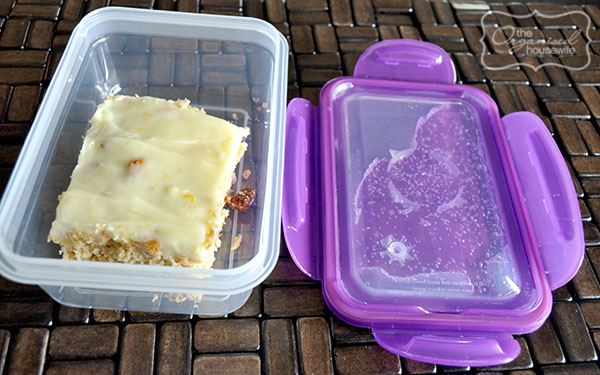 Drink Bottle
I like to buy large drink bottles for my kids:
so they have enough water in the class room as some teachers have a policy they can only refill it during lunch breaks
it also helps them to drink more throughout the day
I can freeze half the bottle the night before, then fill the remainder with cold water before they leave for school.  Having a large drink bottle ensures they have plenty of water to drink, that large frozen block of water is still there around lunchtime, therefore they can still have cold water at the hottest part of the day.  I found when I was doing this with smaller drink bottles the kids would have a few mouthfuls and their water bottle was empty. Also if they refill the water bottle at morning tea the frozen block will help make that water cooler.
When choosing a drink bottle make sure it's going to be easy for  you to clean:
The mouth piece doesn't have any hidden areas that you can't get a sponge or brush into.
Drink bottles with tubes and straws are very hard to keep clean
A drink bottle with a large opening at the top will be easier for you to get a brush in to give it a good scrub, as you will find over time drink bottles can get slimy when not cleaned properly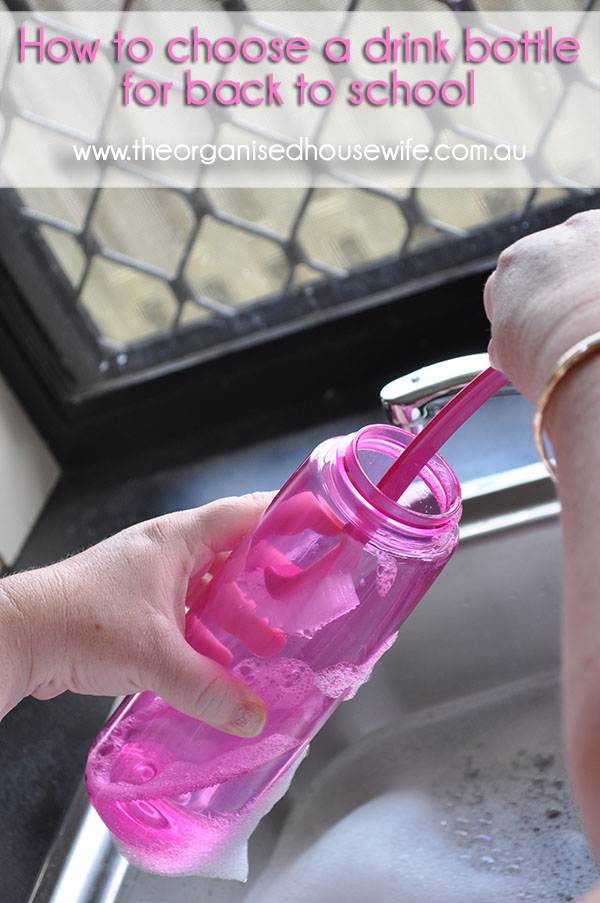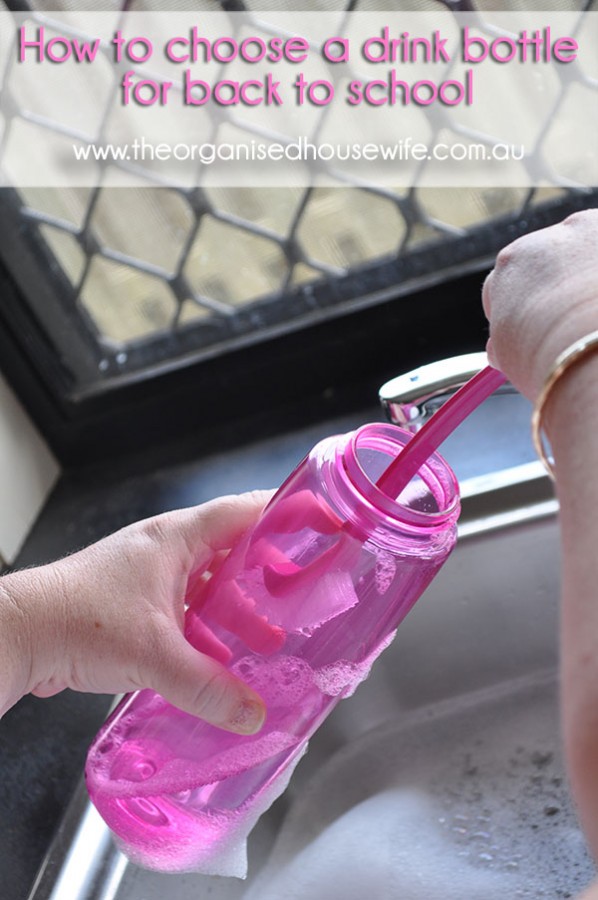 Howards Storage World have a wide variety of drink bottles available in store… large, small, with freezer sticks, with kids favourite characters and more

Icepack
Icepacks are a necessity for all lunch bags to keep all dairy, fruit and drinks at a reasonable temperature throughout the day.   I ask my kids to eat all the cold items at morning tea.
Back to School Special
Howards Storage World currently have a fabulous back to school offer for their members, which includes, a Fridge-to-go Cooler Bag, Reusable sandwich wraps and a contigo water bottle.  Many different lunch bag colours, wrap and drink bottle designs to choose from.  Available online and in store.  See here for your nearest Howards Storage World store.
View member offers here