This seems to be a general request, how to store paper work the kids bring home from school, be it artwork, homework or excursion forms.
As for artwork we put it up for display on the fridge for about a week, I hope you don't mind, but I will show you how I store it in another post.  Today we'll talk about all the other bits of paper that comes home from school.
I have two way's of keeping organised with the school paper:
Paper organising solution #1 – Magazine holders
Here I have magazine holders for each child (purchased from Kmart, I'm not a fan of the Ikea variety..OMG can it be there is something at Ikea I don't like…lol).  There is a holder for each child, storing their homework sheets, homework book, homereaders and extra art pages they bring home.  On friday mornings this box needs to be empty as the homework and readers need to be returned, all excess paper is either recycled or craft pages stored away (again, more details at a later date).
This is our homework station, with the magazine boxes on top, one draw holds all the kids coloured and lead pencils, glue, paints etc.  The next colouring in books, the bottom is sunscreen etc.  If you are interested in a seeing photo's of inside the drawers let me know and I'll do one for you 🙂 (didn't want to overload you with too many photo's today)
Isn't this owl adorable.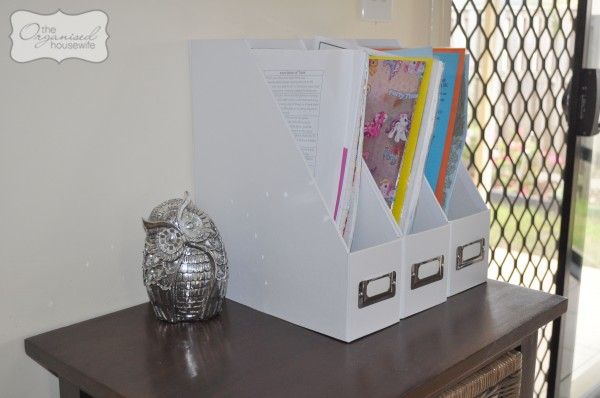 Paper organising solution #2 – Magnets on the fridge
I keep all forms that need to be completed on the fridge, I like to have these returned to school each friday.
I purchased these magnetic clips from Kikki K, but noticed that Woolworths had a pack of three Celco Magnet clips for around $2.95 (bargain).  I made my own labels, printed and taped to patterned scrapbook paper, laminated and cut with a scallop punch.  You could easily create your own version.  I have included a Printable of tags for you to create your own fridge organisation clips.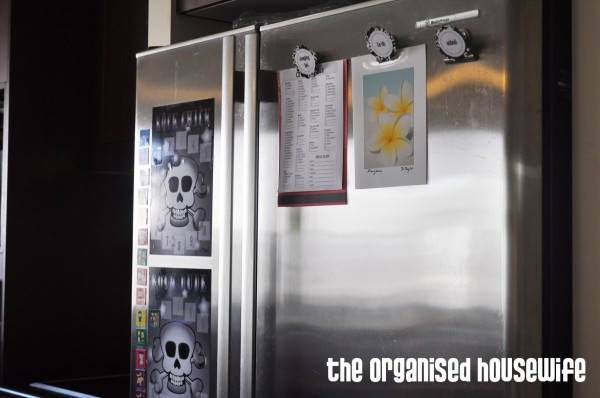 On my fridge I have tags for Shopping List, To-do and School.  My to-do is to send this birthday card in the post tomorrow.  I don't like having bills on our fridge, just for privacy I don't want our guest seeing how much our phone bill is.  However, I did include a tag in the printable for you just in case you would like one on your fridge.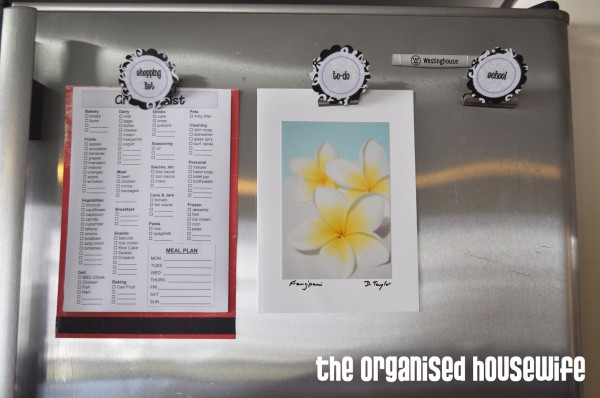 Super easy to make yourself.  If you don't have a laminator use some left over clear school contact and place tag in between, use a punch or cut with scissors.