This post is sponsored by Nuffnang

It's around this time every year that I buy the kid's school shoes.  I have always been really particular with the kids shoes, ensuring they fit properly and they are comfortable for their feet.  Around the house, backyard and on short outings on the weekend the kids like to wear thongs, but as they are spending 6 hours or more a day in school shoes I need to know they are supporting their growing feet.  My hubby has had bad back problems from a very young age and as my kids all have his slender build I suspect they may possibly have the same issues.  I hope by buying good quality shoes now will result in less back problems later in life.
Our school allows the kids to wear a sports uniform every day of the week, which is great because the kids usually run around the oval in class most days and have a PE lesson once a week.  During the lunch breaks the boys like to play handball or soccer on the oval while the girls have a game of tiggy or play on the monkey bars. Before school ended last year I was given a pedometer to measure the number of steps Mr 9 did each day, on average he did 8,457 steps per day.  This is a whole lot more compared to my number of steps which was 3,753. But realistically our activity is very different, as you just read the kids run around a lot each day and I find myself working at the computer most of the day.  However I do recognise that I need to improve my number of steps.
Mr 9 has his fathers capability of running really well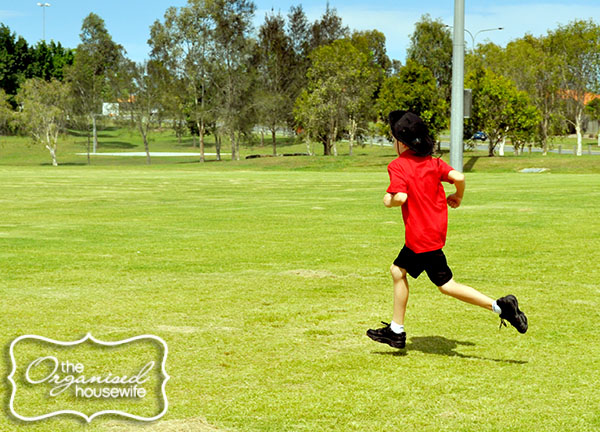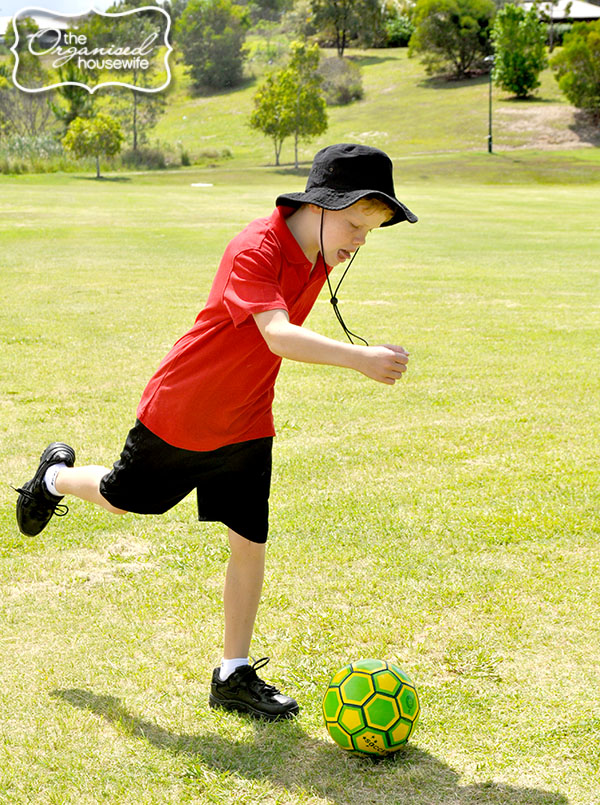 Shoes can get worn and scuffed on the side from kids sitting on concrete, look for quality leather and double stitching to ensure durability of the shoes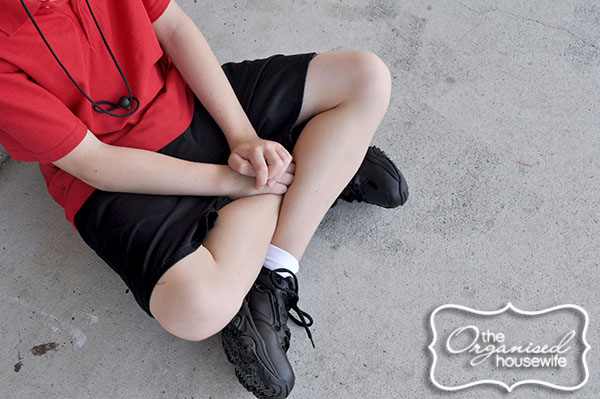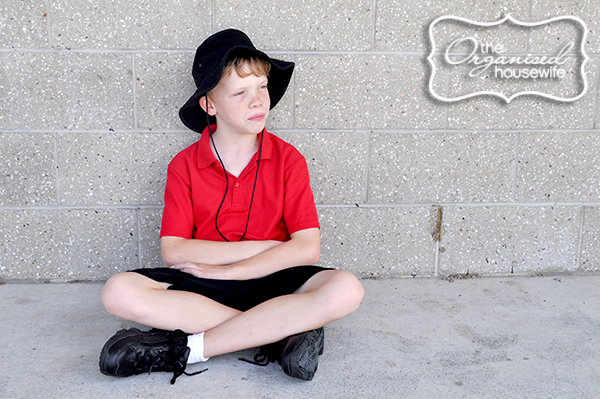 With lots of running around in mind, I prefer to buy the kids black sports shoes.  It fits with the school uniform code and they will have the support and comfort needed each day.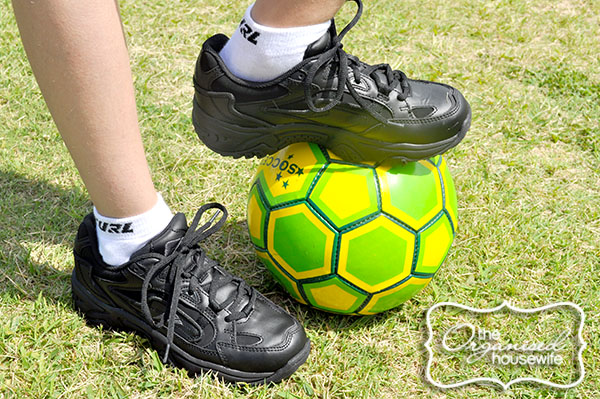 We visited The Athletes Foot soon after the new year, I prefer this time as it's very busy the week or two prior to school returning and if we go early January this ensures that they have the shoes in stock we want, if not, then there is ample time to order them in.
The team at The Athlete's Foot measure the kids feet to determine the correct size (this is where I learnt my kids have different size feet, one is bigger than the other), they also keep in mind the width of their feet and get the kids to walk over the fit print (the kids find this so fun) which allows them to see if their feet are rolling when they walk or if they are using one area of their foot more predominately in each step, which indicated my son puts most weight on the back of his feet.  With this in mind they then select a shoe best for the feet.  We were given 2 different pairs of shoes to begin with, Ascent and Clarks.  Mr 9 walked around in each of them to determine which one was most comfortable.  Hayden, The Athlete's Foot staff member, was telling Mr 9 how important it is now to concentrate and choose the right shoe, make sure they are comfortable, his feet aren't slipping at the back and they weren't too tight.  Cleverly The Athlete's Foot staff member could tell which one he would prefer as he could see with his eyes the shoe that looked most comfortable with each step.  Mr 9 chose the Ascent Cluster 2 in Black.  Which didn't surprise me because he has worn Ascent shoes from The Athletes Foot each year since prep.  I have found them to have the durability to last all year and they provide the support and cushioning for his busy active days at school.  Ascent school shoes are also exclusive to The Athlete's Foot store, so they have Clarkes and Ascent in stores now.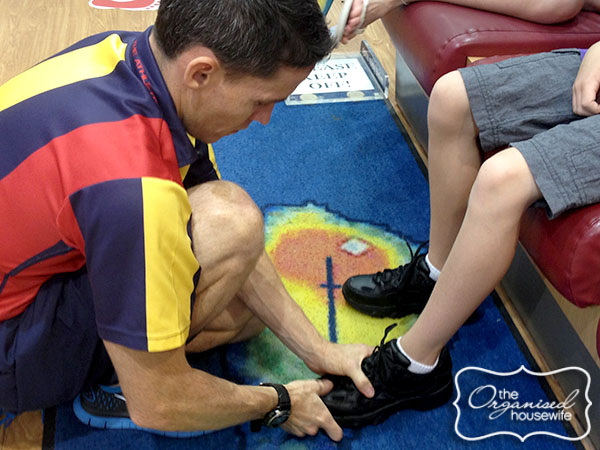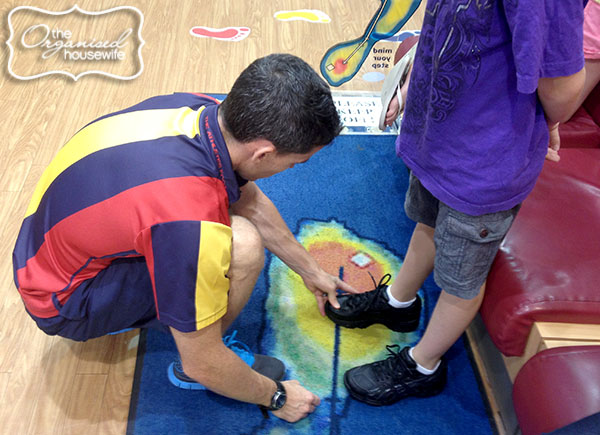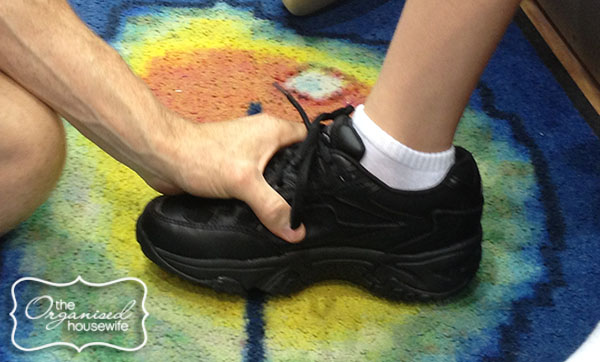 New this year, The Athlete's Foot are now stocking a variety of Clarks shoes.  All their shoes are available online and in over 130 stores Australia wide, find stores here.
View The Athlete's Foot back to school catalogue here
Top tips when selecting shoes:
Consider how much activity they will do each day.
No matter how much in a rush you maybe, remember to try shoes on both feet.  The twins strangely have different size feet.  Eg, right is half a size bigger than the left.  So it's important to try the shoes on both feet.
Take socks with you when trying on shoes.
Consider that one pair of good quality shoes maybe the same of less expensive than buying multiple pairs of cheaper shoes throughout the year.
Leather shoes ensure durability
Avoid shoes that have been worn by another child.  Eg, handing down shoes from a sibling.  These shoes have been moulded to the shape of the child's feet that was previously wearing them and this can cause problems for your child.

PLEASE NOTE THIS GIVEAWAY IS NOW CLOSED
Winner is G. Scott.
One lucky readers has the chance to win a $50 The Athlete's Foot voucher  
For your chance to win leave me a comment below telling me what's your biggest struggle when it comes to organising kids for school.
This is not a game of skill, winner will be randomly chosen.
Giveaway ends midnight, Thursday 17th January 2013.
Find your kids fit at The Athlete's Foot