Choosing a lunch box can be confusing with so many different varieties and styles to choose from, considering all things from the size, finding an insulated bag to fit the lunch box and accessories.  Whilst keeping in mind the lunch box should be made of materials that won't harm your child and is easy for you to clean. There are so many wonderful products on the market now, with all these different considerations I hope you find my guide below helpful.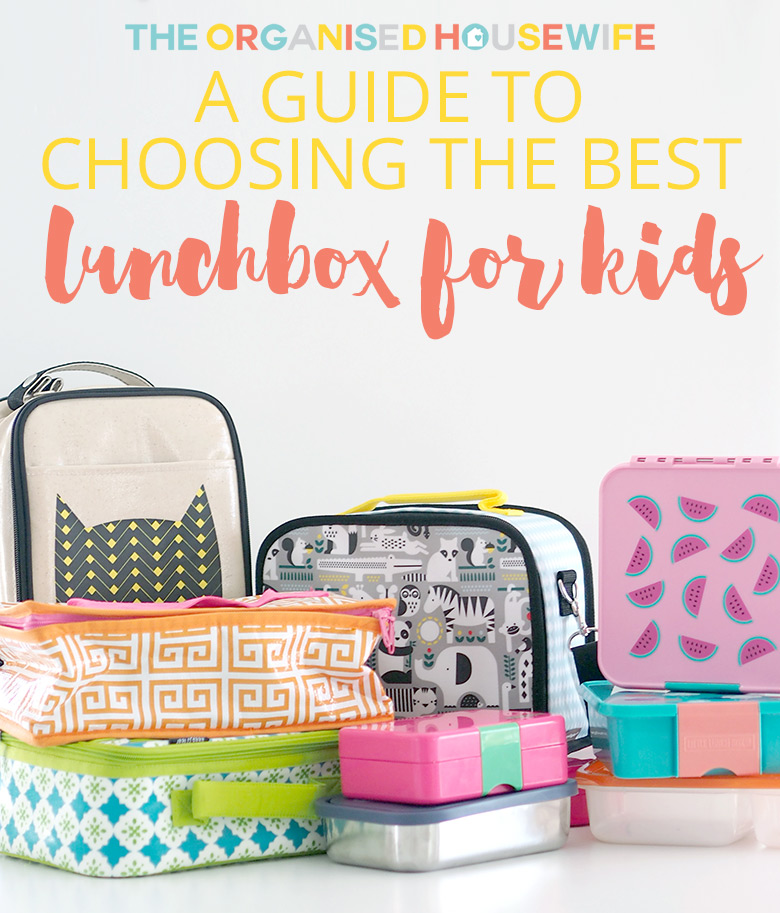 What to look for in a lunch box:
BPA-Free – The lunch box should be safe to store food inside.
Stay Fresh – A box that will seal and keep an unwrapped item fresh
Easy to Clean – I prefer one lid for the lunch box, easy to clean and store when drying
Sections – Separate spaces to place different foods
Size – It's not too big to fit into the kid's school bag, or take up most of the space
Perfect Portions – Sections that are big enough for the amount of food the kids will eat
Reusable – Save the environment and your pocket, don't use plastic zip lock bags
Dishwasher safe – For those days I don't have time to hand wash
Easy to store – not too bulky to store when not in use
Machine Washable – lunch bags can easily be washed in the washing machine
I personally prefer lunch boxes that seal tight and keep an unwrapped sandwich fresh, eliminating the use of plastic wrap saving extra dollars and the environment.
The ideal lunch box needs to be reusable, keep the food fresh and prevent it from being squashed.  A few kids, especially those that are a little fussy might like to graze on a variety of food, the bento style boxes and accessories are very clever at making the food fun and exciting.
How big a lunch box do I buy?
This really depends on how much your child eats.  I would suggest getting a lunch box larger than you think you need. As your child grows they will be wanting to eat more.  I typically make sure the lunch box is big enough to fit a sandwich, fruit and snacks.
Is one lunch box enough?
My children have always used one lunch box each day, it was always big enough to fit in all their food.  However, my youngest had a 'munch and crunch' fruit break in primary school, which had to be placed in a separate container to their main lunchbox (as this is a distraction and they may not eat the right food).  So it is a good idea to have a smaller container for this purpose if you have primary school children.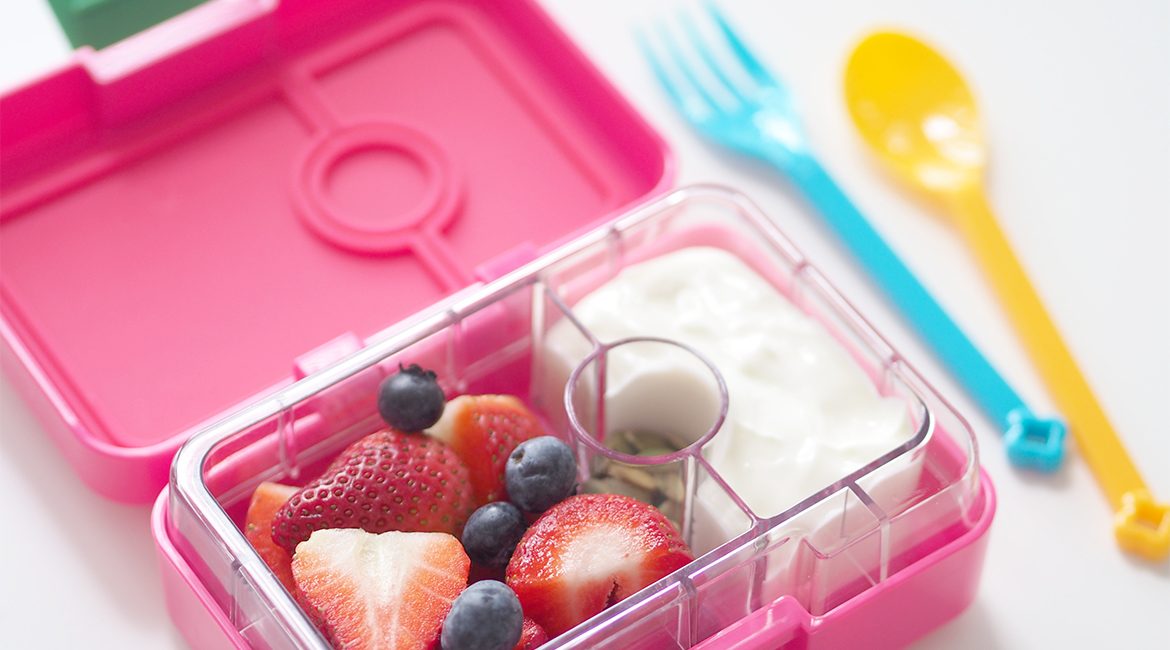 The container above is the Yumbox MiniSnack, you can read my full review here.
Do I need an insulated bag?
Yes, even on the coolest of days I still get my kids to pack an ice brick alongside their lunch box to keep their fruit fresh as the sun usually hits their bags sitting in the bag racks before they eat their lunch.  The insulated bag and ice brick will help to keep all the food in the lunch box as fresh as can be.
What to pack in the lunch box?
This is a whole blog post on its own and I will be sharing more new healthy lunchbox posts in the coming weeks, however for now, you can find some ideas in the posts below.
---
Sectioned Lunch boxes
Here is a selection of some great lunch boxes that I recommend, most are available online!
Please visit this page, My 2017 Back to School Product Guide, to get latest coupon codes so you can receive 15% off storewide at the mentioned stores.
EasyLunchboxes
These are the lunchboxes my kids use! They are a great way to create a waste-free lunch for the kids. The EasyLunchboxes come in a set of 4 with 4 different coloured lids. They have 3 very generously sized section, a large section is big enough for a sandwich, smaller section will fit 2-3 biscuits and the smallest is great for snacks and diced fruit.  They are BPA, Lead, Vinyl and PVC Free, however they are not leak-proof so I wouldn't put yoghurt or watermelon into these lunchboxes.
Sections: 3
Dimensions: 9.38 x 6.10 x 2.00 inches (23.82 x 15.49 x 5cm)
Capacity: Large section – 2.5 Cups. (The inside of the largest compartment is approx 4.5 x 5 inches and 1.75 inches deep. An oversize sandwich will fit. – Smaller section – 3/4 cup. – Smallest section- 1/2 cup.
Colours: Classic Set – Orange, Blue, Green and Dark Red and Brights set – Pink, Purple, Teal and Yellow
Set: set of 4 lids and bottoms per pack
Leakproof: No
BPA Free: BPA, Lead, Vinyl and PVC Free
Dishwasher Safe: Yes, top rack only.
Microwave Safe: Yes
Freezer Safe: Yes
Suitable Insulated Lunchbag: All listed below.
AVAILABLE ONLINE HERE.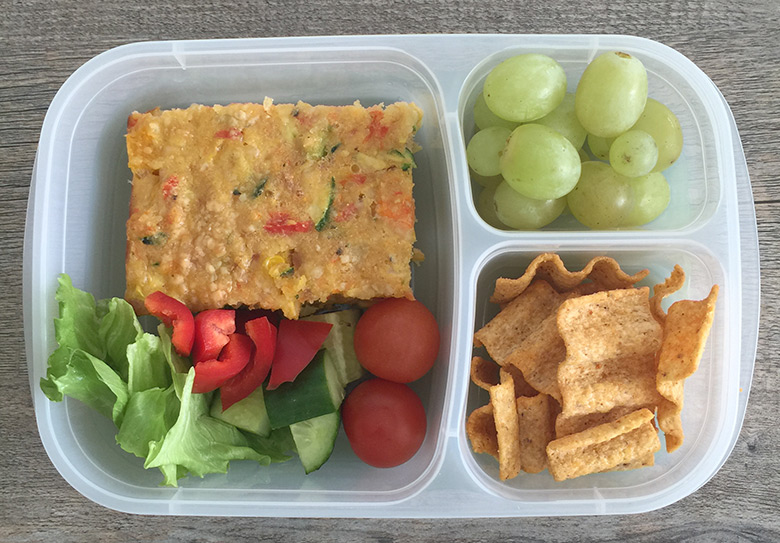 Yumbox Panino
One of the most sort after leakproof compartment lunchbox in Australia at the moment!  Yumbox Panino leakproof bento lunchbox is a fun lunchtime go-to for kids of all ages and adults. Pack a sandwich, salads, sides and delicious snacks, packed with nutrients to keep you or your child going through the day.  This is suitable for the child that likes to graze on various foods at lunch.
Sections: 4
Dimensions: 21 x 15 x 5 cm
Capacity: One 2 cup sandwich/salad-friendly section, two 1/2 cup servings plus a dip/treat well
Colours: Orange, Turquise, Red, Pink, Blue, Green, Purple
Leakproof: Yes, suitable for yoghurts, custard etc.
BPA Free: Yes
Dishwasher Safe: Yes, at a maximum temperature 65C/149F, top rack only.
Microwave Safe: No
Freezer Safe: No
Suitable Insulated Lunchbag: All listed below.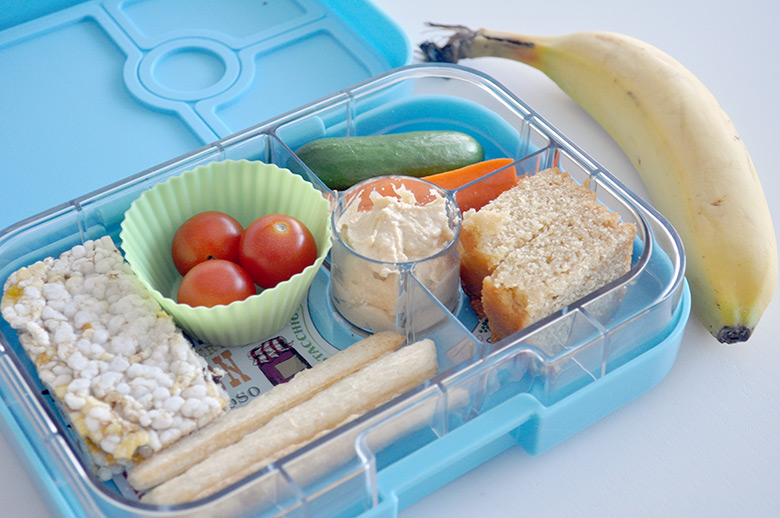 Go Green Lunch Box
The Go Green is an elite lunch box with so many great features.  From it's generous size to being air tight and leak proof this lunch box has all the features you want to last due to its fantastic quality. It comes with a drink bottle however, you can remove this from the lunchbox to use the extra compartment for more food, if desired.
Sections: 4
Dimensions: 30 x 19 x 6.5cm
Capacity: 8 cups, Interior of largest compartment =  14cm x 9.5cm
Colours: Pink and Green
Leakproof: Yes. The turn ' n lock technology ensures food stays fresh and silicone bands ensure a secure leak-proof seal for all five sections.  This means you can include yogurts, sauces, fruit salads , any item you want in your lunch boxes.
BPA Free: Free from BPA and phthalates
Dishwasher Safe: No
Microwave Safe: No
Freezer Safe: No
Suitable Insulated Lunchbag: Has it's own carry bag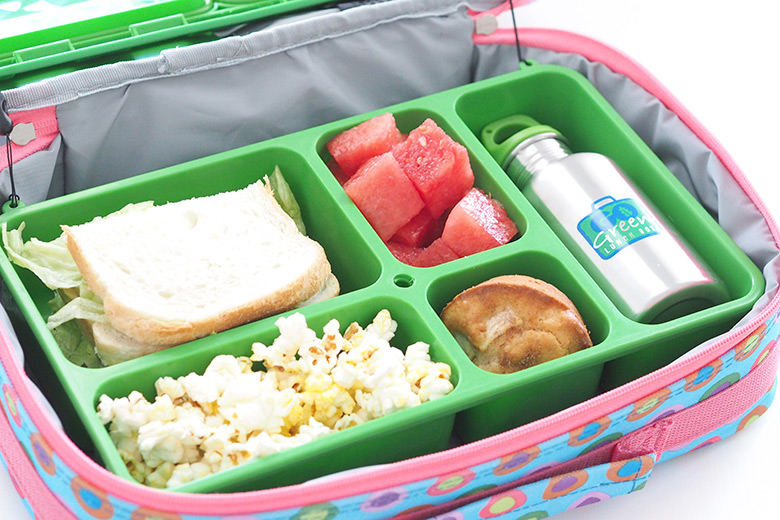 Fuel – Bento Lunch Box
The Fuel Bento Lunch Box is great for children and adults. The box has two removable inner containers that can be used separately. One is plain and the other divided into 3 different compartments, with different sizes. This will allow you to pack a diverse lunch, and the flavours won't mix. You can pack it for yourself or for your children and pack a school lunch, a work lunch.
Sections: 4
Dimensions:26 cm x 6.5 cm x 17 cm
Capacity: 1.3L Volume
Colours: Pink and Green
Leakproof: Yes. The turn ' n lock technology ensures food stays fresh and silicone bands ensure a secure leak-proof seal for all five sections.  This means you can include yogurts, sauces, fruit salads, any item you want in your lunch boxes.
BPA Free: Free from BPA and phthalates
Dishwasher Safe: Yes
Microwave Safe: Yes the inner containers are microwave safe
Freezer Safe: –
Suitable Insulated Lunchbag: Project 10

Little Lunchbox Co Lunchboxes – Bento Five
This is a new bento style lunchbox I found recently, like the rest it allows you to pack endless combinations of nutritious food that will look appetising by using different textures and colour combinations. Pack balanced meals with ease when using the Bento Five which has one compartment for each of the five food groups. Pack a wrap next to wet foods such as yoghurt, dips or fruit without the risk of spoiling.
I've only just purchased these lunchboxes recently, both the Three and Five. Little Lunchbox Co also have a Bento 3 styled lunchbox which will fit a sandwich comfortably. I have to say, I'm impressed.  As you can see in the photo below it stores a lot of food.  This would certainly be enough for my kids, maybe with something extra for my growing nearly Mr 14. Miss 11 has said this is what she wants to use for school this year.
Sections: 5
Dimensions: 17.5cm x 17.5cm x 5.6cm
Capacity: 980ml
Colours: Blue and Grey
Leakproof: Yes
BPA Free: yes
Dishwasher Safe: dishwasher safe (top rack – low temperature).
Microwave Safe: No
Freezer Safe: No
Suitable Insulated Lunchbag: All listed below.

Stainless Steel Containers
My teen son isn't so much into pretty cutsie lunchboxes.  Last year he used the EasyLunchboxes as mentioned above, but now he wants his morning tea and lunch separated.  Stainless steel is a great choice, not only for food safety but durability as well.  As you can imagine boys can be rough, throwing and kicking their lunchboxes around. Stainless steel containers offer you a non-toxic, chemical-free way of storing food or packing lunches.
There are so many different sizes available.  The ones I've shown below U Konserve have a removable divider, which I particularly like on the smaller one as I can move it to suit the contents.
VIEW FULL STAINLESS STEEL COLLECTION HERE.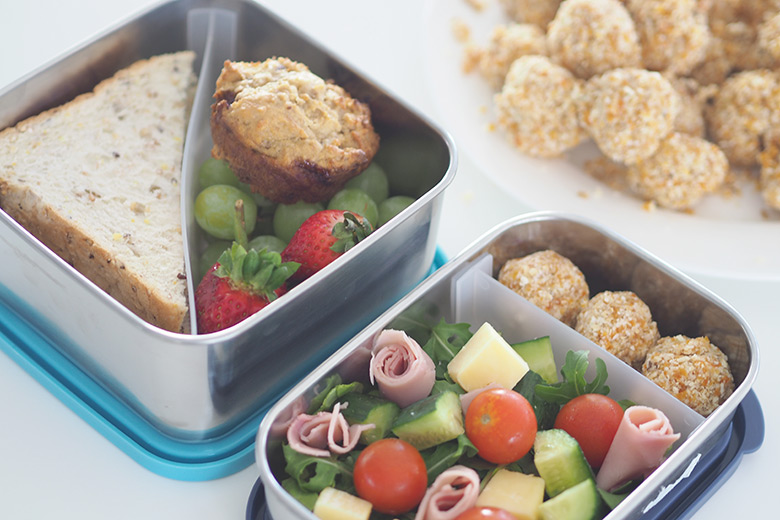 ---
Insulated Lunch Bags
It's important to get a lunch bag as well as a lunch box.  The lunch bag will help to keep the food in the lunchbox cold and fresh.  There so many available, but will your chosen lunchbox fit into the lunchbag? I have included above which lunchboxes will fit into each bag to help you!  All the bags suggested below are insulated.  I've shared below the ones my kids use, keep in mind we have a few lunch bags, only because I buy so many to test out and review for you.  Ideally you only want one lunchbag per child to see you throughout a full school year.
Project Ten
These are the lunch bags my girls use! Great size, big enough to fit 2 on top of each other and room for a banana on the side.  It's not a bulky bag (flimsy like but still 5 stars from me) so if you only have a few items in it, it won't take up too much room in school bags. Also fits Tupperware sandwich keeper lunchboxes.
Dimensions:10cm depth x 30 cm length x 19 cm width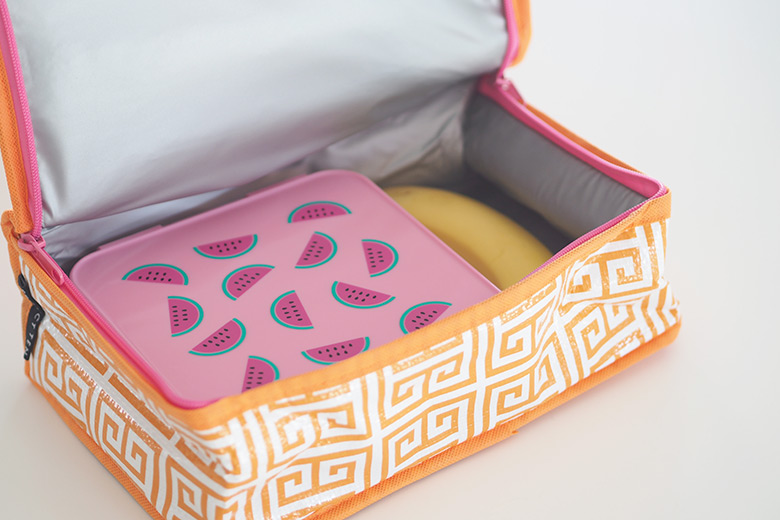 Lunchbox pictured above is the Bento Three – Watermelons + room for a banana or another snack container.
Apple and Mint Lunch Bags
My kids used these lunchbags last year with their yumbox panino lunch boxes.  The perfect solution, featuring the patented icy cold freezable cooling panel, that keeps your contents cooler for longer – up to eight hours! Made of a water-resistant easy clean double-coated linen exterior, store your favourite food, drinks and healthy snacks whilst on the go. It does have a mesh pocket and seams inside the lunch bag, I did find this hard to keep clean.
Dimensions:9cm depth x 30 cm length x 19 cm width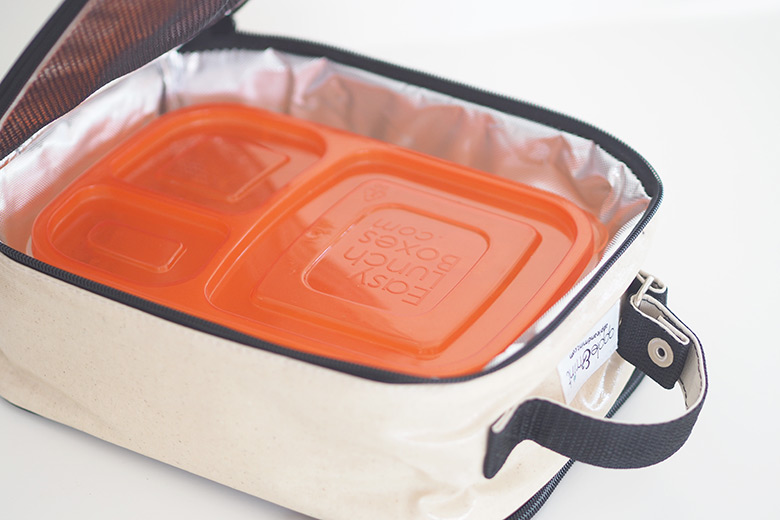 The lunchbox pictured above is the EasyLunchboxes, no room for a banana
ECO FRIENDLY LUNCH BAG
I thought this lunch bag was adorable.  It's suited to be worn over the shoulder, I'd say for a child in kindy.  With a cotton canvas exterior coated with a BPA, PVC and Phthalate free biodegradable protective laminate made from natural polymers (sugar cane and corn starch) it is Practicality, Eco- Friendly and Style conscious all in one. It is seamless inside which would make it easy to wipe clean. It too has a mesh pocket, which can be good for storing napkins and cutlery.
Dimensions: 25cm L x 19cm H x 10cm D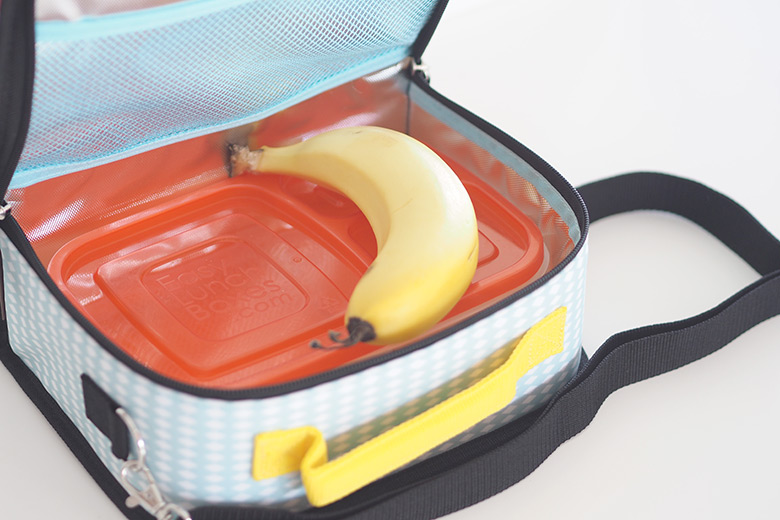 The lunchbox pictured above is the EasyLunchboxes + room for a banana
KEEP LEAF ORGANIC LUNCH BAG
This is my newest favourite lunchbag, my kids haven't used it yet for school, but I can already feel that it is strong and sturdy.  The exterior is made from 100% certified organic cotton with waterproof non-toxic coating, making it super easy to wipe clean. Has a zippered pocket at the front for tuckshop money, cutlery or napkins.  It does have seams on the inside where crumbs may get caught but I can overlook that as the quality overall is very high. Even though it is the same height as the apple and mint there is more internal space, allowing extra containers to fit. There are quite a few different designs to choose from in this range to suit all you boys and girls as well as teen girls.
Dimensions: 26cm L x 18cm W x 9cm D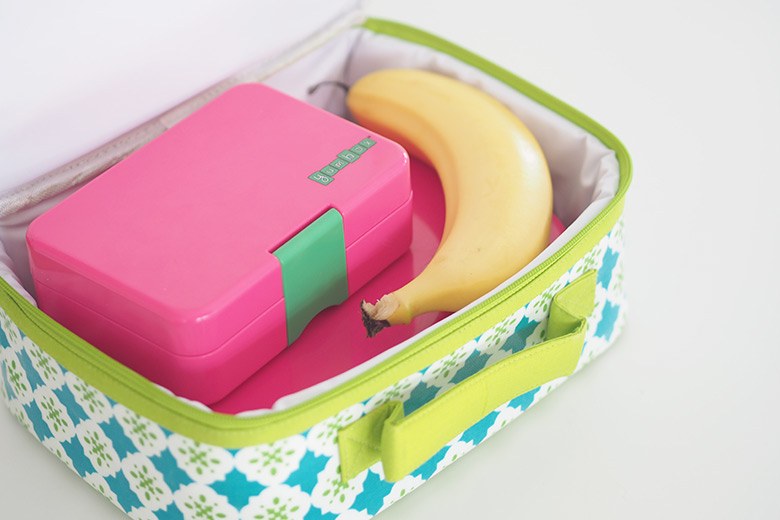 The lunchbox pictured above is the Yumbox Panino and Yumbox MiniSnack with room for a banana
---
Lunch box Accessories
To help make the boring school lunches that little bit more exciting.  Along with the necessities of labels, utensils etc.
Reusable food pouches
A market leader in durable and reliable reusable pouches in a vibrant and fun range of colours and designs to suit all ages. My Lil Pouch was created by a busy mum to 2 sets of twins, born less than 3 years apart, it was obvious to her what busy mums need to make life easier, and mess-free snacking for all ages. Available here.

Easy Peasy Sushi Maker
Create sushi like a pro – even if you have never made it before! Impress your family with different shaped sushi for lunch, dinner and parties! Perfect addition to the lunchbox, great alternative to sandwiches!  Available from Little Bento World.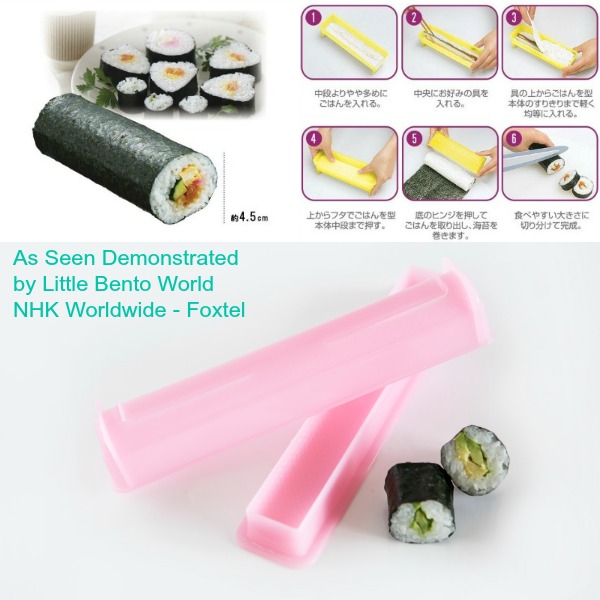 Square Sandwich Cutter
The Square Animal Sandwich and Cookie Cutter allows you to not only cut a sandwich into 4 separate sections and remove the crust with ease it and stamp four cute animal faces onto each sandwich quarter. This cutter cuts right to the edge for minimal waste. Available here.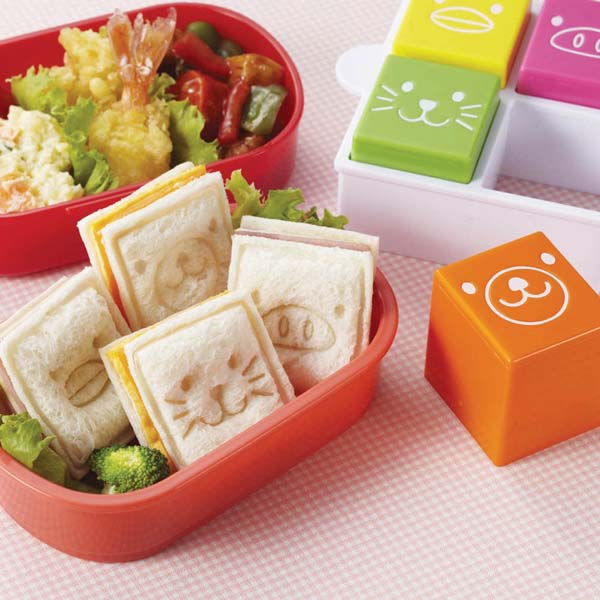 Skip Hop Zoo-Kids Lunch boxes- Insulated Food Jar
Kids lunch boxes from Skip Hop Zoo collection are delightfully cute and convenient for kids too. The insulated food jar featuring the loveable Zoo characters will be perfect for keeping lunch nice and fresh for hours, many designs available.  Available from Lime Tree Kids.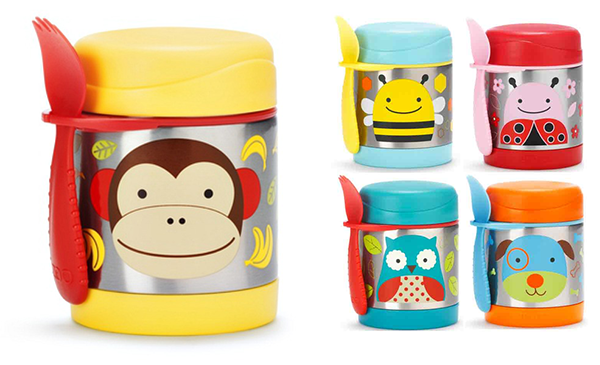 ---
Drink Bottles for Kids
Camelbak Chute 600 ml Drink Bottle
The perfect bottle for the school or sports practice, offering immediate hydration for any adventure. The CamelBak Chute bottle comes with a leak-proof cap that delivers a high flow of water without sloshing or spilling. No sipping or sucking this bottle allows you to just drink straight from the bottle.  The spout cap snaps into handle to prevent it from getting in the way when drinking. Available here.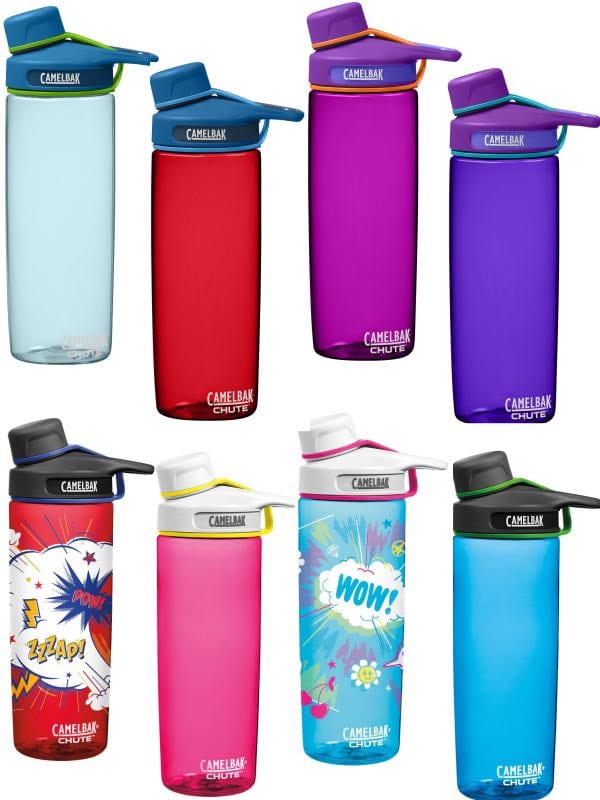 Camelbak Eddy Kids Drink Bottles- 400mls
The CamelBak Eddy drink bottles for kids are reusable water bottles with a straw, a no-spill system and are made of stain-resistant and taste-resistant BPA-Free Eastman Tritan™ Copolyester. Available here.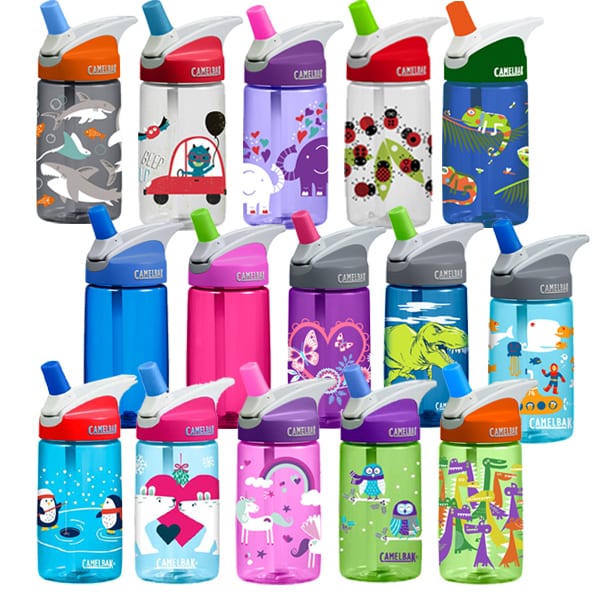 Stainless Steel Drink Bottles
The stainless steel water bottle with a flip top lid has a no-slip silicone sleeve to protect little hands from cold surfaces. This bottle has a handy hold onto me strap that attaches to anything, along with a pop-up lid so the flexible straw stays clean.  Included is a spare straw for when you need it! Available online here.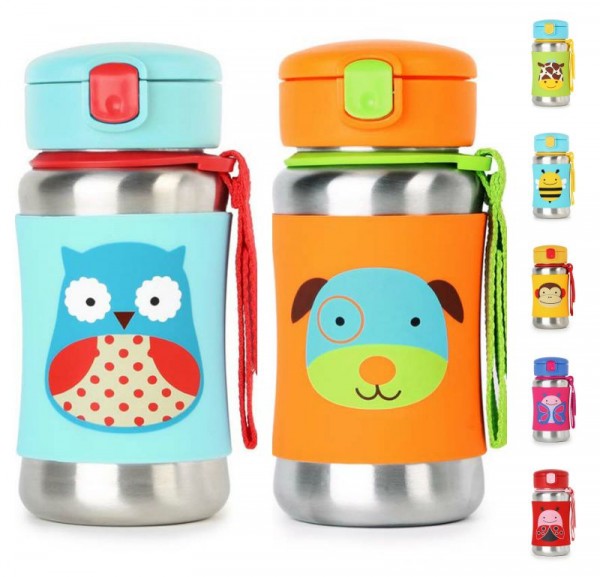 ---
I hope you have been able to find something here to suit your kids.  Remember the box needs to be quality to last all year, and something easy for you to wash and pack each day.
What is your favourite lunch box to use for school kids?