It has been a year since I ran the last '20 Days to Organise and Clean your Home' Challenge and I am excited to share with you that it's back again for 2017! Day one starts next Monday!
As life gets busy,  there seems to be less time for you and also less time for organisation. Do you feel with every Groundhog Day you clock, the situation snowballs until you are at your wit's end with juggling life? There's so much to do it's stressful even contemplating where to start. If only there was a magical organisational fairy to flutter in, wave her magic wand and take your disarray away… Well, here's the next best thing!
This is a 20-day challenge that pulls you out of your downward spiral of mess and stress and gives you a clear and simple step-by-step process that will help you achieve a clean house in as little as 20 days and create a lasting system that's realistic and effective.
Through the challenge you'll expect to:
Create simple daily routines for the family

Inspire the kids to keep on top of tidying their toys which will, in turn, give you the desire to keep the rest of the house in order

Gain guidance on organising and decluttering one area a day to reduce the overwhelm. Big scary tasks are always better tackled by breaking them down into smaller manageable chunks. Taking your time makes the process easier and also gives you the opportunity to really consider if you need all the excess you have collected over the years.

Follow daily routines to help start every day in better spirits. Why is this important? Your family notices your changed attitude and the authentic warmth in your smile – and they also appreciate a tidy kitchen bench!
Finally, you'll have the system and tools to have the home you've always dreamed of and to put you back in control. And I will help show you how to get your family on board too – and enjoy it!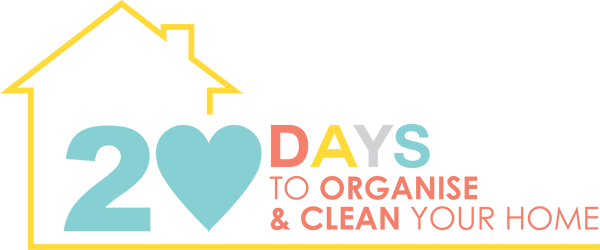 Challenge starts Monday 13th March 2017
Perfect timing right in time for Easter! To then relax and spend time with your family!
Joining the '20 Day Challenge' was the BEST DECISION I made for my family and our home. I was feeling overwhelmed by all the clutter in our home and routines were lost in translation. My biggest problem areas were the Master Bedroom (aka dumping ground) and the mountain of sentimental items I had hidden away in the wardrobes. During the challenge, I got a lot of support from the 20 Day Challenge Facebook group. They inspired and encouraged me every step of the way. In just 20 days, my home was clean, de-cluttered and organised. It looked great and felt amazing. It inspired me to cull a lot of my sentimental items and everything had a place in my home. We put our house on the market 3 months later and sold it within a month. We have since moved into our new home, and I am using the same system/routines to ensure our home stays clean, clutter-free and organised, all thanks to The Organised Housewife and the 20 Day Challenge team. If you are thinking of joining us – DO IT! I promise you, you won't regret it! Charlene, Teacher by Trade
Why an eCourse?
This challenge will be run as an online training course.  You will be given access each day to the new tasks via the '20 Days to Organise and Clean your Home' website.
It's easy to use and navigate
For simplicity
To make it manageable
Interactive checklists (you can tick tasks off on the screen as you complete them)
Prevent you from feeling overwhelmed
A daily step by step guide for each task
Life time access so you can participate for FREE when run in the future
And you will have my support and help every step of the way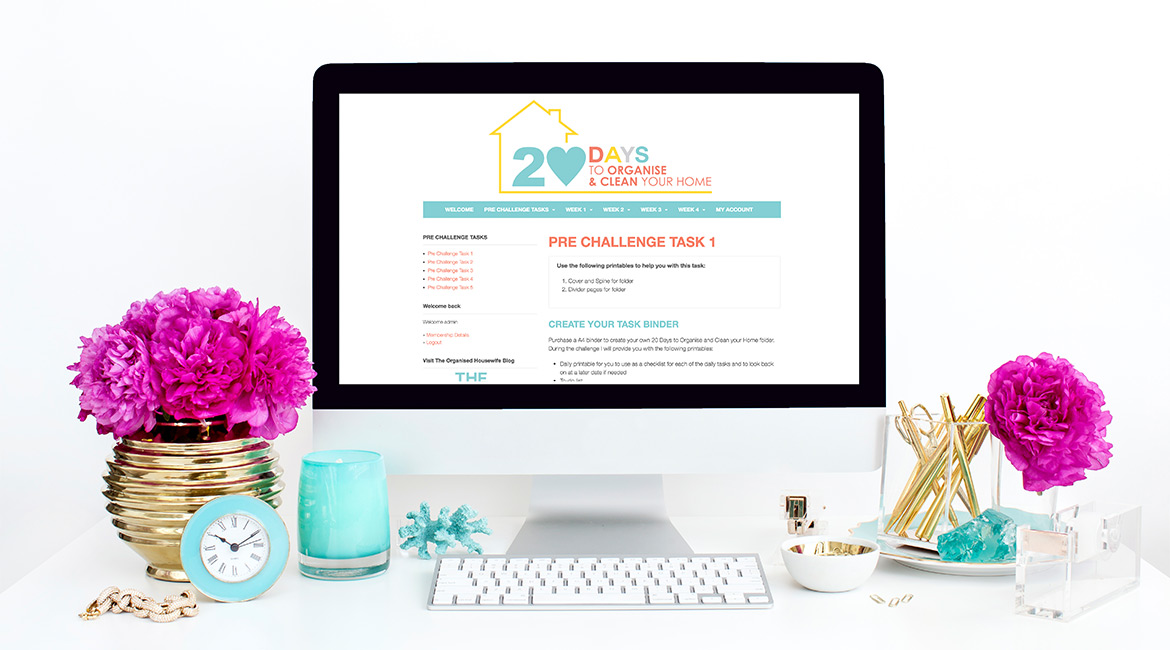 The motivation supplied by the Challenge combined with some perspiration (supplied by you) equals total satisfaction and a much improved living environment. Like having a personal trainer for your home: Pre-challenge tasks – a sensible warmup; checklists/routines etc – your "trainer" to keep you on task and headed in the right direction, getting you there at your own pace. I followed the task sheets at my own pace and am very pleased I participated. Has made a very noticeable difference to my home. I am encouraged to maintain my results and finding implementing my own cleaning/tidying routines, spread over the working week, has been easy with much less time required. Gemma, NSW
What is included
Access to the '20 Days to Organise and Clean your Home' members online website
5 pre-challenge tasks, to help set you up for success through the challenge
An email each weekday for 4 weeks which will include a link to the new task
A daily to-do list printable, complete with each task
Photos and ideas from my own home and experiences
Checklists a plenty – to help you clean each room of the home, create routines and more
Interactive checklist on the site so you can give each task a big tick when complete
Exclusive access to the private Facebook group for premium and deluxe packages
My support – my assistant Neekah or I will answer all your emails and be there with you every step of the way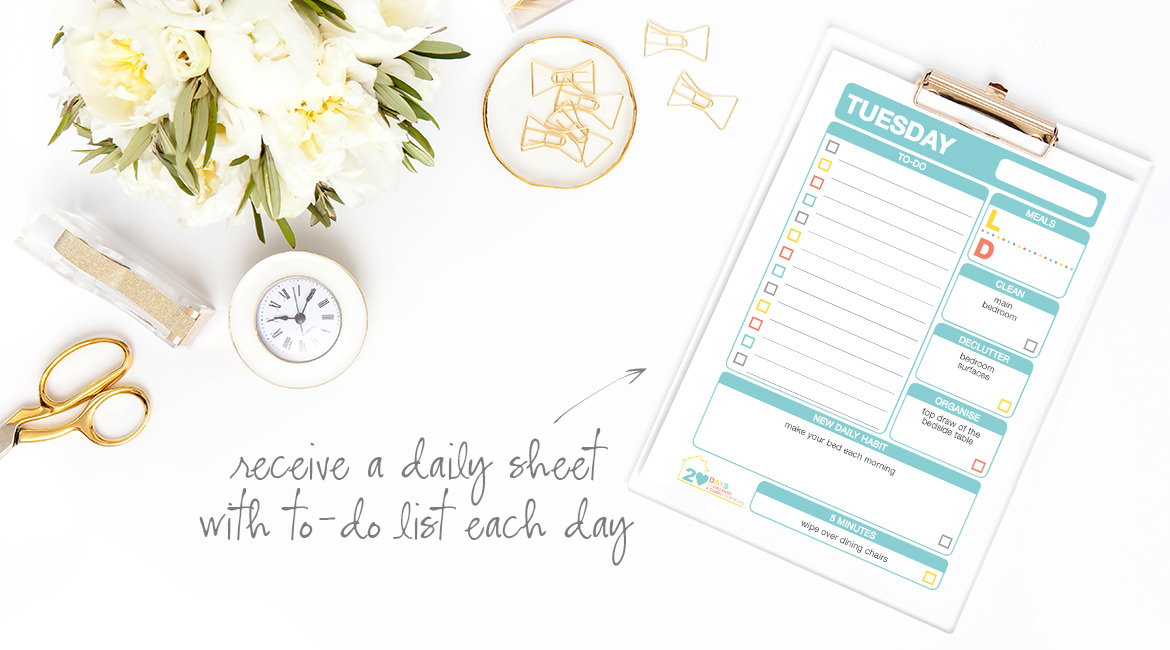 Together we will clean, declutter and organise most rooms in the home. And I have little tasks like restocking your first aid kit, it's the little things that often get forgotten.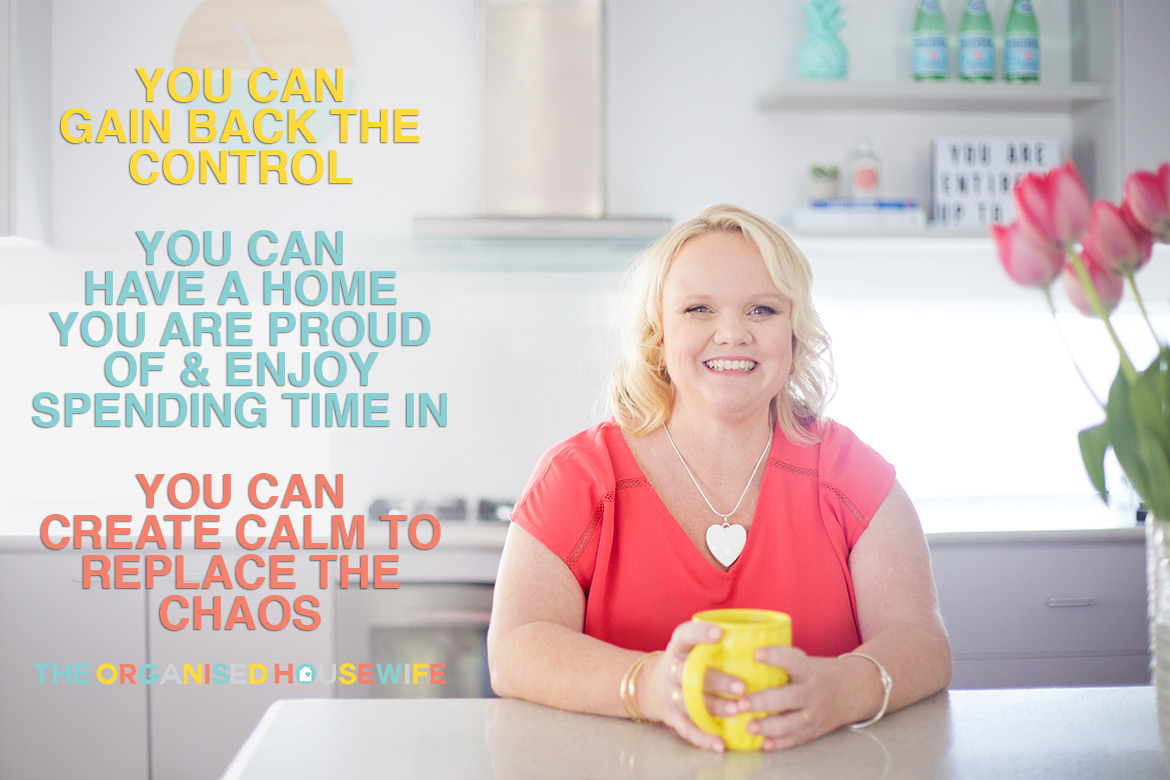 When does it start?
Monday 13th March.  I give you 5 pre challenge that will help you be prepared and ready for the 20 days.  These are simple tasks that won't take you too long to complete. I will send my first
I will send my first email on Day 1, Monday 13th March, however I have opened the first week today so you can make head start if you want.
What if I don't have time?
I understand that everybody has different aged or number of children, schedules or work commitments so please adapt these tasks around your time and family.  If you are not able to complete one of them that is perfectly OK, it can be finished at a different time as you have lifetime access to the content and the facebook group.  This allows you to revisit any of the tasks at any time.
There's no requirement for participants to complete the challenge in 20 days. If you do, that's awesome. If you don't, that's fine too. The length of time it takes you to finish the challenge is irrelevant. The fact that you finished it is the most important thing. If you work you can change the challenge to complete one day of tasks over 2-3 days or catch up over the weekend.  Do not feel you have to complete it within 20 days.
Lifetime Membership
You will have access to the '20 Days to Organise and Clean your Home Challenge' any time it is offered.  This means you only pay once but you can participate each time this challenge is run.
Updated Deluxe Bundle
I have recently updated the Home Printable Bundle in the deluxe package, (which usually retails for $120 alone) members receive it for half price. This includes 18 printables: 2017 gratitude notes, laundry schedule,sSay no to others print, remove shoes, recipe organiser, A4 dinner chart, weekly meal planner, 2017 daily planner, 2017 bill organiser, household budget, wardrobe clothes labels, cleaning checklist, dream big print, dishwasher label, birthday calendar, freezer inventory, to achieve list, projects to complete. With this bundle, there are no excuses not to be organised! This bundle is exclusive to 20 Day Deluxe Members Only.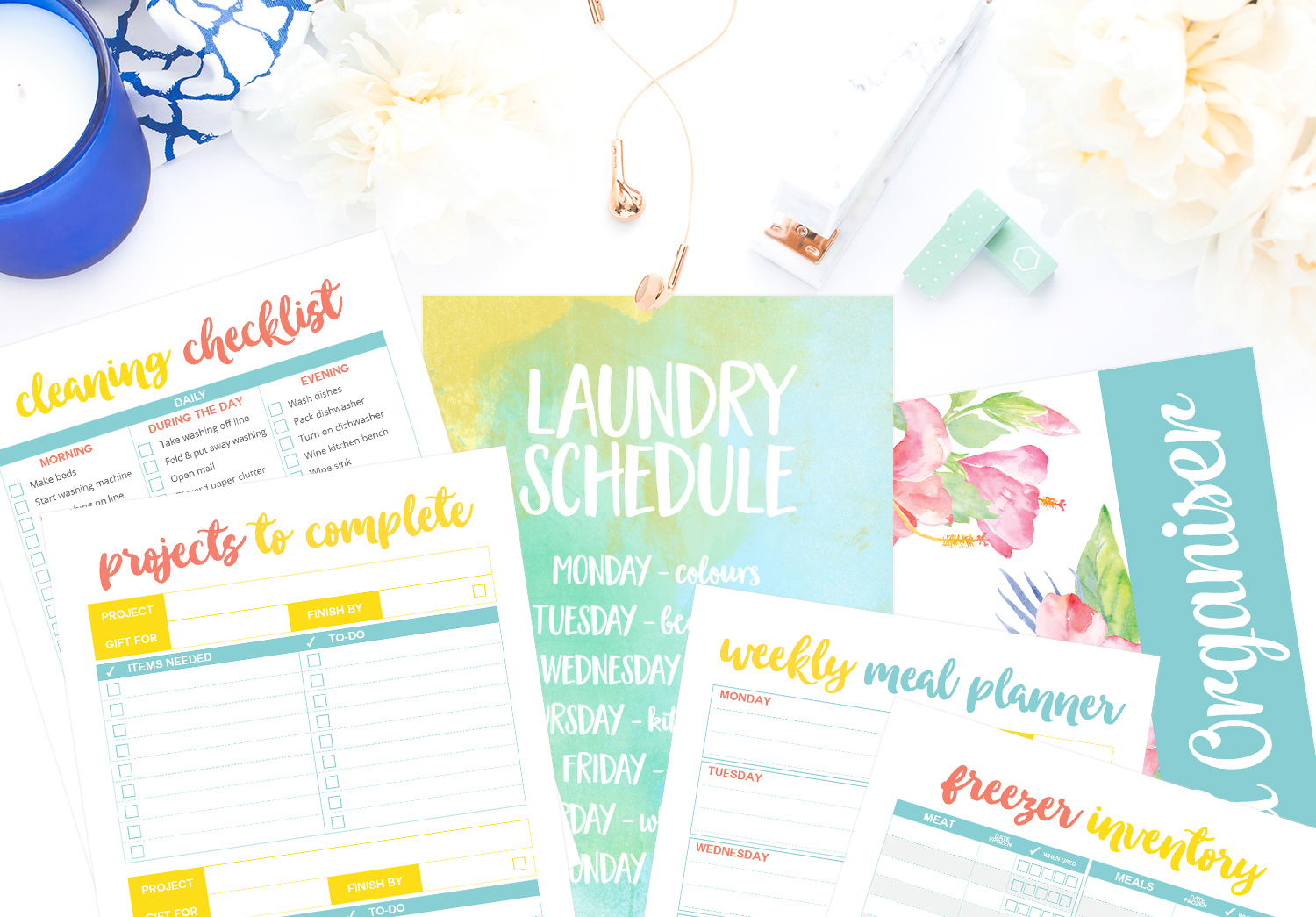 Registration for 20 Day's to Organise and Clean your home will close 5pm Sunday 12th March
You can have a clean home – and children too!