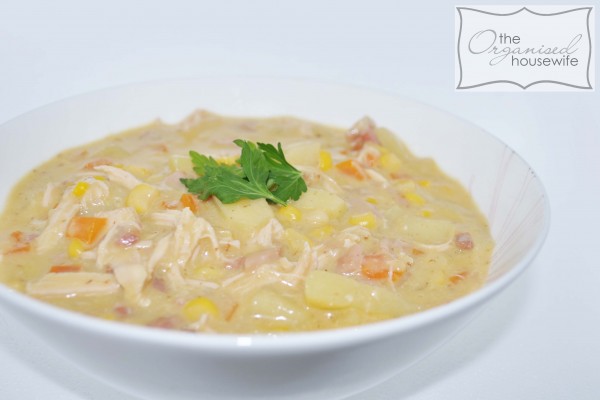 I detoured away from my meal plan tonight, as I wasn't feeling well and felt like soup.  After seeing Katrina and Amie from The Block cook up their winning Chicken and Corn Chowder, I couldn't resist.  Super easy to put together, Miss 8 helped me.  Katrina and Amie's recipe HERE.
Here is my version below, just adding a little garlic.
Katrina & Amie from The Block – Chicken and Corn Chowder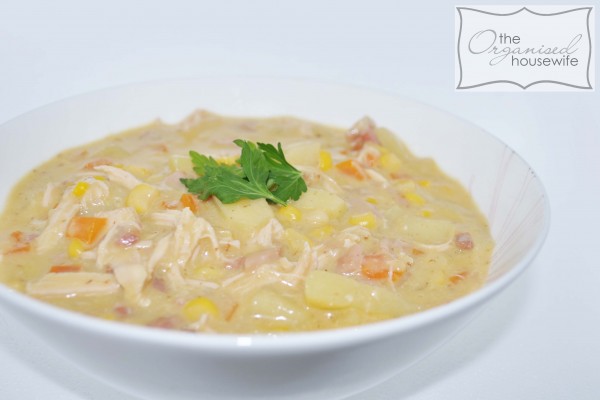 Ingredients
1 tlb oil
1 clove garlic, crushed
1 onion, finely diced
4 shortcut bacon, finely diced
1 carrot, finely diced
1 potato, cubed
310g corn kernels (do not drain)
420g Condensed Cream of Chicken Soup
2 cups milk
1 BBQ Chicken, shredded
Instructions
Heat oil in large saucepan
Fry onion and bacon for 2-3 min, until browned
Add carrots, potato, corn kernels, chicken, soup and milk.
Stir to combine
Simmer covered for 30 min, stirring occasionally.
Season with salt and pepper, serve.
By Kat – The Organised Housewife