Do you rush around in chaos the mornings getting the kids ready for school?  Your morning routine can set your mood for the day so we need to ensure it goes as smoothly as possible.
Tips and a routine chart for the kids to help organise your mornings
It may be good idea to prepare a few things the night before to reduce the amount you need to do in the morning. You could:
Lay uniforms on beds or make sure they are in their cupboards ready
Have breakfast bowls and spoon out ready for cereal to be added.
Have their lunchboxes out ready for stocking up.
Fill their drink bottles and put in the fridge.  Or half fill and put in freezer for hot days.
Put clothes and detergent in washing machine, if your machine has a delay button press delay to start in morning, otherwise press start as soon as you wake up.  Even better, I put my clothes on the line the evening before as I don't have time in my mornings to be hanging washing.
Bath the kids the night before not only are they clean for their bedsheets, also eliminates precious morning time.
If your children are old enough allow them some independence making their own breakfast.  Move those cereal containers/boxes from the top shelf to the bottom for them to easily access.  They can be eating breakfast while you shower or prepare lunches.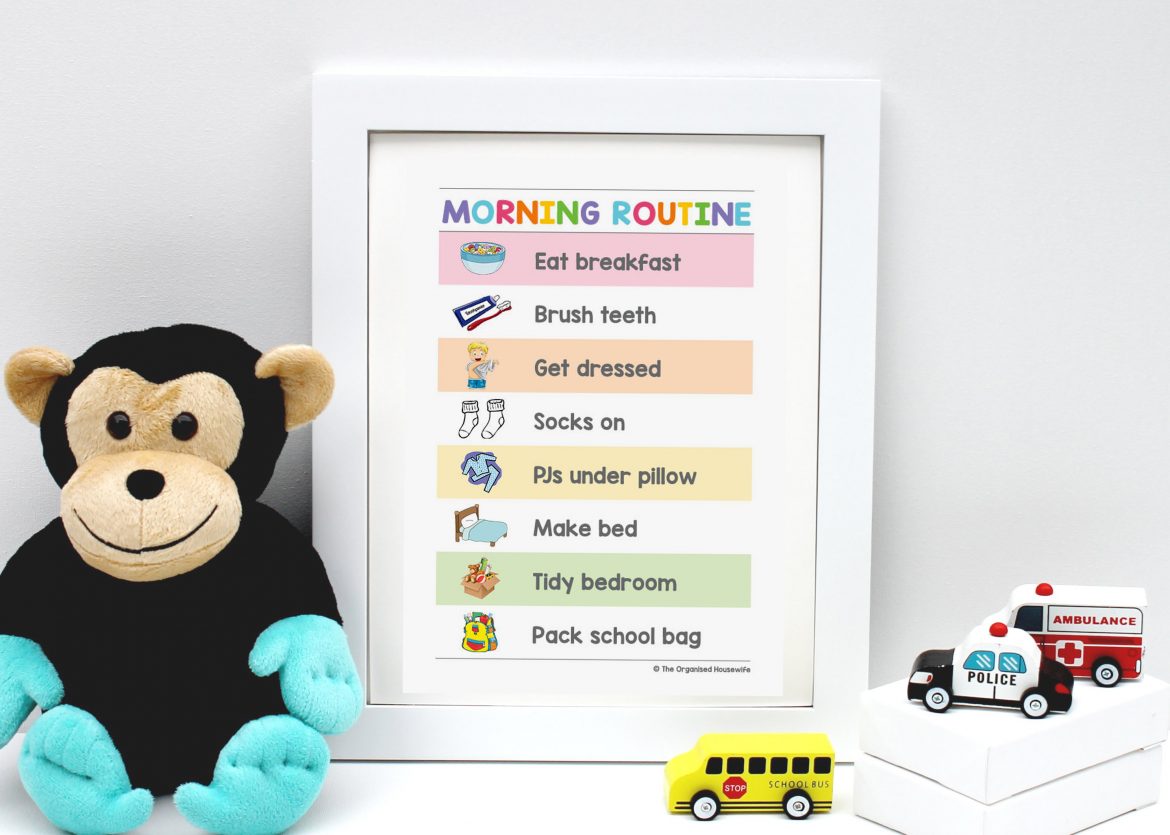 Morning Routine charts are available in my shop as an instant download, so you can start using them straight away.  Having a routine charted for the kids to see will help your kids get ready each morning.  Print (laminate if you can and blu-tak or frame) and display on the wall for their viewing.  This can help the kids recognise each day what they need to do and the order to do it in without you nagging them to hurry up.  Each child has different needs, therefore you may need to personalise a routine.  Rewarding them for good behavior is a great idea like TV can't be turned on until they have completed all the tasks, you could give them a special treat in their lunchbox or $1 at the end of the week to spend at tuckshop.  You will soon learn what works and what changes may suit you.
Morning Chart are available in my shop, in various colours and can be personalised.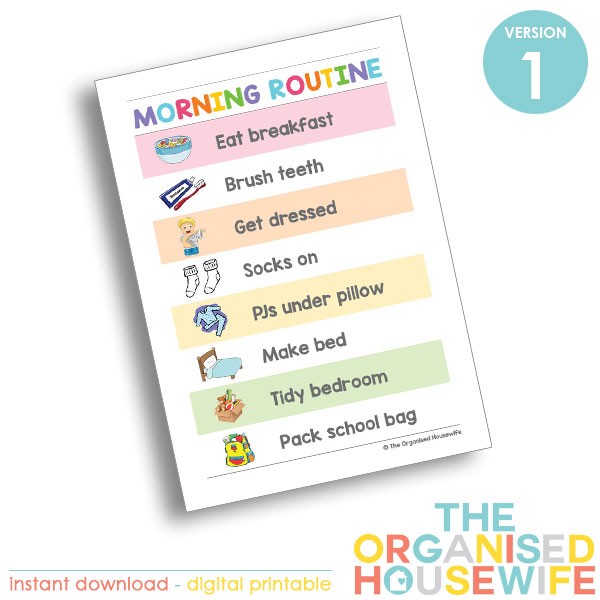 This is my typical morning routine:
5.30am – wake to go to gym
7.00am – arrive home, wake kids, shower for me
7.05am – kids make their own breakfast
7.15am – make my bed
7.20am – start preparing lunches for kids and hubby (lunchbox ideas Hhere)
7.30am – kids finish breakfast & start  morning routine, hubby leaves for work
7.40am – time for me to have breakfast and relax for 5 minutes
7.45am – put away dishes washed from night before, empty dishwasher and wipe down kitchen bench
7.50am – brush and style (braids or ponytails) girls hair
8.10am – check my emails
8.15am – time to get myself presentable for the day (hair and make-up)
8.25am – check all bags are packed
8.30am – in car driving to school drop off
Every household is different, what suits me may not suit you, but I do hope this may help you create a new routine to make your mornings a little less caotic…let me know how you go!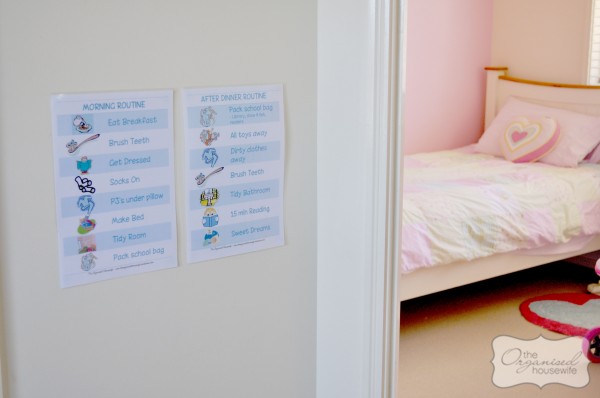 Other charts available:  Afternoon | Evening | Reward, Chore & Responsibility