As the end of the year approaches it's time for me to start updating the blog planner and small business planner with new calendars for 2013.  I'll be updating one planner at a time as I have some other projects on the go as well.  I will keep you updated as each new planner version is released. If you have purchased a planner in the past month I will forward you the new version when it's released, you won't miss out!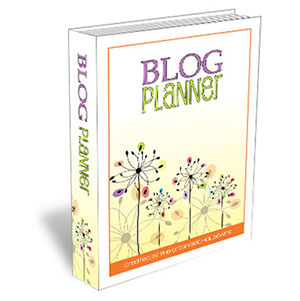 As you all know I LOVE blogging and over 18 months ago I create my 'Blog Planner'. As I like to be organised at home, I find the need to be just as organised with my blogging.  This planner allows me to brainstorm blog topic ideas, create a schedule for my posts, keep track of my advertisers and so much more.  I would be lost without my planner.  
I'm thrilled to release Version 2 of the blog planner which includes more pages than version 1.  Please note this is a digital product and will be emailed to you instantly after purchase.  I have included divider pages (which can be laminated) for you to be able to organise the planner in your own A4 folder.  Apart from the divider pages, there is minimal colour on each page so you won't use too much colour ink.    
*ON SALE* $5 off until 9th November
 Join the our affiliate program here
This is a comprehensive planner which includes
Blog summary page
At a glance you can view your blog URL, elevator pitch, website html code colours, monthly statistics and advertising rates.  Keep this page at the front of the folder for easy access.
Calendars
2013 and 2014 year at a glance calendars
2013 Monthly calendar for you to keep track of upcoming conferences, brunches, brand events, webinars etc
Planners
In this section there are planners for you to organise your time and your blog posts.  Use the blog post planners to schedule in your post topics, reviews and giveaways.  
Daily, 5 day and 7 day planners to help you organise your time.  You don't need to use each one, but I have included them all to you can determine which suits you. 
Page to keep track of your deadlines
Project to complete page will help you plan a project (craft, DIY or more) you are wanting to write about on the blog
A tracker to help you determine the best time to interact on social media
Link parties, keep a list of all parties you like to link up to each week/month.
Weekly blog planner, one week per page to help you organise your blog post topics.  You will need to print one page for each week of the year.
Monthly blog planner, one month per page.  
I use the montly blog planner pages to organise my blog posts.  I usually write about specific topics each day – monday is meal planning, Tuesday decluttering, saturday giveaways or each week can be a specific topic.  I have included a space in this planning page for you to plan weekly or daily topics.  
Goals
This section is for you to determine your blogging goals
Goal sheets for blog (as in the design and running of the website), writing and personal
Blank brainstorming page
Blog long-term goals
To Do Lists
There are a few to-do lists for blog (as above the design etc), writing and personal
Blog post ideas
Statistics
A tracker of your monthly blog statistics.  Grab this information from Google Analytics, such as page views, visitors, RSS, Newsletter subscriber, facebook likes Alexa rank and so much more.  This is great to look back on and see how your blog has grown.
Sales page, if you have an eProduct you can keep track of your monthly sales
Invoice and expenses pages
Press page, keep a list of where your blog has been featured
Current affiliate programs you participate in
Reviews & Giveaways
At times there are several discussions on the go with brands about running promotions, reviews or giveaways, this page will help you keep track of all the giveaway/review details, along with winners details.  Great to have these details on hand if you would like to contact them at later date to run another promo.  
Remember to record the dates you are running the promo into your blog planner. Look at your blog planner when scheduling the promo in so you do not conflict with other promotions or posts you have scheduled.
Advertising
This section may not relate to bloggers who do not offer advertising positions, however it's great to have on hand just incase you do offer this down the track.
One month to a page, keeping track of your sponsors details, the position they are located on your blog, the advertising fee, advertisement size and if they have paid.
A sponsors waiting list or you could use this page for those businesses that have enquired but not ready to advertise at this time.  Send them a follow-up email in 3 months time.
Maintenance
Plugins you would like to install when you have time
Maintenance log, just in case something goes wrong on your blog, you can check your log and back track.  Eg. the plugin you just installed maybe the problem.  
Passwords, keep track of all your usernames and passwords for different sites
Conferences
Conference page will help you to determine the budget required to attend a conference.  If you are seeking sponsorship to attend a conference I have an area where you can note how much the sponsor is helping towards your budget.
Conference packing list, you don't want to forget anything
Travel itinerary, to keep all your information together, don't forget to copy it and leave at home so your loved ones know where you are
Procedures Manual
 I know there are a few things I do on my blog that I always forget how to do.  Use this page to write step by step instructions.
Address Book
A-Z pages for you to keep contact details of fellow bloggers, your web host, PR or brands etc.  You may not find the need to print this section however i have included for you just in case.
 Other great blogging ebooks
How to start a blog, is a complete guide for those completely new to blogging as well as those who want to take their blog to the next level. It covers everything you need to start and build a blog quickly, easily and successfully!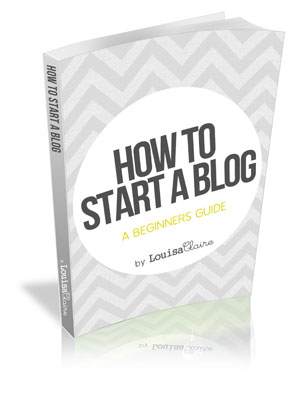 Blog boost ebook.   Aussie blogger Nicole Avery shares her tips and techniques for you to Implement on your blog to create a sound blog structure and create a blogging strategy to give you greater return for the hours you spend on your blog.