As promised today I am going to share links to previous newsletter's.  Sadly, many readers have had trouble subscribing and receiving the newsletter.  I am in the process of changing service providers, which they have guarantee a streamlined signup process.
As I am currently moving it all over and setting up from scratch again, there will be no newsletter this week.  On another note, I am currently working my way through 3,000+ emails that I have just received due to a 'technical' error.  I apologise to all of you that have sent an email and I haven't replied, please be patient I will get there

IT'S A LITTLE DIFFERENT
I originally started writing a newsletter in April, which had different weekly/daily tasks. I found it very hard to find the time to write this style of newsletter, instead I created The Organised Housewife Cleaning Checklist, which give you daily, weekly, monthly, quarterly and annual tasks to complete on the day's that suit you.  The checklist is available HERE in the shop for a small fee of $4.95.  If you have purchased the newsletter I would love to hear some reviews.  The first 5 people to comment below with their review will receive 1 free printable of your choice.
I have now streamlined the newsletter with sections such as:
Blog posts links
Daily Tasks
Reader Question
Tip/s of the week
Quote of the week
Inspirational images
Sponsor Product Spotlight
I would love reader involvement, please feel free to email me your questions, before and after photo's to share. newsletter@theorganisedhousewife.com.au
HOW TO SUBSCRIBE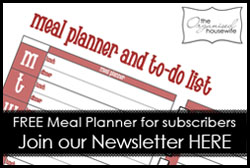 I have moved all current subscribers over.  If you would like to sign up to the newsletter – Subscribe HERE.
All subscribers will receive a FREE meal planner upon signing up, this meal planner is exclusive for subscribers only.
BACK ISSUES
Please find below links to recent newsletters:
PLEASE DO NOT USE THE SUBSCRIBE LINK IN THESE PREVIEWS.  I HAVE CHANGED SERVICE PROVIDERS, PLEASE USE THE LINK ABOVE TO SUBSCRIBE.
I hope you enjoy the future issues of The Organised Housewife Newsletter!