In November last year I was asked if I could put together a planner similar to my Blog Planner, to suit a small business owner.  After 5 months I am thrilled to be able to release it!  It has taken awhile, but I am so pleased as this planner WILL help you organise most aspects of your business.
The Small Business Organiser
The idea of  'The Small Business Organiser' is to keep all your business paper work organised and together in one folder.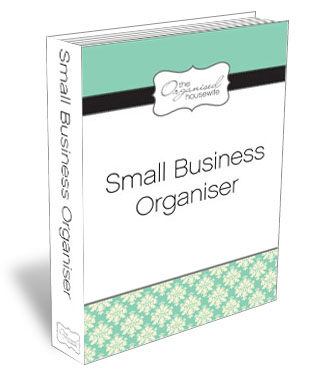 ON SALE – $14.95 until the end of April (Regular Price $19.95)

The Small Business Organiser is a 100 page downloadable document available instantly for you to print after purchase.  It will help you organise each of the  following: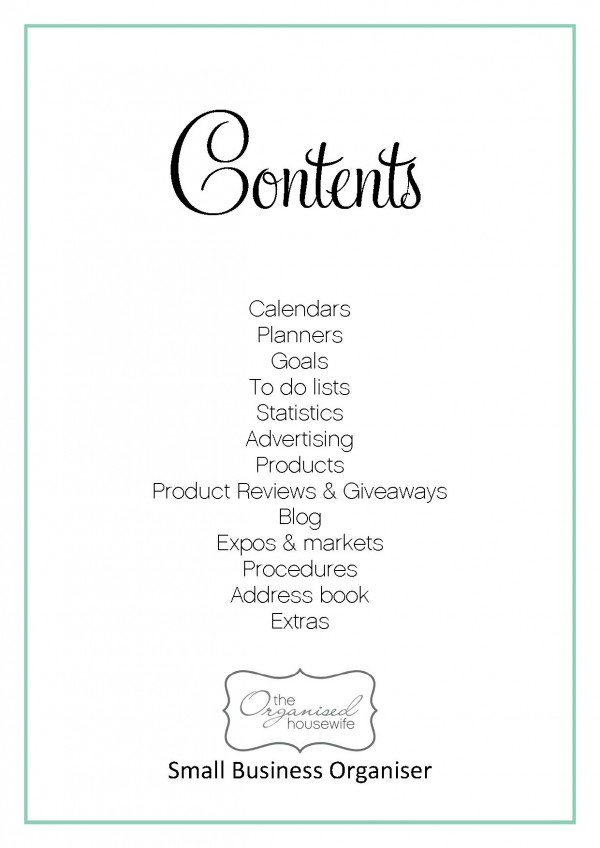 Calendars – To help you keep on track
Planners – To help you work out the best times and days to work, balance family life, to plan social media updates and organise deadlines
Goals – Determine your short and long-term personal, business and website goals, creating lists to help you achieve them
To-Do Lists – Keep to task by creating a to-do list, lists for personal, business and the website
Statistics – Record your statistics and sales data to see how your small biz is growing
Advertising – List all the advertising you have arranged in print media, on blogs or on other websites.  Recording the dates, rates, traffic and if you will renew.
Products – Product wish lists of items you would like to stock in your shop and recording products you have on order
Product Reviews & Giveaways – Reviews are a perfect way of creating awareness for your products, this sheet will keep track of which reviews you have scheduled, traffic and sales created from review along with if you are running a giveaway alongside it and recording once you have posted the item to giveaway winner
Blog – Most online business also have a blog running with their shop.  This section allows you to brainstorm some blog topic ideas, remind you to take photo's to add to your post and list what products you would like to blog about
Expos & Markets –  A checklist  to help you remember everything needed when running a market/expo stand, budget to ensure that the efforts is worthwhile, along with packing checklists and itinerary if you are travelling away.
Extras – Password register and list companies you would like to contact.  Also included in this section is a website maintenance log if your website crashes you can see what last action you recorded for it to be the possible problem.  Each section has it's own divider page for you to laminate, and add to your own folder.  
Procedures Manual – To help other members of the team complete tasks
Address book – to record all your business contacts
ON SALE – $14.95 until the end of April (Regular Price $19.95)

View Shop |  Join our Affiliate Program

Reviews
The Small Business Organiser that I received from Kat has been really helpful in assisting me to actually sit down and organise myself for the first half of this year. For me its been especially effective in monitoring the online advertising / marketing of my business including booking in online newsletters , monitoring banner advertisements on various blogs or sites and seeing on paper how everything is fitting together.  Also its been great to compare the prices (on paper)  of each banner advert and monitor its return on investment (let alone actually stocking to my advertising budget) . 
Thanks so much Kat for making something so simple but so geared towards small to medium business owners like myself .  I'm feeling VERY organised for once .   
I love to be organised in both my home and work environments but found that with two energetic young boys and running a small business from home, I was sometimes struggling to keep on top of things. I was ending up with notes and reminders spread throughout multiple notepads and diaries, not to mention the hundreds of post-it notes and scraps of paper that seem to end up everywhere (and get lost along the way)!!
I have found the Small Business Organiser to be an invaluable tool in helping me to gather all of my business related notes and goals in the one place. This has also had the added bonus of allowing me to see and review where my business is at now and where I want it to be heading in the future. I also love the flexibility of the organiser, allowing me to use as little or as much as I need for my business whilst knowing the organiser will grow with me as my business grows. 
This is just what I need, this is sure to help me get myself more organised and having it all laid out in front of me will make it so easy to track what is going on