This is Part 3 of 'The Twins Parties – 2 Parties in 1 Day' series, view Part 1 and Part 2
We started the first of our parties with The Rainbow Party.  I didn't want to hold the party inside so we set everything up on the patio. I moved all the tables off the patio and set up a trellis table as it is narrower and easier for the kids to reach across it.  I covered the table and the window behind with a plastic tablecloth.
I would like to give a big thank you to my friend Carissa from Putting on a Party, not only did she help with the cake and shared her wonderful planner with me she also took the stunning photo's throughout the party.  It's hard to play party  host and take photo's at the same time, A REALLY BIG TIP is to ask a friend or another parent to take some photo's for you  so you are there with your child blowing out the candles and not always behind the camera missing the moment.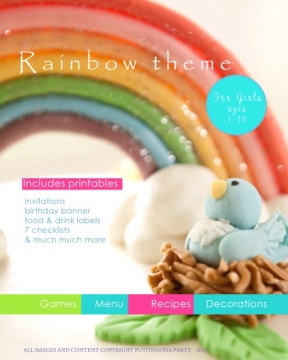 I mentioned Carissa shared her planner – Putting on a Party is a new up and coming blog, with inspiration and tips on how to throw parties with clever ideas thrown into the mix.  Carissa is putting together a range of different themed planner packs.  
These planners will give you all the decorating and food ideas you need if you want to have a particular theme.  Including an overview/checklist of tasks that need to be completed, recipes with matching shopping list, project ideas, guest list, along with printables such as thankyou labels, cupcake toppers, cupcake wrappers, birthday bunting, food labels and more.   You can find more details here.
The food table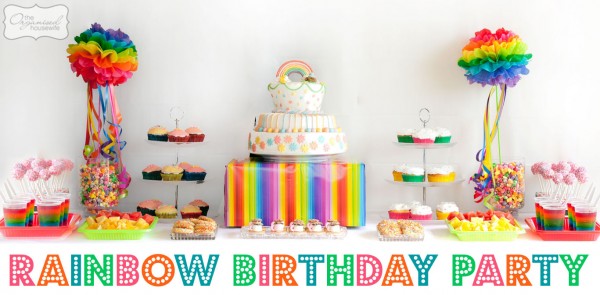 There was a platter for diced fruit (pineapple, watermelon and oranges), cookies (using my fav cookie dough recipe and rolled the balls in 100&1000's) and little biscuit tea cups, there's my birthday girl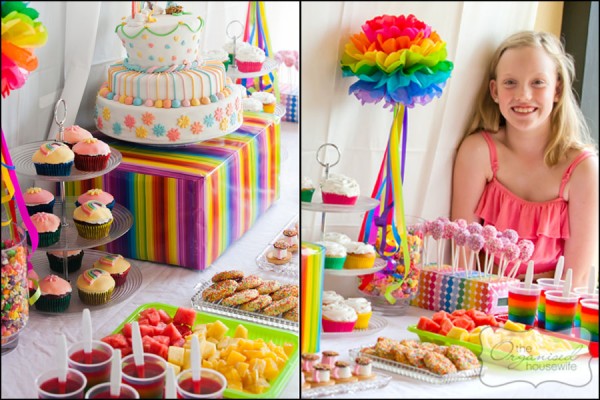 The jelly cups were a hit, find details on how to make layered jelly cups here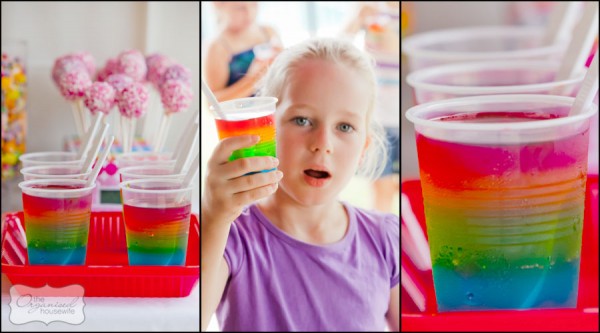 We also had cupcakes and cakepops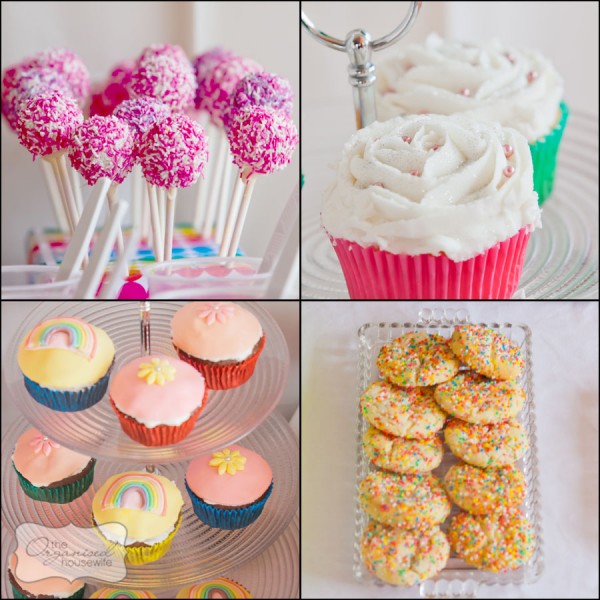 I borrowed a McDonald's water carrier (they are free for a day) we filled with cordial and ice, and I had a smaller water carrier filled with iced water 
The Cake
Carissa made the most beautiful rainbow cake.  Just to have somebody make the 2nd cake for me was a wonderful help, never did I imagine receiving a cake like this. Love my friends x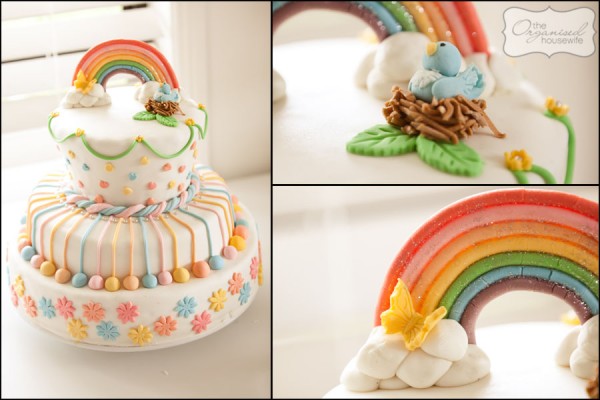 The Decorations
The tissue paper pom poms from Ah-tissue were so beautiful.  I filled a vase with coloured popcorn to hold the Pom Pom sticks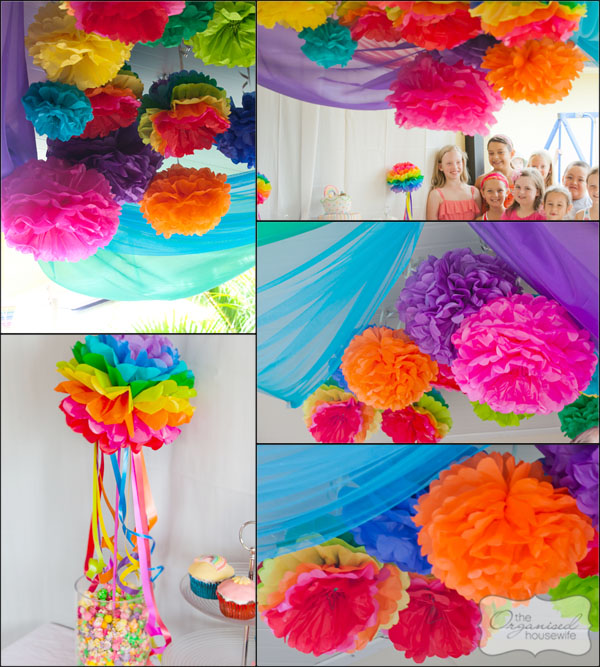 I got this printable birthday bunting banner from Putting on a Party, perfect for both parties

 The Games
 We made a 'pin the cloud on the rainbow', played pass the parcel, had a treasure hunt for whoever could find the most rainbows (Miss 9 drew them and placed them around the yard) and played lots of musical statues

After an hour of eating and playing games the kids all jumped in the pool, 20 minutes before home time I got them out of the pool to cut cake, while the kids were eating Miss 9 opened her presents.  Thankfully most parents arrived on time to pick up the kids so we could do the party switch over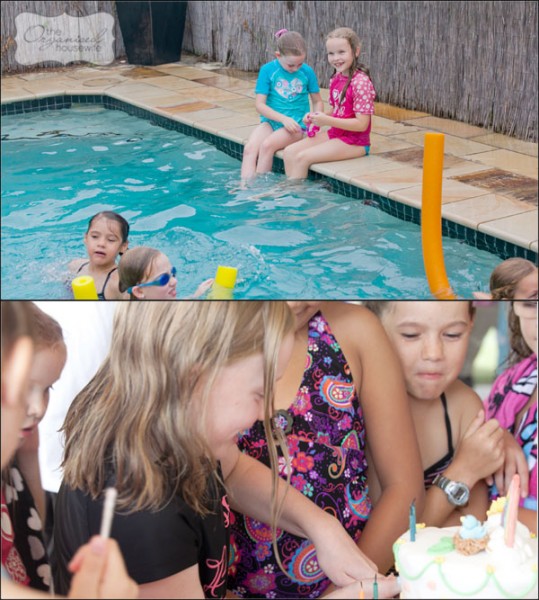 I purchased a few packs of neon paper bags from eBay, printed the label that came in the Putting on a Party Rainbow Party pack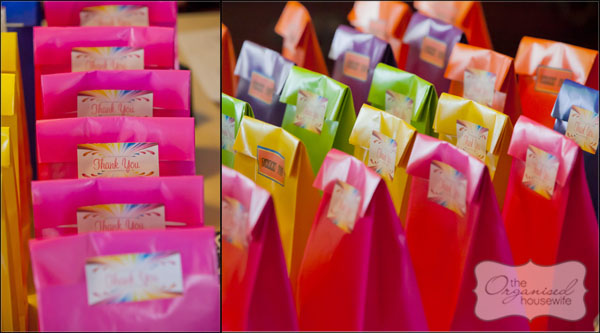 That's our Rainbow Party over….. next is the Lego party