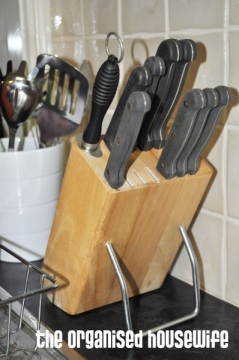 I store all my kitchen knives in a wooden knife block on my bench, keeping it out of reach from little fingers and easy access for while I'm cooking.  Another benefit of keeping them in the knife block will minimises the risk of cutting fingers if in drawer and should help them stay sharper longer.
However, have you considering how dirty knife blocks can get?  Dust and small food particles can quite easily fall into the knife block making it very unhygienic.
HOW TO CLEAN THE KNIFE BLOCK:
Remove and wash all knives.
Turn block upside down and shake out as much dirt as you can.
Use your vacuum cleaner to suck up any remaining dust and dirt.  Or you could use your hairdryer to blow them out.
You may as well give it a complete clean by sterilizing inside each slot.  Mix bleach cleaner and water in a spray bottle.  Spray each slot with bleach mixture.
Using a garden hose or high pressure kitchen sink nozzle completely rinse bleach from block.
Leave block to dry thoroughly.
Return knifes to block, however ensure they are completely dry.
Do not soak the knife block in soapy water, the wood may swell.
You may as well sharpen your knives while you're at it.
When was the last time you wiped over your wooden knife block??