This week and continuing next week, if needed, we are going to concentrate on organising the kitchen. I thought that we start with the kitchen because it is the heart of the home. If your kitchen is like mine, it is seen by everybody that visits the house, so you want it looking it's best. Are you ready to get your kitchen organised?
Organising can be an overwhelming experience, especially if you are cleaning and decluttering as you go along. So let's take small steps, these smalls steps will soon form as a new habit and long-lasting change to your routine. I'd like you to try one task each day. We aren't looking for perfection, you will soon see that forming automatically once you have learnt new habits and welcomed your changing routine.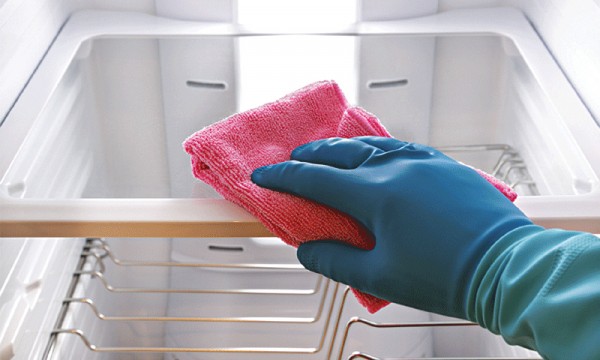 STEP 1 – Clean Fridge
Today we are starting with the fridge. As the fridge is the most commonly used item in the kitchen thought it was fitting to make a start here.
Every so often a fridge needs to be cleaned. I clean my fridge every 2-3 months, however I give it a quick wipe over each week the night before I grocery shop. Today, let's give it a good clean.
Open fridge door and take note of what the temperature is. Now turn inside temperature control to 'off', save you electricity.
Throw away anything that is out of date or spoiled. You'll be surprised what you'll find.
Move all other items to bench.
Take all removable parts and wash in warm soapy water in the sink.
While they are drying, wipe the inside of the fridge using warm soapy water and sponge, remembering the door shelves.
If your fridge has an odour, make up 1tsp of bicarbonate soda to 500ml of warm water and use to wipe fridge then rinse. To give my fridge a fresh smell I use McLintocks Vanilla fridge wipe , smells yummy.
Return all shelves and items back into the fridge. Place like items together.
If needed place a box of bicarbonate of soda in fridge to eliminate odours.
Turn temperature control back to recommended setting. Close fridge door.
Wipe down the outside of the fridge with hot soapy water, rinse and wipe dry to prevent streaks.
Step back take a look, how do you feel? You have completed 1 step…great job!!
Remember I said we are taking it slowly 1 step at a time…now go spend some time with hubby or the kids. Tomorrow we'll be organising the fridge.
NEW HABIT – The day before your grocery shopping day, empty fridge of all spoiled food and quickly wipe down the shelves. This shouldn't take any longer 5 minutes.
Benefit quick clean the day before grocery shopping:
all clean before a new load of food arrives.
You may not spend as much at the shops because you know what's in your fridge.
You may have some good food in there that you can use for meals during the week, eliminating the need to by too much when grocery shopping.
My fridge wiped clean ready for grocery shopping.