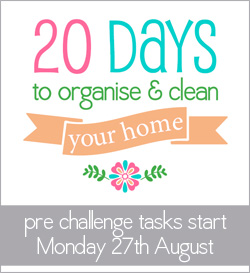 My life was recently turned upside down at the unexpected loss of my mum.  There were weeks were I struggled to get out of bed, I had a constant headache and just felt lost. Cleaning and organising the home was the last thing on my mind.  However after a few weeks I soon realised that the mess, filthy floors, corners with clutter wasn't helping my state of mind.  I needed to get my house back into shape to help lift my mood and help me find my happy self again.
I have managed to get my house back into order.  There will always be an empty place in my heart, however I am feeling so much better because I feel calmer and less stressed with a the house tidy, clean and organised.
Please join me in the '20 Days to Organise and Clean your home'  Challenge so you too can find calm and happiness at home.  
Challenge Starts: Monday 3rd September, you will need to check the blog each weekday for challenge tasks, yes we get weekends off!!
Pre-challenge tasks start: Monday 27th August, these are tasks to ensure you will then be ready to start the challenge!
I hope you can join in the fun!