Goodbye August, hello September!  This is going to be a great month on the Organised Housewife blog. This month I will be posting about clutter, what is clutter and how to manage your clutter.   So lets say GOODBYE CLUTTER, HELLO ORGANISATION!!  
We will revisit the kitchen during this month as there are a few areas we still need to complete.  Then it's onto another room. Are you up for the journey, the challenges that lie ahead?
Daily Routines:
At the bottom of each post I am going to start listing daily routines.  I will only list the routines after I have posted about them.  Eg, we have spoken about making your bed daily or doing the dishes.  But I haven't posted about maintaining a clean bathroom.  That will come and will be added to the list, everything gradually.  The daily routines are based around my days, eg, create meal plan on Sunday as I grocery shop on mondays etc.  However, maybe you can create a master list for yourself if you like to do tasks on different days.  I have attached a Daily Routine List for you to print and use.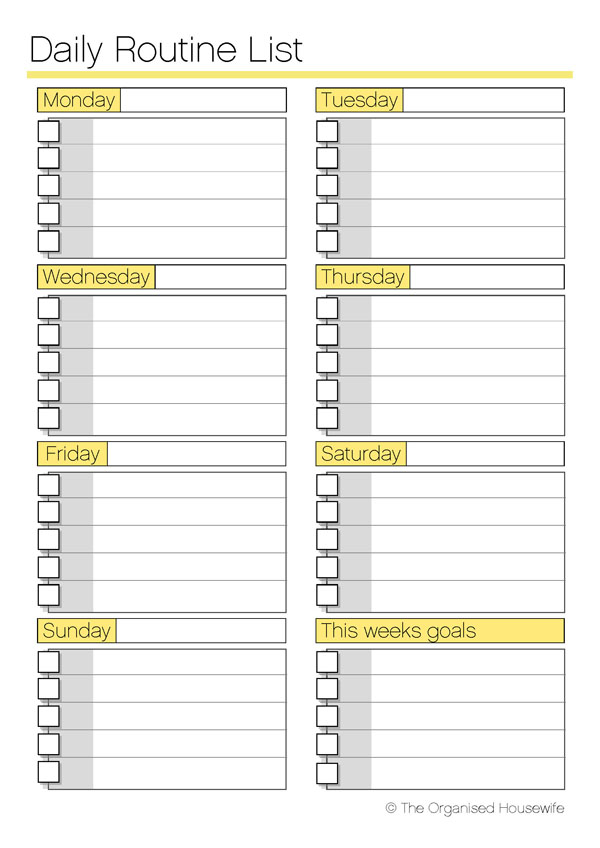 TODAY'S DAILY ROUTINE:
Morning
Shower and dress yourself
Put away clean dishes and empty dishwasher
Check the kids have completed their tasks.
Evening
Wash dishes
Pack dishwasher