Thank you to Dettol for sponsoring today's post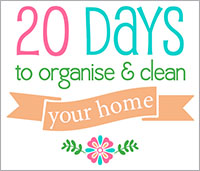 I missed receiving some of the emails, can you please forward me the ones I am missing?  
Unfortunately the newsletter service I use does not allow me to resend individual emails.  However, all the tasks to the 20 day challenge can be found on the website.
I signed up to the challenge but I did not receive any emails.
Unfortunately some email inboxes treat my messages as spam, you may possibly find them in your junk mail folder.  I am currently working with my newsletter provider to rectify this.
I know your challenge has finished but can I start it now anyway?
Of course you can, you are welcome to start the challenge when it suits you.  Leave any questions in the comments and I will try to reply back as soon as I can.
I started the challenge late, the printables now have the wrong dates, can they be removed?
Unfortunately no, I made the printables to follow along with the specific dates of the challenge, however they will all be available soon without the date.
Will the downloads always be accessible?
Yes you will always have complete access to all downloads that were available throughout the challenge period.
You have put in so much effort, I really appreciate you putting this challenge on for us, but how do you find the time?
Thank you, yes the challenge was a lot of work from my end with many very late nights.  However, after the sudden loss of my mum, I saw myself spiralling into a place I know I didn't want to be, of constant sadness and chaos as the house was the last thing on my priority list.  I knew if I got my house back into order that my mood would also change for the better.  And it did. I wanted to share with you some of the steps that helped me.  Despite the many extra hours of putting together this challenge I am so very pleased I could run it and help so many.  
How can I access all the challenge posts?
You can view all the challenges under the organising category here.
I work full time do you think I can do the challenge?
I did write this challenge with SAHM's in mind, however you can extend the challenge tasks for as long as you need, give yourself 2-3 days for each days tasks.
Where did you find your Borax?
Borax was really hard to find, eventually I did find it at Bunnings.