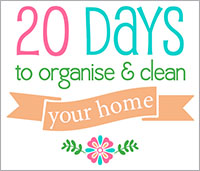 It's not too late to start!!  Subscribe to the challenge here.  Share your photos on instagram or twitter using #TOH20daychallenge.  Follow along with the discussion on facebook.

We have had a great response with so many blogs following along in this challenge.  I want to say thank you to each of you for sharing the challenge with your readers and I look forward to watching your progress.
Here are a few blogs that have started the challenge already
Vegans Eat Yummy Food Too takes on the challenge
The Everyday Blessings shares their morning routine
Life as we know it wonders if I can tame the disorganised?
This weekend link up is for bloggers to share their challenge blog posts, readers can click on their images below and see how they are all progressing and find further inspiration.
When linking please remember to link directly to your blog post not your blog, grab the challenge button and by adding your link you give me permission to publish images and links as features in the weekend challenge link up.