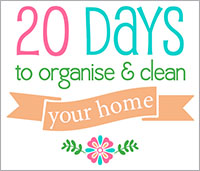 It's not too late to start!!  Subscribe to the challenge here.  Share your photos on instagram or twitter using #TOH20daychallenge.  Follow along with the discussion on facebook.

Bake Bike Blog | TOH 20 Day Challenge Week 1
Cherished Treasures | Under the Kitchen Sink – Challenge 1
Just winging it.  Parenting by the seat of my pants | Day 5 
The Reluctant Cleaner | My Pigeon Pair
an entrée in Colour | Did your family notice
This weekend link up is for bloggers to share their challenge blog posts, readers can click on their images below and see how they are all progressing and find further inspiration.
When linking please remember to link directly to your blog post not your blog, grab the challenge button and by adding your link you give me permission to publish images and links as features in the weekend challenge link up.