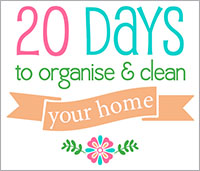 It's not too late to start!!  Subscribe to the challenge here.  Share your photos on instagram or twitter using #TOH20daychallenge.  Follow along with the discussion on facebook.

Today's pre-challenge task is for those that will be completing the decluttering tasks I set.  If you know that your house has excess items that you want to purge then we will set some goals and put together some bins to help you sort through your items. I have also included three printables:
20 Day Challenge Goal List
20 Day Challenge Goal List blank
Goals
As I mentioned in pre-challenge task 1, each day I will give you an organising, cleaning and decluttering task.  Remember if you are time poor it's perfectly OK if you can't complete each task, but lets determine what you would like to have achieved by the end of the challenge so you can concentrate on these areas.  The questions below should be able to help you.
Please answer these questions in the comments below, replacing the blue words. (My answers are in blue).
I want to feel

RELAXED

while I'm at home.
I want to spend more time

OUTSIDE

.
I want an area of the home where I can

CRAFT WITH MY GIRLS

.
I want to organise

MY CRAFT ROOM

.
I always lose

THE REMOTES

.
Something that I don't need anymore , but am having trouble parting with

SOME TUPPERWARE

.
Sorting
During the next 4 weeks we will be organising, purging excess items and throwing away rubbish.  In order to do this it's a great idea to have on hand a bucket, bin, bag or storage container for the following items
Keep – something you find in one room that belongs in another.  You could put it away once you find it, but if you are time poor put it in the keep bin to put away later
Donate – an item that you no longer want or need but is still in working order for somebody else to use
Sell – items that you can sell if you are going to have a garage sale or sell online
Rubbish – items that are broken, can't be mended, doesn't work or is rubbish
Create your own labels with marker and paper, or use these sorting labels below, available in my shop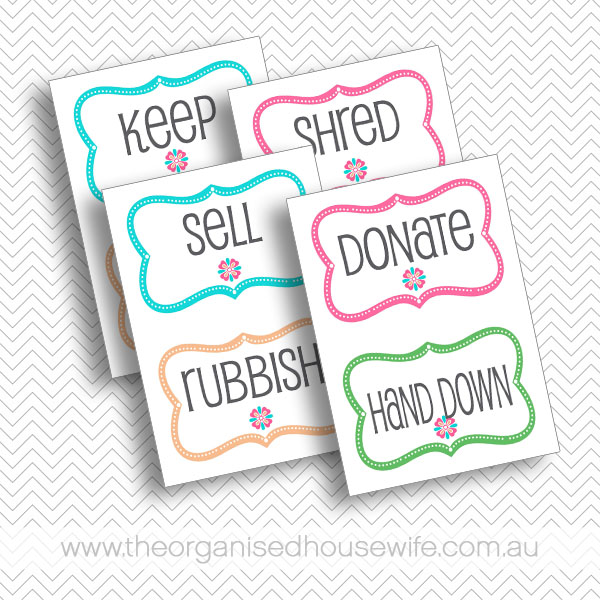 Goal list (place in checklist divider)
or create your own list using the Blank Evening Routine list (place in checklist divider)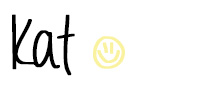 Love these ideas? Sign up for updates....It's FREE!