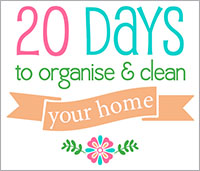 It's not too late to start!!  Subscribe to the challenge here.  Share your photos on instagram or twitter using #TOH20daychallenge.  Follow along with the discussion on facebook.

Today's pre-challenge task is to create an evening routine to suit you and your family. I have also included two printables:
The Organised Housewife Evening Routine Checklist
Blank Evening Routine Checklist
Evening Routine
My evening routine has never changed over the years, it seems to work well for me.  However, remember like I mentioned yesterday create and find a routine that suits you and your family.  One thing that I may do differently to a few households would be that I put a load of washing on in the evening and hang it on the line before dark.  As I live in QLD the sun shines early and strong, if its hung out the night before (providing it doesn't rain), it's usually dry by 10am.  
My evening routine
5.15pm – kids have a shower
5.30pm – put on a load of washing
5.35pm – start making dinner
6.00pm – hang washing on line
6.10pm – serve dinner, eat together as a family at the dining table
6.30pm – tidy kitchen, do dishes, put on dishwasher, wipe bench, quick vacuum under chairs
6.45pm – read with kids
7.25pm – straighten up the kids bathroom
7.30pm – kids lights out & relax and chat with hubby
7.45pm – work on blog
8.30pm – relax watching some TV   
I don' t dry my dishes, instead I leave them to dry overnight and I put them away in my morning routine.
I have recently learnt to switch off my computer and iPad at a reasonable hour leaving time to unwind in the evening, I find that if I check emails, facebook or look through pinterest before I go to bed my mind starts thinking and I find it hard to sleep.  So now my iPad doesn't sit on my bedside table, instead I keep it in the recharge station.  Here are some ideas on how to retrain your body clock.
I usually go to bed between 10-11pm.
Create your evening routine
Be realistic with your evening routine, don't fill it with too many chores as the evening is the time to rest and relax.
Perhaps if you don't have time throughout the day to clean add an additional cleaning task each night to your evening routine (preferably before dinner)
If you are time poor in the mornings consider making lunches the night before
Having your 

meals planned

 for the week ahead it will reduce the amount of stress during a busy evening
Please share your evening routine below
If you have an evening routine that's working for you, please add it to the comments below as it may help somebody else to create their routine

The Organised Housewife Evening Routine List (place in checklist divider)
or create your own list using the Blank Evening Routine list (place in checklist divider)
Kids Evening Routine
These routine charts are available in a range of colours in my shop, also with an option to personalise.