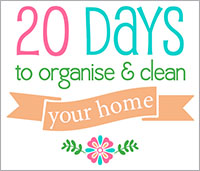 It's not too late to start!!  Subscribe to the challenge here.  Share your photos on instagram or twitter using #TOH20daychallenge.  Follow along with the discussion on facebook.

Today's pre-challenge task is to create a morning routine to suit you and your family. I have also included two printables:
The Organised Housewife Morning Routine Checklist
Blank Morning Routine Checklist
Morning Routine
Our mornings are usually like ground hog day now that the kids are at school. However, there are so many benefits of having a routine in place:
Having a regular and consistent routine ensures that I get the kids out the door with everything they need, clean clothes, lunches, notes for school
When we have a hectic morning, our routine makes me feel less stressed as I know what needs to be done
As your children grow they will learn the routine and want to help (my kids are currently at this stage and I am LOVING it), which is a perfect way for them to learn about responsibility
If I go out for the day I enjoy coming home to a tidy house
My morning routine
I shared my morning routine 2 years ago HERE.  It has changed since then but please have a look at it for ideas.
6.40am – wake up and have a shower
6.55am – make my bed
7.00am – wake up kids
7.05am – kids make their own breakfast
7.10am – start preparing lunches for kids and hubby (lunchbox ideas HERE)
7.20am – kids unpack dishwasher
7.30am – kids start their morning routine
7.30am – put away dishes washed the night prior, pack dishwasher, wipe benches
7.40am – eat breakfast and relax for 10 minutes, I check my to-do list and calendar
7.50am – brush and style (braids or ponytails) girls hair, ideas here
8.00am – put washing on the line if I didn't do the night before
8.10am – time to get myself presentable for the day (hair and a little make-up)
8.25am – give the kids countdown 5 minutes till we leave
8.30am – in car driving to school drop off
8.40am – home, put the kettle on, while kettle boiling wipe over kids bathroom basin
8.45am – My day begins, either doing housework, working on the blog, running errands, going to the gym or catching up with friends   
Create your morning routine
Every family is different so please consider your schedule, the help of a partner and the ages of your kids when creating your morning routine.
Be realistic with the time you have available
Add into your routine the areas that you know you/your family need help with eg. time for chores for the kids, putting dirty clothes into the laundry, washing dishes, preparing for the evening meal in the morning
Please share your morning routine below
If you have a morning routine that's working for you, please add it to the comments below as it may help somebody else to create their routine

The Organised Housewife Morning Routine List (place in checklist divider)
or create your own list using the Blank Morning Routine list (place in checklist divider)
Kids Morning Routine
This is my kids morning routine chart, they started using this chart when in kindy (aged 3) this has taken the chaos out of our morning and the kids learn what they need to do each morning.  I have tasks in a specific order, eg brush teeth before uniform/clothes goes on so they don't get toothpaste splatter over their clean clothes (as kids do).  I also like them having their socks on so when it's time to go all they need to do is put on shoes not spend an extra 5 minutes to put socks on.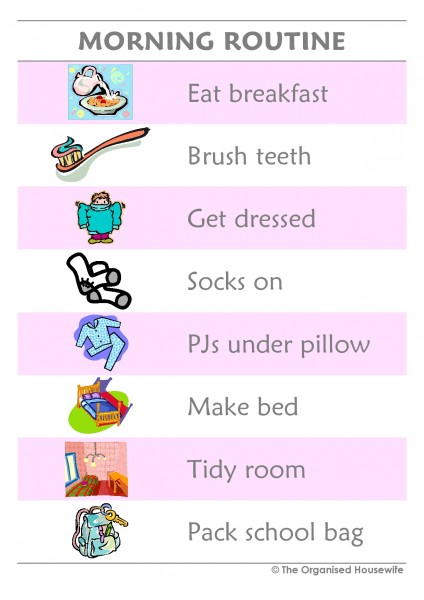 These routine charts are available in a range of colours in my shop, also with an option to personalise.