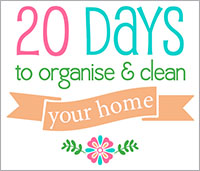 It's not too late to start!!  Subscribe to the challenge here.  Share your photos on instagram or twitter using #TOH20daychallenge.  Follow along with the discussion on facebook.

Today's pre-challenge task is to create a cleaning kit and ensure you have all items needed on hand.  I have included 3 printables for you, download links below.
The Organised Housewife Cleaning Kit Checklist – this is a list of everything I use in my cleaning bucket
Blank Cleaning Kit Checklist – create your own list of items you use when cleaning
Shopping List – as you think of items you need throughout this challenge write them on the shopping list so you don't forget
Cleaning Kit
I purchased a household cleaning bucket from Woolworths, with a handy insert that sits in top for smaller items.  I carry my cleaning kit around to each room in the house along with a plastic shopping bag to pop in rubbish and wipes as I have finished using them.
You can see details of my kit here and how I use each product.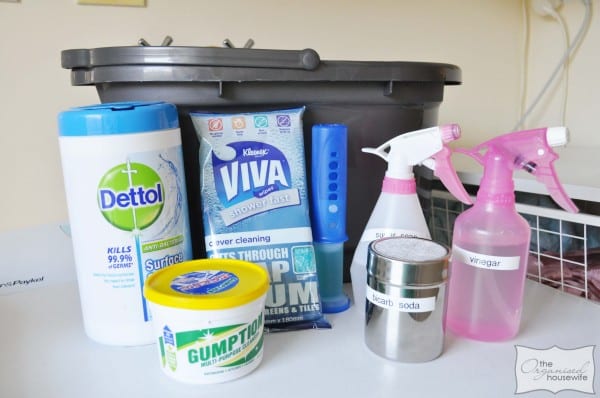 There are a few changes I have made to my kit since I created it.  
I now use my

Homemade All Purpose Cleaner

 for all surfaces with a cloth
We let the shower go for a few weeks without cleaning it and the vinegar/bicarb couldn't remove the mould.  I do like this combination for a weekly clean, however for those times that it needs a good scrub I use

Easy-off BAM Active Foam

 with a scrubbing brush.  I have heard that

oil of cloves works

really well, which is a great natural alternative.
I still use the soda and vinegar throughout the house, especially in the kitchen, which I will explain in more detail throughout the month.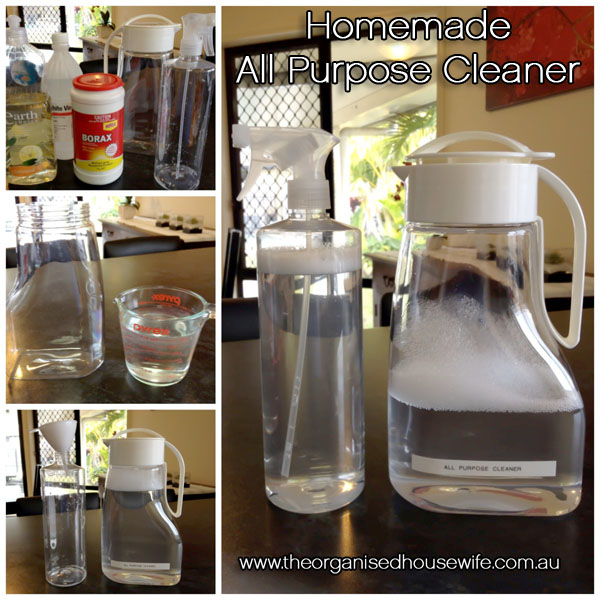 Cleaning Floors
Vacuum
We need the all important vacuum or broom to clean the floors.  We will be using the brush attachment on the vacuum throughout the month, but if you don't have one a cloth with a rubber band over the end would be  fine.  
I don't use a broom, instead I use a stickvac to pick up crumbs, dirt and dust between my weekly cleans. 
Mop and Bucket
I have tried many mops over my time, but I have to admit that the Vileda Ultra Max Mop is brilliant.  With the soft mop head it glides easily over my tiles making mopping a much quicker process.  The mop heads can be put in the wash to be reused next time.  If you use this mop you do need to use the Vileda mop bucket as they team together for wringing out the mop.  
I use a combination of Vinegar, baking soda, dish detergent and water.  More details later. 
Please note that all these products mentioned in this post are what I use personally and are NOT sponsored links 

The Organised Housewife Cleaning Kit List (place in checklist divider)
Blank Cleaning Kit List (place in checklist divider)
 Shopping List (place in notes divider)