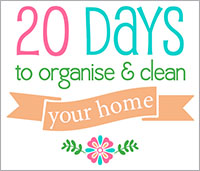 It's not too late to start!!  Subscribe to the challenge here.  Share your photos on instagram or twitter using #TOH20daychallenge.  Follow along with the discussion on facebook.

Please share your progress of today's challenge below

Ceiling fans - Winter is over and the beautiful warm days will soon be upon us with the need to then put on our ceiling fans.  However as they have not been in use during winter the dust has accumulated and before they are turned on and spread the dust, let's give them a clean.  Find a complete list here on how to clean your ceiling fans.  
Junk Drawer – Aah the junk drawer most households have a junk drawer or a draw that can never be kept tidy.  I don't have a junk drawer, however my kitchen utensil drawer is the drawer that never seems to stay tidy.  Today's task is to find the drawer that needs the most help, declutter and organise it so it not so much of a struggle to find things next time you visit it.  Find more details here about organising the kitchen drawers.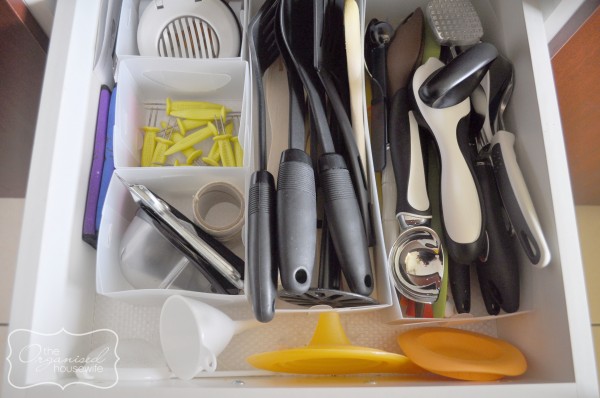 Calendar/Diary - I know at the beginning of the year we buy a new diary and plan on using it, however life gets busy and the diary is put into a drawer to never be used.  Sound familiar?   Let's get your diary out, be it either a:
Diary
Wall calendar
Calendar on your phone
Calendar on your computer
I use the calendar in
Microsoft Outlook
which I
sync to my iPhone and iPad
, I add birthdays and have them repeat each year to save me adding them again.  I am slowly learning
Google Calendars
which I have also found user-friendly and works similarly with repeating events and syncs instantly to your phone.
Today we are going to add all of the following into your diary so we are organised for all holidays, events or birthdays through to the end of 2012.
Add the following items:
Personal:
Birthday's 
Birthday parties
Anniversary's
Holiday's
Family events
Friends/family visiting
Kids:
After school activities (sporting, music etc)
After school care
Immunisation dates
Work:
Business trips
Social engagements
School:
Pupil Free Days
School Events
Dates you are volunteering
Around the Home:
Annual Pest Control
Car servicing
Change smoke alarm batteries
Other:
Dentist Checkups, every six months
Hairdresser, schedule regular appointments every 2-3 months
Meal Planning
Last dates for overseas Christmas post
Pet Immunisations
Unload dishwasher.  As I mentioned yesterday, my kids unload the dishwasher, they usually do this after breakfast.  Today's task is to create the new habit of unloading the dishwasher, either getting the kids to do it each morning so you/and the rest of the family can then load in the dirty dishes during the day or finding the time to do it while the kettle is boiling or your waiting for the toaster to pop.  
Dust around the lights in each room of the house. 

Day 9 checklist (place in tasks divider)