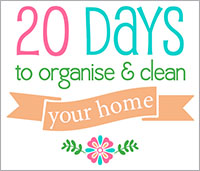 It's not too late to start!!  Subscribe to the challenge here.  Share your photos on instagram or twitter using #TOH20daychallenge.  Follow along with the discussion on facebook.

Unfortunately my site was down for most of the day, thank you all for your patience.  I also note a few of you are not receiving the emails, I am working on this issue with my newsletter provider, I hope this will be solved soon.
Please share your progress of the challenge below

Kids toy room, craft room, spare room or extra living room (one only) - Today's task is a bit of a mix as I realise all our homes are different, some have a toy room for the kids, you maybe lucky enough to have a space dedicated to your hobby, a spare room or extra 2nd lounge room.  I'd like you to clean at least one of the above rooms.     
Today's cleaning task is to do the following:
If your cleaning a spare bedroom, find cleaning list here.
If your cleaning a 2nd living area, find cleaning list here.
General room cleaning list:
Tidy area by placing all items where they belong
Empty bins
Dust/wipe over all surfaces
Clean window
Pick up items from the floor to make vacuuming easier
Clean skirting boards
Vacuum floor
 This is my craft area which my little girls are now sharing with me, we spend weekends here creating and soon to be sewing as my mum brought a sewing machine for each of my girls.  We hope to finish the quilts they started with her.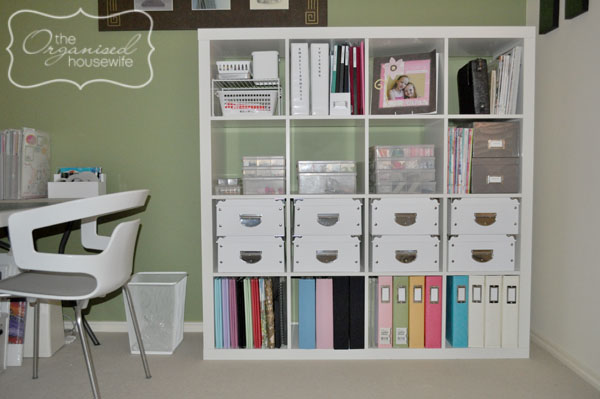 Kids Toys  - With Christmas around the corner it's time to sort through the kids toys and purge, hand down or put away anything they have outgrown or no longer play with.  I have recently had a big clean out in my kids rooms, I will be sharing more details once the challenge has finished.  
While you are sorting take note of what they don't have, what they need and what they want and add to your gift list in your Christmas Planner.
My kids toy room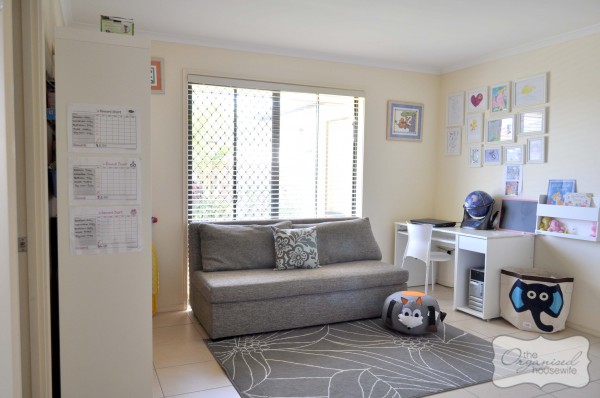 Love the expedit from Ikea to store books, board games, crafts and more
Family Responsibility System - My kids have been helping around the house since they were young, picking up toys from the floor, tidying the bookshelf or helping me dust. I remember when they first asked to unpack the dishwasher I didn't think they were capable, but they were and they were so pleased to be helping.  My twins are now 9 and half and I have seen that by getting the them to help around the house is teaching them responsibility.  I don't call them chores as I feel as a family these tasks need to be completed and together we can do it.  I do the dishes, but kids unpack the dishwasher, I fold the washing, the kids put it away.    You'll find a list here of age appropriate tasks the kids can help you with.  Also read why we give our kids pocket money.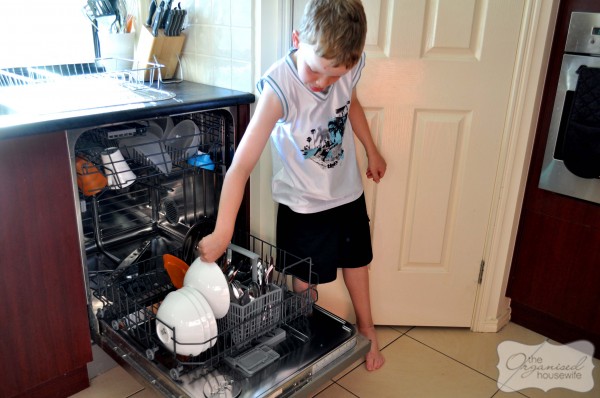 Responsibility Charts, available in shop
Tidy shelf -  Once every 2-3 nights before I give the kids a kiss goodnight I spend 2-3 minutes straighten up a shelf or area of their room, such as books, teddies, clothes or a drawer. I find doing this helps keep their room tidy.  
Hows your Main Bedroom looking after the wonderful clean up you gave it last week?  Today's task is to spend 5 minutes straightening it up or wiping over surfaces so you can maintain a tidy bedroom.

Day 8 checklist (place in tasks divider)