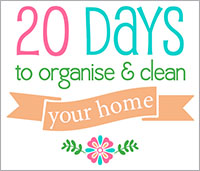 It's not too late to start!!  Subscribe to the challenge here.  Share your photos on instagram or twitter using #TOH20daychallenge.  Follow along with the discussion on facebook.

Please share your progress of today's challenge below

Fridge - I give my fridge a complete clean every 3 months, usually the day before I do my weekly grocery shop.   In between this time a wipe over the shelves regularly with a cloth picking up any spills.  However today's task we will be giving your fridge a complete clean:
Open fridge door and take note of what the temperature is.  Now turn inside temperature control to 'off', save you electricity.
Throw away anything that is out of date or spoiled. You'll be surprised what you'll find.
Move all other items to bench.
Take all removable parts and wash in warm soapy water in the sink.
While they are drying, wipe the inside of the fridge using warm soapy water and sponge, remembering the door shelves.
If your fridge has an odour, make up 1tsp of bicarbonate soda to 500ml of warm water and use to wipe fridge then rinse.  To give my fridge a fresh smell I use 

McLintocks Vanilla fridge wipe

.
Place all shelves into the fridge.  
Return food items back into fridge, placing similar food items together.  See below for ideas on

organising the fridge

.
If needed place a container of bicarbonate of soda in fridge to eliminate odours.
Turn temperature control back to recommended setting.  Close fridge door.
Wipe down the outside of the fridge to clean away sticky spots and fingerprints.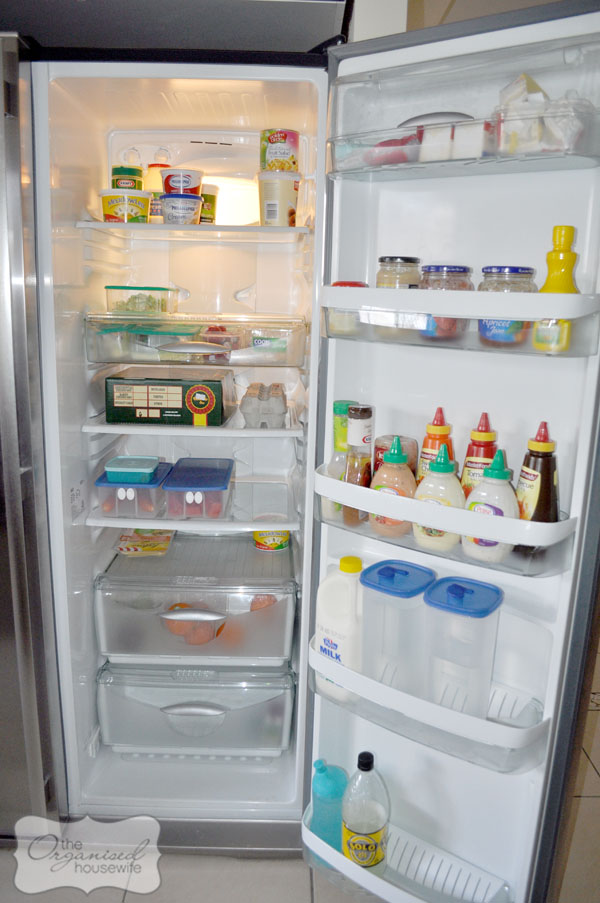 Here is a post I have shared previously on organising the fridge (I don't put vegetables in our vegetable crisper, instead I use it differently) along with tips on how to store food in the fridge so it lasts longer.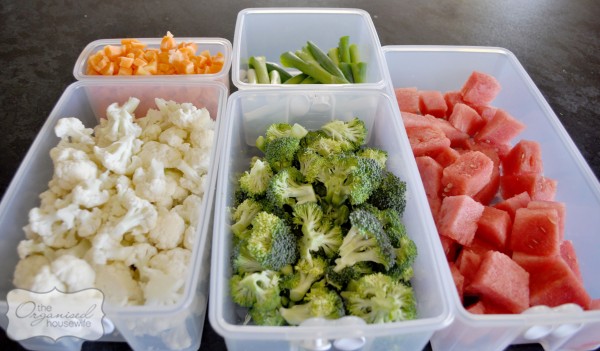 Cookbooks - I love recipe books, I already have a quite a collection and have just brought home some old cookbooks of mums, which I am excited to go through when I have time.  I love old fashioned recipes.  However  I am running out of storage space so I need to declutter my collection.  I know there are a few cookbooks that I only use one or two recipes from, I have photocopied these and placed them in my family favourite recipe binder and will then donate these cookbooks.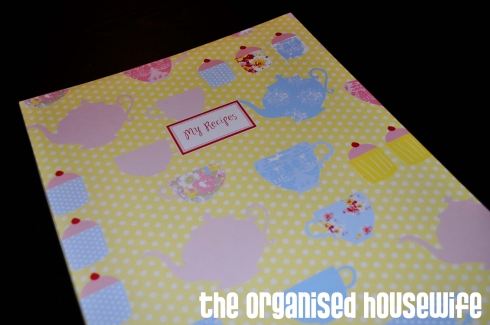 Meal Planning - If you have been a follower of this blog for awhile you will know that I am a huge advocate for meal planning.  I usually share our weekly meal plan each Monday, however I have not been able to during the challenge period.  You can find all my previous meal plans here.
How to use a meal planner
Laminate & use a whiteboard marker so you can re-use each week; or
Create copies and file in a binder to repeat plans each month or so.
Place on the fridge for easy access and family to see.
How to plan meals
Download this FREE 

family favourite recipes

 and write down all your families favourite meals.  This will be an easy reference when you can't think of something to cook.
Nearly every family has after school activities during the week.  Organise your menu around the activities knowing you can start dinner throughout the day to have it ready in time when you get home (I love my slow cooker), or perhaps an easy meal is required on these nights.
Glance through your fridge and pantry, are there any food that may need to be cooked soon?
Have a look through the grocery junk mail and plan your meals around the meats and veg that are on special, this will help reduce your grocery bill.
Perhaps you may cook up a double batch and you have left overs for the next day, don't forget to include this in your planner.
Now complete the planner with meals you would like to cook.  Don't forget you can get some great meal ideas 

here

 from my blog. I post my week of meals each Monday.
Next, write your grocery list then your ready to hit the grocery store!!  View more details 

here

 about The Organised Housewife Grocery List. 
I have always planned our meals weekly, but as I am finding myself busier these days I am now sitting for a few minutes longer and have planned a month of meals.  This allows us to have a great variety, it's not set in stone but a great starting point, it may change depending on the supermarket weekly specials. 
Find details about the monthly meal planner here
Meal plan once a week, each fortnight, or monthly.  I shared with you above about how to meal plan, please read further about the benefits of meal planning, it truly will save you time and money.
Wipe over your kitchen appliances

Day 7 checklist (place in tasks divider)