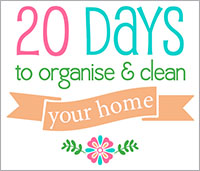 It's not too late to start!!  Subscribe to the challenge here.  Share your photos on instagram or twitter using #TOH20daychallenge.  Follow along with the discussion on facebook.

Please share your progress of today's challenge below

Laundry - The next room for our challenge is to clean the laundry.  With 5 members in our house, I am washing 6 out of 7 days.  To make it easer on myself I need to keep the laundry tidy and clutter free.  Here is today's cleaning tasks:
Wipe over the laundry sink
Clean all benchtops/surfaces
Using the brush attachment remove all dust and lint from your dryer
Dust your laundry walls (lint and dust does build up due to moisture from the dryer
Clean window
Clean floor  
Remember just do the tasks above, we will be coming back to the laundry during the challenge to organise and clean other areas.
Here are a few posts I have shared previously about organising the laundry:  
Laundry Pile – That's right declutter your laundry pile by organising the dirty laundry.  This is one of my most used organising solutions in our home.  In fact I recently needed a new dryer and I had to purchase one that I could mount on the wall as I didn't want to move our laundry system out of the laundry.  Visit this page here for more details about organising the dirty laundry and why I love this system so much.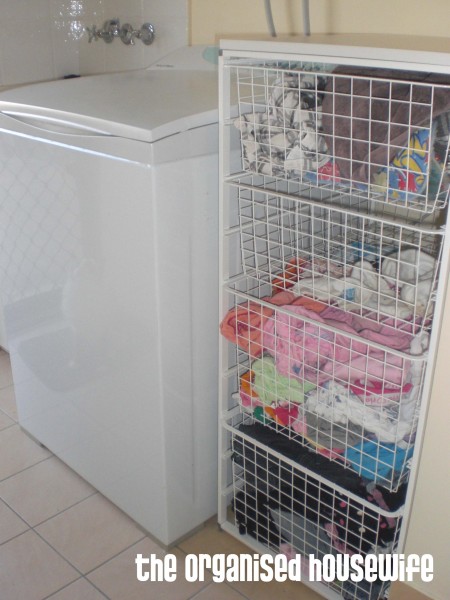 Laundry Routine - The washing is very much like ground-hog day, however it needs to be done otherwise we won't have clean clothes to wear. I have a really bad memory, I used to use 'baby brain' as an excuse, but my youngest is now 7, so that doesn't hold up.  Creating a laundry routine ensures that I remember to wash everything needed and that the kids go to school at the end of the week with clean uniforms and we eat on a clean tablecloth.   
My washing schedule:
Monday – colours
Tuesday – bedsheets
Wednesday – darks
Thursday – kitchen linens
Friday – bath towels
Saturday – whites & darks
Sunday – day off
I have created some framed prints for my laundry to keep on top of it and remember which load needs to be run each day.  Keeping to schedule also allows me to have a day off each Sunday! 
I have placed the prints in frames, brightens up a rather ordinary room.
These prints are available in my shop and can be personalised
Put on a load of washing.  I put on a load of washing before I start our evening routine, then hang it out to dry that evening as I live on the glorious Gold Coast the sun is up before I am and has it dried by mid morning.  Add 'put on a load of washing' to your evening or morning routine to help you stay on top of it.  Here are some suggestions:  
Put washing on in the evening and hang on the line before breakfast
Put washing on before breakfast hang before leaving for work/school run
 Polish or dust 2 pieces of furniture

Day 3 checklist (place in tasks divider)