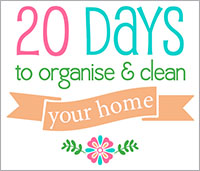 It's not too late to start!!  Subscribe to the challenge here.  Share your photos on instagram or twitter using #TOH20daychallenge.  Follow along with the discussion on facebook.

I have read all the emails & comments from the Day 1 challenge and I want to thank you for your lovely words, I am so pleased that this challenge has motivated so many of you.  I also wanted to let you know that readers are finding inspiration amongst the comments.  What a wonderful community we have, sharing and helping each other!
Please share your progress of today's challenge below

Main Bedroom - Your bedroom should be a place you feel comfortable in, making it easier for you to fall asleep and have the desire for a little 'romance'.  Mine got to the point that I was dumping 'stuff' on my bedside table and dressing table.  I would wake and the first thing I saw was the clutter, I would take a deep breath and feel overwhelmed and hope I would have the energy to sort through it that day.  I didn't enjoy waking up each day and seeing clutter.  Getting my room back to a calm and  tidy place was a next priority.  Today's cleaning task is to do the following in your bedroom: 
Strip the bed sheets off the bed
Wash all bedding
Place decorative cushions on line in sunshine for a few hours to help remove

dustmites

Vacuum mattress
Flip mattress if you have not done in the past 3 months (I flip mine every 2 months)
Pick up and put away all clothing
Pick up and put/throw away all paper clutter
Pick up and put/throw away all other clutter
Dust all surfaces, bedside tables, dressing tables, mirrors, picture frames
Dust ornaments
Vacuum ceiling fan to remove dust that has settled during winter
Vacuum the floor, including under the bed
Place clean bedding on your bed
Please don't do the following tasks today, they are coming soon:
The ensuite
Your wardrobe
Bedroom surfaces – Do you have one too many 'pretty things, nic nacs, ornaments' on your bedroom surfaces.  Having too many little things will make the task of cleaning harder and you more than likely won't be dusting over your surfaces as often as you should.  Today's task is to look over what you have and re-evaluate if they need to be there.  
Top drawer of your bedside table - My bedside table doesn't have much in it these days, years ago I would have magazines or a pile of kids drawings, now it's a drawer of my items I use every night.  My 2nd drawers is where I keep my treasures, cards and love letters from hubby, trinkets and memories of my grandparents and school years.
I use a drawer organiser set from Howards Storage World to keep all my items from rolling around the drawer.  In my drawer I keep moisutiser for my hands, a photo of my Nan, candles, notepad and pen for those moments you get a great idea, nail file, chapstick and medication.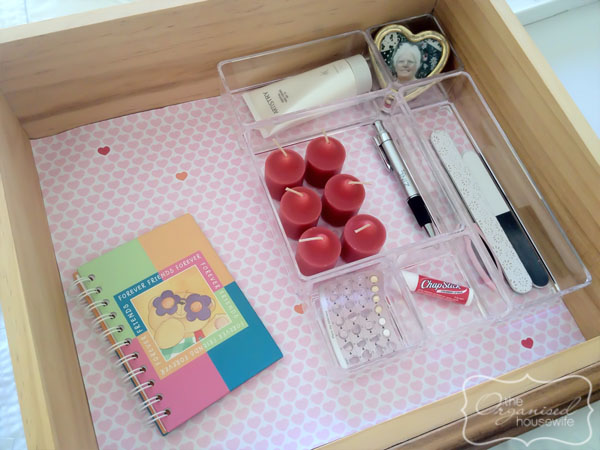 Make your bed each morning.  I wake up, leave the sheets down to air out the bed, have a shower, open my blinds and window, make bed, then get dressed.
There's something about having cushions on the bed that makes it look cozy and inviting and through the day tidy.  This gorgeous Lexie set, can be found via online store Manchester Warehouse.
 Wipe over your dining chairs

Day 2 checklist (place in tasks divider)
CLICK HERE TO VIEW DAY 3 TASKS >>