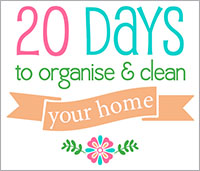 It's not too late to start!!  Subscribe to the challenge here.  Share your photos on instagram or twitter using #TOH20daychallenge.  Follow along with the discussion on facebook.

Please share your progress of the challenge below  

Kids Bedroom - The last room we are going to clean in this challenge is the kids bedrooms.  I decided to leave it to the end of the challenge so your kids are able to help you if they are home on holidays.  
Cleaning tasks for the kid's bedroom:
Open window to let in fresh air
Strip the bed sheets off the bed
Wash all bedding
Wash all teddies and then put on line in sunshine for a few hours to help remove

dustmites

Vacuum mattress
Flip mattress if you haven't recently
Pick up and put away all clothing
Pick up and put/throw away all other clutter
Dust all surfaces, bedside tables, dressing tables, mirrors, picture frames
Dust ornaments
Vacuum ceiling fan to remove dust that has settled during winter
Vacuum the floor, including under the bed
Place clean linens on the bed
Kids Bedroom - Kids bedrooms can easily accumulate so much 'stuff', items they bring home from school, all their toys, books, pieces of paper or clothes, today we are going to do a general declutter of their room.
Donate or store away for hand me downs the following from the kids rooms
Small clothes
Shoes that are too small
Toys they have outgrown
Books they have outgrown
Rubbish
Paper clutter
Broken toys
Kids Bedrooms - During October I will be sharing lots of tips on organising the kid's bedroom like organising their wardrobes and keeping lego under control.  But for this challenge I want to share with you one thing that has really helped me.  Kids are kids and their standard of tidy and my standard are completely different.  For example the kids make their bed each morning, but it's usually always lumpy, when they were younger I would go in and straighten it.  But now, I am happy that they at least made their bed without me nagging, I'm grateful for their effort.  I'm content with it being  'perfectly imperfect.'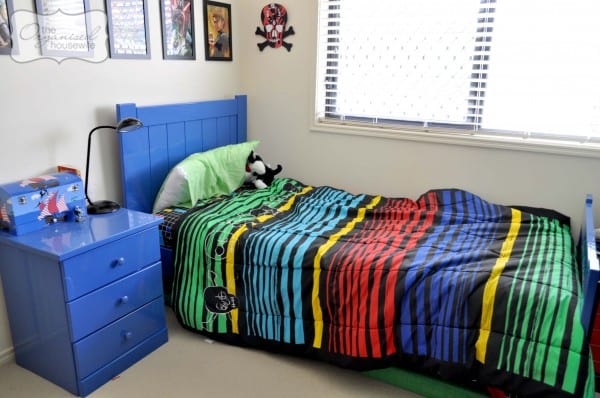 Part with sentimental clutter.  If you don't love it or use it has to go.  Read this full detailed post about how to part with sentimental items.
Next time your wheelie bin is emptied take time to give it a quick clean.  Grab the garden hose and give it a good rinse out, empty out water and leave the lid open for it to dry.  Remove any cobwebs from the handles.

Day 20 checklist (place in tasks divider)