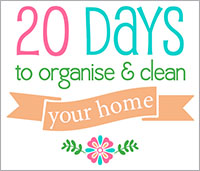 It's not too late to start!!  Subscribe to the challenge here.  Share your photos on instagram or twitter using #TOH20daychallenge.  Follow along with the discussion on facebook.

Please share your progress of the challenge below  

Handbag - Despite your handbag looking clean it's more than likely quite dirty and germy.  Imagine the times you may have placed it on the floor while going to a public loo (please don't do this, use the hooks behind the door), or when you put it on the floor under the table while having coffee with a friend.  Each time it's on the floor you are picking up germs.  Then you may come home and put your bag on the bed, or the kitchen bench.  Are you squirming at the thought of this?  Grab some disinfectant wipes and wipe over the outside of your handbag. 
Inside of your handbag - Handbags quite easily get filled with receipts, kids toys, drink bottles, snacks and more.  Do you store way too many extra 'things' in your handbag?  Go through your handbag and remove any rubbish and items you no longer need.  Find more details here of what I keep in my handbag.
 I use a handbag organiser from bragbags Australia  to keep everything tidy and easily accessible
Date Night - Organise a night out with your loved one.  Rekindle your relationship, take time to communicate, It's important to stay connected as at times our lives become busy and feel much like groundhog day.  Arrange a night you are both free and if needed get a babysitter in.  Have a night out child-free or work-talk free.  
Date night ideas:
Dinner out
Movies
Romantic dinner at home
Watch a video together under the same blanket on the couch
Go out for drinks
Walk along the beach
Picnic in the park or on the beach
Make dinner together
Go for a swim
Visit a theme park
Go on a road trip
Place candles through the house, don't turn on the lights
To-do list.  Don't forget to tick items off your to-do list, making it easier to see what tasks need completing
Empty all indoor rubbish bins and put into your outdoor wheelie bin

Day 18 checklist (place in tasks divider)