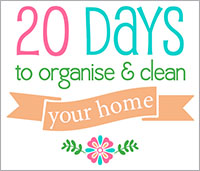 It's not too late to start!!  Subscribe to the challenge here.  Share your photos on instagram or twitter using #TOH20daychallenge.  Follow along with the discussion on facebook.

Please share your progress of the challenge below  

Special thank you to Benji Box for giving away 5 x 10 packs of clear shoe boxes, to help you spring clean your wardrobe and organise your shoes!  
See entry details below

Wardrobe - Today we are sorting through the wardrobe, giving it a good clean, declutter and it may also be a good time (for those living in the warmer states) to change it over from winter to summer clothes.  I keep all my winter clothes in storage tubs at the top of the wardrobe as we don't need jeans, jumpers or trackpants through the hot summer months.
Wardrobe cleaning tasks:
Remove all items from the floor
Wipe over skirting boards
If you have shelves remove items from shelves and give them a wipe over to remove dust
Vacuum floor
Your clothes - When you look into your wardrobe can you easily find a piece of clothing or is it jam packed?  
Remove any items that need repairing, assess if you have time place them in a mending pile, if you don't, consider if it's worth getting it repaired professionally or give to charity for somebody that may have time.
Have you worn it in the past 12-18 months? No, then consider donating it to charity 
Does it still fit?  Too big, great work! Donate it to charity you don't need them anymore!  Too small, if you are trying hard to return back to that size then place these items (not all as you need incentive) in a storage conatiner in the top of your cupboard to make enough room for the clothes that fit you now.  
Purge if you don't like how it looks or feels on you.
A fun way I determine if I have not worn anything for a period of time is turn the coathangers,
find more details here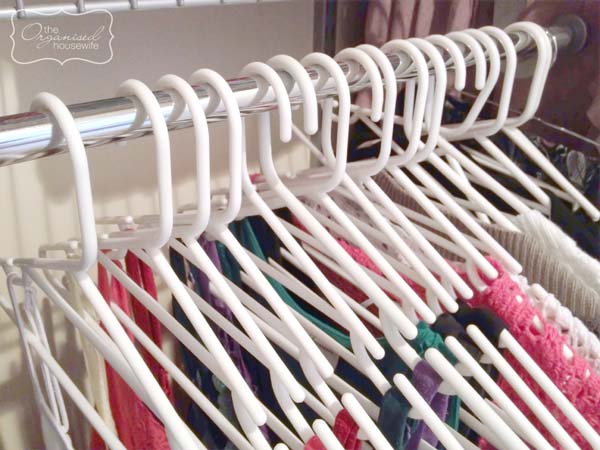 Wardrobe- Now that you have cleaned and decluttered your wardrobe take some time to organise it.  Straighten up the piles of folded clothes, sort your clothes into like items such as dresses, tops, pants, this will make it easier to find things.
before
after
I made some labels for the wardrobe to help keep the shelves organised. 
 I printed, cut into labels, then laminated and attached to the shelf with ribbon.
I also keep my jewellery in the wardrobe, here is how I organise my jewellery
 I keep my 'good' shoes in the wardrobe using Benji Box Shoe Boxes,  remember to see giveaway below
 and store my handbags using these fabulous hooks, see more details here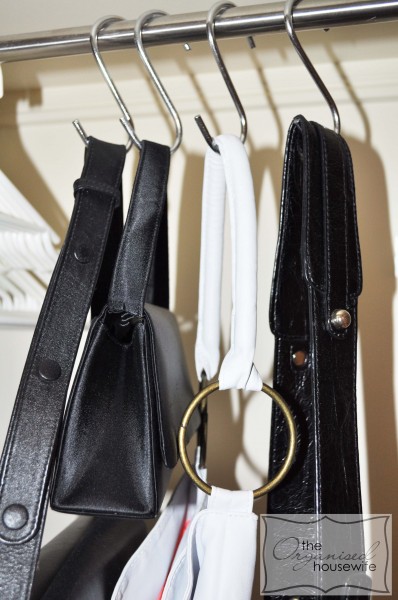 One in one out.  If you find it hard to part with your clothing consider the one in one out rule we discussed a few days ago, this is also relevant to clothes.
Tidy kids bedrooms, remove rubbish and quickly tidy their floor, this is preparing you for tomorrows challenge

Day 16 checklist (place in tasks divider)
Enter Benji Box Giveaway
Please note: this giveaway can not be viewed on some mobile devices.