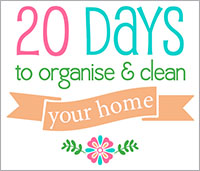 It's not too late to start!!  Subscribe to the challenge here.  Share your photos on instagram or twitter using #TOH20daychallenge.  Follow along with the discussion on facebook.

Please share your progress of the challenge below

The Office - I must admit the office is the one room in our house that never stays tidy. But we will talk about that later, this task is about cleaning the office.   You may wish to complete the challenges below before cleaning
Declutter your office desk
Empty bins
Dust/wipe over all surfaces
Clean window
Pick up items from the floor to make vacuuming easier
Clean skirting boards
Vacuum floor
Office Desk – Todays task is to just declutter your office desk, that's it, nothing more, we don't have time for a complete overhaul.  
My desk had becoming the dumping ground, as you all know I took quite a bit of time off after mum passed away so I wasn't working at the computer so the mess on my desk wasn't seen and didn't bother me at the time. But when I came back from New York I was ready, motivated and inspired to start working on the blog again, the mess overwhelmed me, I needed to clear all the paper clutter. 
Steps to clear your office desk:
Grab two bins, one for rubbish, one for recycling and have them close by (if you have confidential information you may need a shred bin too) 
Divide the paperwork on your desk into the following piles:  to-do, file, read, receipts (these are enough for our quick tidy up), not forgetting to recycle and throw any paper as you go
As you find little notes, add them to your to-do list so they are all together
Test the pens, highlighters etc on your desk that they all work, throw away those that have dried up
Tidy your corkboard
Remove anything that doesn't belong on your desk.
When my desk was messy my to-do list was at the bottom of the pile, I couldn't be bothered trying to find it (we have those moments) so I wrote little notes on all sorts of paper, this just added to the mess and the little papers can easily be lost.  Use the to-do list printable (link to download below) to keep all your 'things to do' together.
Organise office desk - Now that you have decluttered your office desk it will be easier and more motivating to keep it tidy.   
Create a folder system for your piles, to-do, file, read, receipts and I also have another folder for kid's school papers so I can keep track of what I have paid. Your folder system can be kept in your inbox, filing cabinet or in a command centre on your desk.  I found my command centre at

Staples

when I was in New York, yes you would think one would come back from New York with a new wardrobe, but no instead brought home desk accessories I am really happy to learn that

OfficeWorks is now stocking the Martha Stewart Stationery

range, I can't see the desk accessories like my command centre on their website, but hopefully they will be coming soon
Keep your to-do list handy
Have a calendar on hand to easily view the dates,

free monthly calendars

available in my shop
Keep your stationery organised on your desk.  I use a gorgeous glass cup I found at Target
Make your desk a place you enjoy sitting at, add a family photo, flowers or other items that make you smile
Keep a clutter free desk  - As you finish at your desk each day, leave it tidy putting away any paper clutter 
Unsubscribe from emails you don't want to receive anymore