Thank you to the Hip Kids for sponsoring todays challenge tasks

unique and funky kids toys, furniture and cubby houses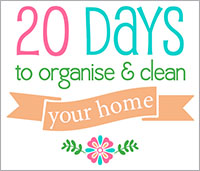 It's not too late to start!!  Subscribe to the challenge here.  Share your photos on instagram or twitter using #TOH20daychallenge.  Follow along with the discussion on facebook.
Please share your progress of the challenge below

The cornices - Despite getting my house regularly pest controlled I still get the odd little bugs nestled into my cornices.  Todays task is clean away any dust or bugs hanging from your cornices or ceilings.  There are a few different ways you can clean them:  
With a cobweb broom
A stocking over the end of a normal broom, will make it easier to clean the broom
Use the brush attachment on your vacuum cleaner
if you don't have a brush attachment secure a sock or rag to the end of your vacuum nozzle with a rubber band.  
I prefer to use the vacuum with brush attachment.   
Kids artwork – This would have to be one of the hardest decluttering tasks, purging kids artwork.  I get little scraps of paper with notes, beautiful drawings, huge pieces of butchers paper with scribbles all over, and cardboard creations.  Unfortunately we can't keep them all.  
I keep a box for each of my kids to store all their artwork, a few times throughout the year I will go through the box and keep anything that is truly special and purge the rest.  
Kids Artwork - Now that you have gone through the kids artwork consider some of the ideas below to display their creations.  
1. Create a wall gallery, find more details here. 
 2. Scan into a digital photo frame, see more details here
3. Create a special place to hang their creations, see more details here
More ideas:
Use as wrapping paper
Post to grandparents, aunts or uncles
Laminate and use as a placemat
Scan and make as wallpaper on your computer
Use to create

personalised gifts

for Christmas such as phone covers or bags
Kids Drawings  - When kids come home with their creations display as you need and then place straight into the box allocated for their drawings. 
While you  have the vacuum out de-cobwebbing the house, use the brush attachment to remove dust from your bathroom exhaust fan

Day 13 checklist (place in tasks divider)