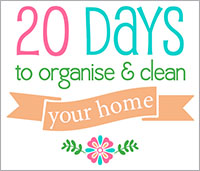 It's not too late to start!!  Subscribe to the challenge here.  Share your photos on instagram or twitter using #TOH20daychallenge.  Follow along with the discussion on facebook.

Please share your progress of the challenge below

Dishwasher - Our dishwasher is used once a day.  It usually cleans our breakfast dishes, dinner plates, cups, mugs and cutlery.  With all this there isn't enough room for anything else.  However after time the dishwasher itself gets a little grotty and needs a good clean.  
Cleaning your dishwasher:
remove all dishes from dishwasher
using all purpose spray wipe down the inside edges of the door 
spray inside the dishwasher along the base of the door (this is where I find the most gunk build up), using a paper towel or old toothbrush remove gunk
for stubborn gunk pour over boiling water, then wipe away, no need to scrub too much as it will easily wipe away after it has gone through a cycle
remove any food caught in cutlery basket
place a jug filled with vinegar (I used 1 and a half cups) on the top rack of dishwasher
turn dishwasher on economy and hottest temperature, run through a cycle
once cycle has finished use a paper towel to ensure that all gunk is removed
to freshen the smell of the dishwasher, sprinkle a cup of baking soda (or bicarb) into the bottom of the dishwasher
run dishwasher again on economy and hottest temperature
Wipe down the outside of your dishwasher and any surrounding cupboards or walls that may have splatters from dirty dishes.  
Bathroom Cupboards - Todays task is to declutter your bathroom cupboards, throwing away items that are broken, you have not used in over a year or have expired.  Yes, perfumes, lotions and makeup all have an expiry date.  Find more details here about these expiry dates. 
Bathroom Cupboards - Make it easier for yourself to find something the next time you are looking in your cupboard.  Give it a tidy up today. 
Find more details here on how I have organised:
Check your calendar - Before going to bed or relaxing for the evening check your diary to see what appointments and plans you have tomorrow.  This will ensure won't miss any appointments or events.
Grab a plastic bag and remove all the rubbish from  your car

Day 12 checklist (place in tasks divider)