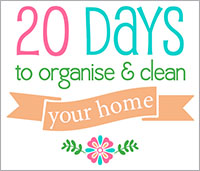 It's not too late to start!!  Subscribe to the challenge here.  Share your photos on instagram or twitter using #TOH20daychallenge.  Follow along with the discussion on facebook.

Please share your progress of the challenge below

Washing Machine - One day many years ago I washed one of my doona inserts and it came out of my washing machine filthy, black marks all over it.  It was then that I realised that washing machine needed to be regularly cleaned.  Cleaning your washing machine will remove the build up from fabric softener and soap and prevent marks and scum appearing on your linens and clothes.  
Find details:
Linen Cupboard – It so easy to accumulate extra bedsheets or towels, from sales, gifts or just because we have to have it.  I'm rather partial to a beautiful quilt and soft towels.  But I need to limit myself as my linen cupboard is only so big and if I was to buy more I wouldn't have the space.  So my rule is, one in one out but also be realistic when I make the purchase (see more below in new habit).
What I keep in my linen  cupboard: 
Top shelf – seasonal linens I don't regulary use ie blankets, winter sheets

3rd shelf – bath towels – I have one extra towel for each family member plus 4 spare towels

2nd shelf – beach towels, tableclothes

Bottom Shelf – Cleaning bucket, cat food, a bag of kitty litter and rags
Linen Cupboard - My linen cupboard was rather neglected for awhile there.  Usually I take 2 minutes to tidy the linen cupboard as I place linens back in, the kids usually prefer the towel at the bottom of the pile which is how it gets messy easy.
Today's challenge is to tidy it up and organise in a manner that you can easily find something the next time you are looking for it.
Find video tutorial here on how I fold:
before, quite a mess
after
I keep a few extra laundry products here  and extra mop clothes
I use the stackable storage bins from

Howards Storage World

to store the cat's litter tray liners, clippers, brush and medication.  In the containers underneath I store my ironing water container, refills for the duster and tissue packets.  I used to use different containers here, however I needed to utilise this space better and using stackable containers make it easer to access everything and fit more into the linen closet if needed.
I keep all extra toilet paper, tissues, paper towel on a shelf in the garage.  It's my stock pile shelf where I also keep extra laundry detergent, cereals, bathrooms soap etc. I usually purchase two or three of an item we use when I see it on special. 
One in one out  -  Keep buying impulses under control using the one in one out policy.  However consider the one that has to go out, is it still usable?  If yes then you don't need to get rid of it and you don't need to buy a new one.  If it wasn't useable, eg worn or has holes then it can be replaced. 
Tidy under your laundry sink

Day 11 checklist (place in tasks divider)