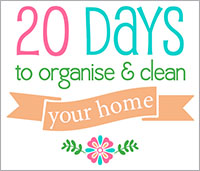 It's not too late to start!!  Subscribe to the challenge here.  Share your photos on instagram or twitter using #TOH20daychallenge.  Follow along with the discussion on facebook.

Not receiving the emails?
I understand a few of you are having problems receiving the challenge emails to your inboxes.  If you are having problems can you check to see if they are in your junk mail folder if so right click and let your email know this is a safe address, if not can you please try resubscribing here.  Hopefully this may help.  Thank you for your patience.  
Please share your progress of the challenge below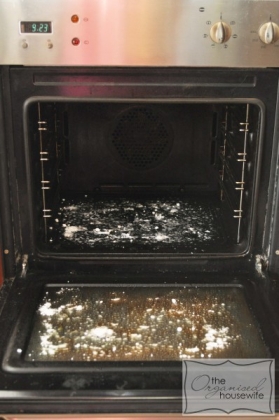 Oven - I'm sure I'm hearing moans all over at the moment.  Today's task is to clean the oven and I agree with you it would be one of my least favourite jobs too.  But I love to bake and doing it in a clean oven is preferrable.   I have shared previously how I clean my oven, you will find full details here.  
To clean the shelves – line your bathtub with old towels or sheets, place your oven shelves into the bathtub, sprinkle a cup of  NapiSan over the shelves.  Fill with hot water to cover shelves and let sit overnight.  You will find alot of grime will fall off onto the sheet/towel.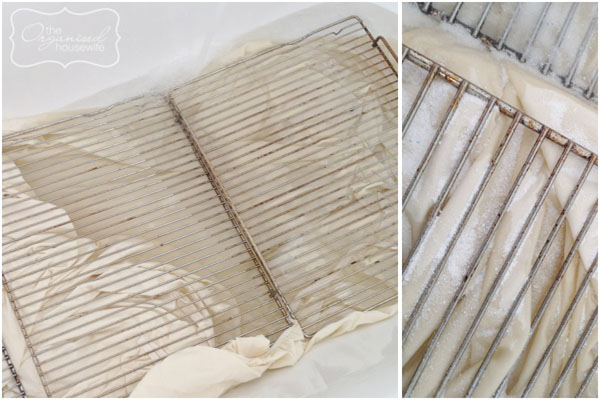 Use a scourer to give a scrub to the stubborn areas this really isn't much effort at all, it should just fall off.  Then rinse the shelves with boiling water.
Kitchen cupboards - While you are waiting for the vinegar and bicarb to do it's thing with the oven, declutter and organise at least 2 kitchen cupboards.  Look through the cupboard and realistically assess each item, have you used it in the past 12 months, do you really need it, is it taking up space that could be used for a better purpose?
Tupperware cupboard - My tupperware cupboard got out of control during my break of being 'an organised housewife'.  I'm sure many of you have experienced throwing in a container, quickly closing the cupboard and then hope it won't fall out when you open it up.  Well this was happening to me and was driving me batty, so I gave it a quick tidy up.
before
after
I have shared about how I organise the my kitchen cupboards before, read this to give you full details on the storage items I use throughout my kitchen.   I have added a few extra storage solutions into the cupboard since this original post.    
I use a little plastic drawer organiser to keep items such as small lids, icypole tubes and reusable lunchbags
For extra storage I am using the 

IKEA Ratinell Variera $2.99

 at the back of the cupboard, so I can store lunch containers underneath and extra items ontop. 
The 

Rubbermaid Slide n Stack Basket

 is to keep items that don't stack well ontop of each other, with the basket keeping them all together.  
Cleaning stove.  After cooking on the stove let it cool down slightly then give it a wipe over, it's much easier to remove spills from the stove while it's still warm
Clean splatters from bathroom mirrors

Day 10 checklist (place in tasks divider)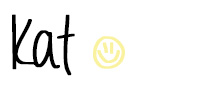 Love these ideas? Sign up for updates....It's FREE!