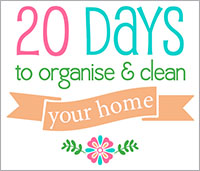 It's not too late to start!!  Subscribe to the challenge here.  Share your photos on instagram or twitter using #TOH20daychallenge.  Follow along with the discussion on facebook.

Welcome to Day 1 of the '20 Days to Organise and Clean your home' challenge.  I am so pleased to have you on board and joining in.  Last week we completed the pre-challenge tasks to prepare us for the next 20 days.  These tasks were to help us create routines to make our mornings and evenings easier and create goals of what we want to achieve.  
Remember, if you don't have time to complete each challenge that's fine, choose the tasks you know you will be able to complete.
Prior to the challenge starting I mentioned why I started this challenge and the struggles I was overcoming.  Throughout the following 20 days I am going to share with you before and after photo's of my progress to getting my home back to its original 'clean and organised' state.  
Each day you will receive a daily printable to add to your binder, this is to help you complete the tasks required through the day, plan your meals, add your daily to-dos or to refer back to if you haven't had time to complete a task.  Please find today's printable below.
Please share your progress of today's challenge in the comments below

Kitchen – My kitchen is the central place of our home.  It is seen by everybody that visits the house, while we are eating dinner or while we are sitting on the lounge watching TV.  For this reason I like it to be tidy through the day and while I'm relaxing in the evenings so I feel calmer.  I also enjoying cooking and baking much more when it's organised and tidy, so for this reason let's make a start on Day 1, cleaning the kitchen.  
I don't want you to clean the stove, oven, fridge, freezer or pantry today, we will get to them soon, instead today's task is to:
Load dishwasher
Wipe over sink
Clean the benches
Wipe down the cupboard doors
Dust on top of the overhead cupboards   
Clean the microwave
Wipe over walls
Clean window and window sills
Dust light fittings
Kitchen Bench – remove everything from the kitchen bench that does not need to be there:
Paper clutter
Rubbish
Food
Appliances
One too many canisters
Under the kitchen sink – this cupboard gets untidy quickly, it's hard to access most items upon which they tend to get thrown in.  I removed everything from the cupboard and reassessed what I had in there, throwing away anything I no longer needed such as cleaners or relocated some items to the laundry. 
Before
I cleared and cleaned out the cupboard
So much tidier and easier to access everything.  I recently removed our bin from cupboard so I was able to use the space under the pipes
I removed my canister from next the kitchen sink so the bench looks tidier, placing it at the front of the cupboard for easy access.  It holds the sponges and brushes I use for cleaning dishes.  Next to this is a tin bucket that holds our dishwasher tablets.
From left to right, 1.  holds new sponges and scourers 2. denture tablets for cleaning out drink bottles, stainless steel wipes and microfibre clothes  3.  My kitchenaid attachments 4. Vanilla spray for cleaning the fridge and silver polish
I am using these plastic trays to catch crumbs and soap spills
 Clear your benches and clean the dishes before relaxing for the evening. Find a guide here on the steps I take each evening when cleaning the kitchen. 
 Spend 5 minutes only tidying a bookshelf 

Day 1 checklist  (place in tasks divider)
CLICK HERE TO VIEW DAY 2 TASKS >>